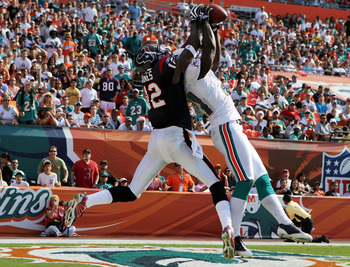 0-5. Zero wins and five losses. Heart-breaking defeats by one, two, three, one, and seven points.
For some reason, even when Miami has been the better team, the Texans have had the Dolphins' number since their inauguration less than a decade ago.
It all started in 2003 when the heavily-favored Dolphins fell to the Texans 21-20 thanks to four Kris Brown field goals and a 78-yard touchdown from David Carr.
After a three-year hiatus, the Nick Saban led Dolphins fell to Houston 17-15 in 2006 on a failed two-point conversion attempt with less than two minutes to play.
The following year, the Dolphins' first victory of the season was spoiled by Kris Brown's leg on a 57-yard field goal as time expired.
In another last-second defeat, the Texans topped the Dolphins who were in the midst of a resurgence 29-28 on a three-yard Matt Schaub touchdown run with under five seconds to play in 2008.
And in their most recent meeting, the Dolphins' rallied from a 27-3 deficit early on to come within seven points in the fourth quarter. Chad Henne threw for over 300 yards, but ultimately it was just too deep of a hole to dig out of and the Dolphins' comeback bid fell short 27-20 in 2009.
In summary, it's been one heartbreak after another in this series for Miami.
Dropping another game to the Texans on Sunday would give them a demoralizing 0-2 start at home after the 1-7 fiasco a year ago. I think it's safe to say Week 2 will be as much of a "must win" game for this team as any game this early in the season can be.
With trips to San Diego to play the Chargers and New Jersey to play the Jets on the slate in Weeks 4 and 6, an exceedingly bleak outlook for the Dolphins will begin to unfold. That's the worst-case scenario for a team that needed CBS affiliate WFOR, Bud Light, and themselves to buy thousands of tickets this week in order to avoid a blackout, which would have been the result of the first non-sellout in over 13 years.
*****
Miami desperately needs a winner. Without one the decline in fan support will only continue to free fall. While the lack of loyalty in the fan base is embarrassing, it's the climate this franchise plays in and they have no choice but to meet the demands.
That's a tall order for a team projected by some to squeak out four or five wins. But what have we said all along about this team? "They're a quarterback away" has been the theme since Marino retired.
Chad Henne is a long way from silencing all his critics, but it's hard not to believe he's much improved. After the disappointing showing by a defense many thought could be elite this season, hope that the Dolphins can be a surprise, produce a winning record, and quite possibly become an upset playoff qualifier has shifted to the man everybody and their mothers wanted to replace.
Is winning this season possible? Of course, but it needs to start on Sunday. It needs to start at home where the Dolphins haven't been able to win, against a team they haven't been able to beat.
Enduring all of those close losses to the Texans over the years would only lead to euphoric retribution on Sunday if the Dolphins are able to grab the attention of the NFL world as a projected bottom feeder knocking off a surefire playoff squad.
It's the ultimate swing game for the Dolphins. A win would, temporarily or not, return this franchise to respectability and resurrect some hope for the long journey ahead. A loss, however, would only begin to confirm what the national media has been telling us all offseason- that these Dolphins are a laughing stock and will be picking in the top ten of next April's draft.
Is it finally time for the Dolphins? Will they finally get the best of a foe that's narrowly defeated them five consecutive times?