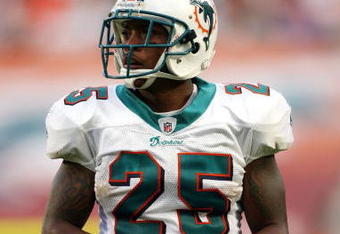 Omar Kelly of the Sun-Sentinel is reporting this morning that the Dolphins' plans are to release 32-year old cornerback Will Allen once teams are officially allowed to cut ties with veterans next month.
Allen was placed on injured reserve early in the year after he underwent a knee scope to help alleviate pain in his knee as he attempted to return from a torn ACL. From the outside looking in, it certainly appeared to be a premature move on the Dolphins part, as Jeff Ireland churned the roster by bringing in roster fringe lineman and wasn't willing to wait for the outstanding depth Allen would have brought to the cornerback position.
In his five years with the Dolphins, Allen arguably established himself as one of the most underrated cornerbacks in football, but the combination of his age, durability, the emergence of Vontae Davis and Sean Smith, and the fact that he's owed $5.5 million in 2011, the third most of any Dolphin, makes this an almost compulsory move. Hopefully, by avoiding handing that big of a check to Allen, the Dolphins can put that extra cash to good use in free agency.