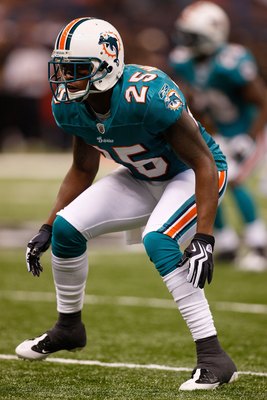 By the time the fourth preseason game rolls around, most fans are ready for real football. The starters are all but done with their dress rehearsal reps and it's simply time to let the roster fringe players make one final impression.
That may explain why tomorrow night's game didn't sell out before the 72-hour deadline and will consequently be blacked out in South Florida.
The interest in the preseason finale may not be there with the majority of the fan base, but it's going to be far from a boring and meaningless game in the minds of several players on the roster bubble fighting for their NFL lives.
Here are five players that need to impress tomorrow night, as their 53-man roster hopes are very much in limbo:
Will Allen, CB: The 11th year veteran finally got on the field Saturday and looked pretty good doing it. Allen was sharp in coverage, minus an illegal contact penalty, and had a sack that would have resulted in a safety if the play hadn't been negated by penalty.
Benny Sapp seems like a lock as the nickel, but Nolan Carroll's struggles this preseason has opened the door for Allen to land the fifth cornerback spot. Keeping Carroll around would save the Dolphins some cash and he has an upside advantage at only 24 years old.
But with young corners like Vontae Davis, Sean Smith, and Jimmy Wilson in the secondary, the Dolphins would benefit from a knowledgeable mentor in the mix. But he'll still need to prove he has something left in the tank and that his knee is 100% and ready to go. Another solid showing should do the trick.
Larry Johnson, RB: I have a hard time seeing the Dolphins keep only three running backs. With the uncertainty of rookie Daniel Thomas and Reggie Bush's injury history, Miami needs a capable workhorse as insurance.
Nic Grigsby is also on the roster, but as an undrafted rookie who's yet to impress this exhibition season, he's likely auditioning for practice squad consideration at this point. Larry Johnson is essentially competing against the names that will hit the waiver wire when 31 other teams make final cuts on Saturday.
Marlon Moore, WR: The Dolphins' top five receivers appear fairly safe, as the top three are untouchable, Clyde Gates is a nice project that could develop into Henne's deep threat, and Roberto Wallace has considerable upside. But nothing is stopping the Dolphins from keeping six receivers, especially with the tight end position being so void of talent.
Moore is coming off a solid showing against Tampa Bay, catching two passes for 41 yards. If he makes more plays against the Cowboys, the Dolphins could be tempted to keep him around.
Gerald Alexander, FS/SS: The Dolphins' newest addition, safety Gerald Alexander, should challenge Tyrone Culver for backup strong safety although he was primarily a free safety in his first four years in the league. The $1.25 million Culver will make this season is a little on the pricey side for a backup who's ceiling is probably solid special-teams contributor.
Alexander can't afford to fall on his face in his debut as a Dolphin if he wants to unseat Culver. But the Dolphins clearly aren't satisfied with Culver backing up Yeremiah Bell and are more than open to replacing him. A productive game for Alexander should dot the i's and cross the t's on Culver's pink slip.
Ray Feinga, OG: One major decision the Dolphins will face on Saturday is whether or not to keep nine offensive linemen. John Jerry has seemingly played his way off the team and would probably need to produce more pancakes than IHOP tomorrow night in order to change that.
That means Joe Berger and Ray Feinga still have hope that their roster bubble won't burst. Berger started 14 games at center for the Dolphins in 2010, so they already have a good feel for what they have in him. Feinga, meanwhile, could impress and secure a roster spot with a few blocks that jump out to the coaches when they review the game film.
Regardless of who or how many they keep, though, the Dolphins will still likely scour the waiver wire for depth and could do plenty of churning in the first few weeks on the offensive line.