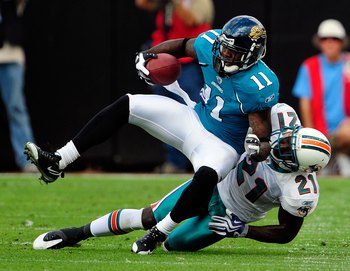 It's May and we are in the middle of a lockout. Any news regarding the Dolphins is probably going to get a little more attention than it deserves. Mike Sims-Walker telling the Florida Times-Union that "we would love that," in regards to reuniting with former college teammate Brandon Marshall in Miami is a prime example of that.
Once something to ponder over before the draft, I don't think signing Sims-Walker would be something the Dolphins would still consider. The obvious reason for that is by drafting Edmond Gates in the fourth round, the Dolphins, on paper anyway, have finally assembled a fairly complete receiving core.
Yes, there is quite a bit of uncertainty there with Gates. He may or may not emerge as a playmaker at the NFL level. But the Dolphins are going to give him every opportunity to. Bringing in Sims-Walker would only limit the amount of opportunities Gates would have to become the deep threat this offense is missing.
And even before the Dolphins drafted Gates, you could have made the case the receiving core was already capable without a speedster. Brandon Marshall is obviously the alpha receiver, Davone Bess has become one of the league's finest slots and actually does an adequate job when asked to line up on the outside, and believe it or not, Brian Hartline was on pace to put up about 820 receiving yards in 2010 before he went down for the year with a broken finger in Week 13.
I have argued all along that a franchise quarterback would flourish with this receiving core. Continuing to load up on weapons for Chad Henne may give him a better chance to succeed, but it's not going to make him a franchise quarterback. He either has it or doesn't. But brining in a franchise quarterback would instantly make the Dolphins' receiving core one of the best in the league, in my opinion. Any deficiency in the passing game is going to stem from whoever the quarterback is in 2011.
With a top five talent in Marshall, a potentially solid number two in Hartline, one of the most productive slots in the league in Bess, and now hopefully a legitimate stretch the field playmaker in Gates, the Dolphins have more than enough weapons to get the job done with consistent quarterback play.
Besides, if the Dolphins are willing to spend the type of money it would likely take to bring Sims-Walker to South Beach, they should probably put that cash to better use. Preferably, on a pressing need like quarterback, running back, offensive guard, or even another pass rusher. So while signing with the Dolphins may be a dream come true for Mike Sims-Walker and Brandon Marshall, don't expect Jeff Ireland to seriously entertain the possibility.