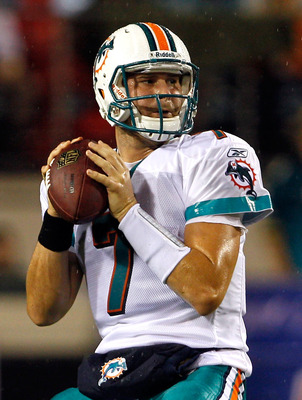 Dolphins' general manager Jeff Ireland was back at it again yesterday at the Senior Bowl. In the same manner he praised Gibril Wilson and endorsed the pedestrian receiving core last offseason, Ireland had nothing but good things to say about Chad Henne and talked like he's still not willing give up on him as the future of the franchise.
"He's shown some aggressive tendencies, he's shown some exciting throws," Ireland said. "He's got all the ability in the world. We've just got to put a plan together and an offensive philosophy that fits Chad Henne, and I think we'll do that." He did, however, make it known that the Dolphins would "evaluate what's out there like we do every position in free agency and the draft."
Reading too heavily into Ireland's comments would be foolish considering that this regime tends to say one thing and do another and that teams generally like to throw smokescreens out there in the early stages of the offseason. It's not like Ireland would tip his hand if he had a plan in place to acquire another quarterback either via a trade, free agency, or the draft. Having said that, though, we can ponder whether or not there is still any hope for Chad Henne as a starter in this league.
Even if the Dolphins are intent on finding a new potential franchise quarterback, there's no guarantee that Chad Henne won't, at the very least, retain his starting job to begin the season. If they choose to address the situation in the draft, rookies usually need at least one season of developmental time. There are obviously the exceptions like Sam Bradford, but there isn't a quarterback in this year's draft that appears half as NFL ready as Bradford was. If the Dolphins choose to bring in a veteran, there isn't one attainable quarterback in this league that Chad Henne can't at least compete with.
So while I agree with many fans that it's time for the Dolphins to stop investing in Chad Henne like a franchise quarterback and that it's time for Jeff Ireland to scour the land for the next potential long term solution, it's likely more than a probability that the Dolphins won't find a reliable quarterback this offseason and Chad Henne will take that first snap in early September. That may not be what the majority of fans want to hear, but sometimes the truth is discouraging. But if it indeed plays out that way, will all hope be lost for the 2011 season?
Personally, I find it hard to believe that the light bulb will ever turn on in Henne's head if it hasn't already. But if somehow season three as the starter is the year the game finally slows down for Henne and he lives up to the potential that comes with having a rocket for an arm, he wouldn't be in uncharted waters. Most elite quarterbacks in this league, or even solid starters for that matter, reveal the type of player they're going to be by their second season under center. Looking at the curious case of Drew Brees' rocky start in San Diego, though, we see some striking similarities with Henne's first three seasons in Miami.
Like Henne, Brees served as a backup in his rookie season. In year two, both quarterbacks assumed the starting job. Brees' 17 touchdowns and 16 interceptions to go along with 3,284 yards as a first year starter certainly trumps what Henne did in 2009 (12 TD's, 14 INT, 2,878 YDS). But let's not forget that Henne didn't take over the starting job until the fourth week of the season, while Brees started every game. In both players' second year as starters, both Brees and Henne failed to emerge as reliable quarterbacks.
Henne's 15 touchdowns and 19 interceptions in 2010 has most Dolphin fans calling for the front office to either sign a veteran in free agency or invest a first round pick in a promising rookie, and I'm sure nobody around the league would have ever guessed Drew Brees would develop into a top five quarterback with a Super Bowl ring after his 11 to 15 touchdown to interception ratio in his second season as the starter for the Chargers. For those of you who don't know, Brees broke out in his third season as the starter with 27 touchdowns compared to only 7 interceptions.
Now, obviously we have to stop the comparisons at stats alone considering Henne and Brees are nowhere near the same type of players on the field. What makes Brees great, is likely what is holding Henne back. Do any of you really envision Chad Henne ever leading a rah-rah chant in the same way we see Brees firing up the troops before every game? Brees also relies on precise accuracy, while Henne tends to be inconsistent, if not erratic with ball placement at times. Still though, at least Drew Brees shows us that it's not too late for Henne to make the jump from a mediocre quarterback to an elite one, capable of bringing a title back to Miami.
Will new offensive coordinator Brian Daboll be the spark Henne needs to make that jump? Well, that's a topic for another day. Personally, I feel like it's all a mental game with Henne. Physically, he has all the talent he needs to be one of the best. Few quarterbacks in this league can throw the football with as much velocity. He just doesn't process information as quickly and as effectively as the game's elite quarterbacks. Maybe a change in offensive philosophy and better coaching will help facilitate him there. If you ask me, though, establishing a three or four game hot streak may be what Henne needs.
If he could just maintain the rhythm we have seen him get in for several games and avoid some of the major setbacks that usually spoil some of his hot streaks after a half or so, the game would likely begin to slow down for him and he would become surer of himself. But now we are getting into the hypothetical realm. What we do know is that it's not likely, but it has been done before.
But if Jeff Ireland plays the odds, like any quality GM should, the Dolphins would still conduct an extensive quarterback search this offseason and at the very least bring in quality competition to push Henne, if not steal his job. In a perfect world the Dolphins would solve the quarterback drought that has plagued this franchise since Marino retired. But in real life, if finding a franchise quarterback just isn't in the cards this offseason, we can at least hold out hope that Chad Henne has better days on the horizon.