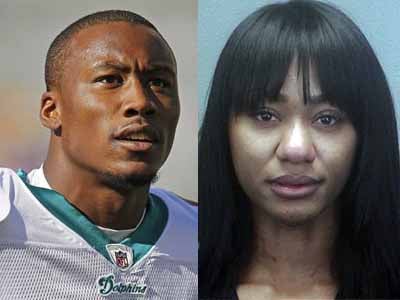 As all of you are well aware by now, Brandon Marshall was stabbed late last night/early this morning by his wife Michi Nogami-Marshall, but is apparently okay and has already been released from the hospital. I caught wind of the incident before I had to go out of town for the day, so I had no time to write up a post about it until now.
The knife reportedly didn't harm any of Marshall's internal organs, which is extremely fortunate considering it was likely inches, if not centimeters away from possibly seriously threatening his life. Marshall's wife was arrested by the Broward County Sherriff's department on a domestic-violence charge of aggravated battery with a deadly weapon, but was released on $7,500 bond this afternoon.
Those are the important details.
There will surely be plenty of he said, she said in the coming days, but right now Brandon Marshall, his family, and the entire Dolphins organization needs to count their blessings because this could have been much, much worse.
Now comes the speculation. Marshall's wife claims she stabbed her husband out of self-defense. If you know anything about Marshall's past, you know this isn't the first time he's had a domestic dispute. He's been arrested at least three times for domestic disputes involving women, including getting arrested in Atlanta, Georgia in March 2009 for a dispute with Michi Nogami-Marshall, who was then his fiancé.
Although, Marshall has relatively behaved since being acquired by the Dolphins, his troubled past in Denver suggest he likely wasn't simply the victim last night. But is it really fair to make that sort of assumption? Not enough details are present to know for sure.
You don't want to completely let Marshall off the hook by saying we don't know what really happened yet, because his wife had to be provoked to some degree. I don't think we can jump to conclusions yet either, though, because Marshall's wife could very well be mentally unstable enough to stab her husband over a simple fight. I guess we will have to wait for the legal process to run its course before we can make such judgments.
Luckily for Brandon at least, the police didn't report any wounds or bruises on his wife, so it will likely be hard to prove that she was being physically threatened enough to take such a drastic measure. Marshall did, however, reportedly lie to police in a sworn testimony by saying he slipped on a vase. But that's enough speculation for one night. The important thing is that Marshall is okay. But I'm sure the Dolphins will wrestle with the question of whether or not they did the right thing when they invested two second-round picks and $50 million in Marshall a year ago.