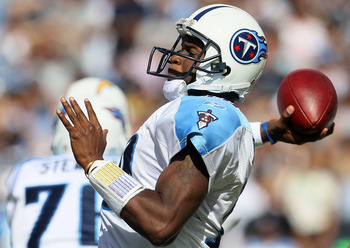 Speculation is once again brewing that Vince Young will bring his talents to South Beach shortly after the new CBA is finalized. That speculation may be nothing more than fans being fans, attempting to tie any and every big name free agent to the Dolphins.
I don't put much, if any, stock into reports claiming that "sources" say the Dolphins will likely sign someone. Anyone can claim anything to get attention and misinformation is far more common than the truth when it comes to free agency.
What I do know, however, is that the Dolphins will be adding a veteran quarterback to compete with Chad Henne. Their secretive front office has even gone as far as to admit that.
And when you take everything into account, Vince Young is by far the most realistic possibility that is capable of going toe-to-toe with Henne. Is he the best quarterback that is rumored to be available? Obviously not.
Carson Palmer is far more proven and could return to elite status with a change of scenery. And the numbers make it clear that Kyle Orton is also a better option. But we're all well aware of where Palmer and Orton's availability stands. Bengals' owner Mike Brown is far too stubborn to trade Palmer and Orton could easily still be the guy in Denver.
Even in the event that either franchise opens up to the idea, who's to say that GM Jeff Ireland is willing to give up a second-round pick or higher for the third consecutive year?
No, the Dolphins will realistically be forced to settle for a free agent. And if we're honest, there is really only one soon-to-be free agent capable of being the answer in Miami. Sure the Dolphins could kick the tires of Marc Bulger, Matt Hasselbeck, or Donovan McNabb, but even if they get a serviceable season out of one it's not going to solve anything in the long run.
Vince Young is only 28, has a 30-17 record as a starter, threw for 10 touchdowns compared to only three picks in 2010, and wouldn't cost the Dolphins a draft selection. Why exactly are so many appalled by the idea? Oh yeah, that whole attitude thing.
I'm not going to sit here and say VY will finally get it together and keep his head on straight. Nobody knows if he'll make the most of the second chance he's about to receive. If the Dolphins had to give up a draft pick to attain him I would say sure, he's too much of a risk. But as simply a free agent that's not going to cost a fortune to sign, the risk doesn't come anywhere near outweighing the possible benefits.
After all, what happened the last time the Dolphins passed on a talented quarterback with a troubled past? I'm referring to Mike Vick, who has salvaged his career in Philadelphia where he was an MVP candidate in 2010. The Dolphins weren't the only franchise to pass on Vick and that was when we were all still 100% behind Chad Henne. But I think it should serve as a reminder to the Dolphins.
Under normal circumstances, I would typically expect this regime to go with the blah, no risk no reward signing. Say someone like oh, I don't know, Marc Bulger- a capable band aid that could fill in for an injured or underperforming Chad Henne, but a guy that's not going to take this team to the promise land and will likely only halt progress.
But these are far from normal circumstances for this regime. Tony Sparano and Jeff Ireland are clearly on the hot seat. Taking a conservative approach on the most vital position is only going to put them both out of job.
If the Dolphins could go all-in for a quarterback now is the time. But I wouldn't even call it going all-in if they were to ink VY. He's not that much of a risk people. If he acts up simply clean you're hands of the guy and move on. If I'm Ireland, I would much rather regret taking a chance on a talented free agent than to regret passing on him and watching him flourish elsewhere.
All of this goes without saying that the interest has to be mutual, though. If the Dolphins are indeed interested, they likely won't be the only team lobbying for his services. There are other quarterback needy teams out there; Minnesota and Arizona to name a couple. But the Vikings are going to give Christian Ponder every opportunity to be the guy in Minnesota and the Cardinals are rumored to be more interested in trading for Kevin Kolb.
Put it all together, and Vince Young to the Dolphins just seems to add up. I'm not one for bold predictions and there are still too many variables at play here for me to make one. All I'm saying is Vince Young is the most likely option for the Dolphins. Love it or hate it, it's hard to argue that it wouldn't make the Dolphins a better football team. And that's regardless of whether or not he beats out Chad Henne, which is an argument for another day.