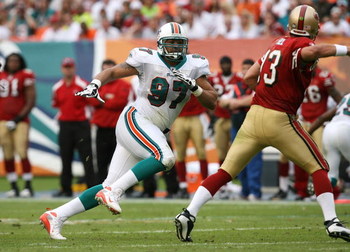 With news of defensive end Phillip Merling officially facing felony charges for aggravated battery on a woman he should have known was pregnant, a possible suspension hangs in the balance.
The ongoing trial, which could warrant Roger Godell to issue disciplinary action, combined with reports suggesting Merling was already on "thin ice" before the incident, and the fact that he's been a disappointment on the field ever since being selected by Miami in the second-round of the 08′ draft, could be enough for the Dolphins to cut ties with the third-year veteran.
And really, regardless of the depth Merling would bring to defensive end, it's probably necessary for someone on this team to at least get a slap on the wrist with all the nonsense that has been going on this offseason. The hype generating personnel moves made by this front office have overshadowed this team's legal troubles, culminated by four arrest (Tony McDaniel, Will Allen, Ronnie Brown, Phillip Merling) and more possible chargers on the way, with Brian Hartline's recent mishaps off I-595.
Someone needs to get either suspended or released, so our conscience can let us love this football team again, because I don't think any fan truly wants to root for a bunch of thugs every Sunday. Of the troubled players mentioned, the nature of Merling's charges surely makes him the most likely culprit for disciplinary action, whether that be a suspension, release, or both.
Tony McDaniel is a lesser known backup, who's domestic violence accusation carries less relevance. Will Allen and Ronnie Brown meanwhile, are first time DUI offenders, who have always been perceived as high-character guys in the past. Merling on the other hand, allegedly hit a pregnant woman.
The words cowardly and spineless fail to give Merling's actions, if true, justice. You can't simply sweep something like that under the rug. There needs to be a consequence. And if you have any class or moral obligation at all, even if you are a die-hard Dolphins fan who fully realizes Merling could provide an excellent three-man rotation at defensive end, you have to hope something is done-either by the league or the team.
 
Okay, enough of that. I will step down from the pulpit for the time being. From a football standpoint, the sky-rocketing chances Merling's days in Miami are a thing of the past, and the recently announced retirement of Jason Ferguson could cripple the Dolphins' depth along the defensive line.
Forget about depth, Merling was working with the first-team for the majority of OTA's, and could have beat out first-round pick Jared Odrick for the starting job this September. And even if he didn't, the Dolphins used Merling on a three-man rotation with Starks and Langford often a year ago, and were quite successful doing so.
Merling projected to at least have a similar role in 2010, but now the Dolphins will either have to hope Langford and Odrick can carry the load by themselves, all the while staying healthy, or hope someone like a Tony McDaniel can step up to the plate in Merling's absence.
Moving on to the void Ferguson's retirement leaves, things could get ugly quick for the run defense if Randy Starks proves too small to make the switch over from defensive end. Paul Soliai did little in the action he received after Ferg went down last year, to ease any doubts about the quality of depth behind Starks.
So, nonetheless, the thought of Phillip Merling being suspended or cut means a defensive line who was previously one of the most deep units in football, could be on the verge of becoming more thin and unproven in the coming days.