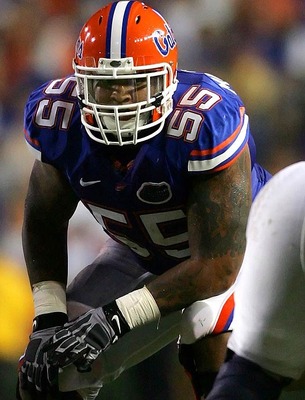 We took a look at the running backs in last week's draft board segment, but you could argue that it doesn't matter who the Dolphins bring in to carry the ball, the running game is going to be just as poor as last season unless the interior offensive line gets upgraded significantly.
I think the Dolphins have already improved the interior O-line this offseason when they resigned Richie Incognito to presumably move to center permanently. Richie was a mediocre left guard for the Dolphins, but showed real promise when he was asked to play center when Joe Berger went down and then continued to struggle.
In moving Richie inside, though, the Dolphins now face the challenge of filling two needs at both right and left guard. Like I've said before, I believe Nate Garner, who is without question the most versatile lineman the Dolphins have, has the potential to fill one of those needs after missing the entire 2010 season with a broken foot. I wouldn't count on it, but John Jerry could also make significant strides in his second season. He was awfully pedestrian as a rookie, but who knows how much he is capable of improving.
Even with possible in house solutions, though, the Dolphins desperately need to add at least one offensive guard. There will likely be some options for them in free agency if they are willing to dish out the cash, but with the uncertainty of having free agency after the draft, the Dolphins may not feel comfortable putting off addressing the need. Here are some prospects from this year's rookie class that could go a long way in improving the Dolphins' running game.
1. Mike Pouncey
School: Florida
Size: 6-5, 303
Projected Round: 1-2
Pouncey is the type of versatile lineman the Dolphins love. He can play either guard or center, but many scouts believe his natural position is at guard. He's got great size, keeps his pad level lower than defensive lineman consistently, and is a pretty fluid athlete for someone his size. Would be effective pulling, something the Dolphins' interior lineman were horrible at in 2010. Would likely be a reach if the Dolphins were to stay put at 15 and still select him. And you also have to wonder if his stock would be the same if it weren't for the success of twin brother Maurkice Pouncey with the Steelers.
2. Danny Watkins
School: Baylor
Size: 6-3, 310
Projected Round: 2
Would be one of the oldest rookies in the league at 26 years old. Has only been playing football for three years, but isn't as raw as you would think. Plays with great leverage in the running game, maintains great balance, and drastically improved in the pass protection department in the time he spent at Baylor.
3. Clint Boling
School: Georgia
Size: 6-5, 315
Projected Round: 2-3
One of the taller guard prospects in this year's class. Isn't as bulky as you would like for someone his size attempting to play guard in the NFL, but does compensate some with a solid combination of length and athleticism. Great motor as well. Finishes every block and plays with a mean streak Tony Sparano would love.
4. Will Rackley
School: Lehigh
Size: 6-4, 310
Projected Round: 3-5
A small school prospect that has good size to go with natural athleticism. Struggles off the snap, though, which doesn't allow him to dictate his blocks. Needs to develop a quicker first step and punch if he wants to be starting material in the NFL.
5. Rodney Hudson
School: Florida St.
Size: 6-2, 282
Projected Round: 3-5
Could be the best puller in this year's class with an explosive first step and natural footwork and bend. Is about 20 pounds undersized, though, which suggest the Dolphins, who prefer bigger, more physical lineman, won't be swayed by his athleticism.