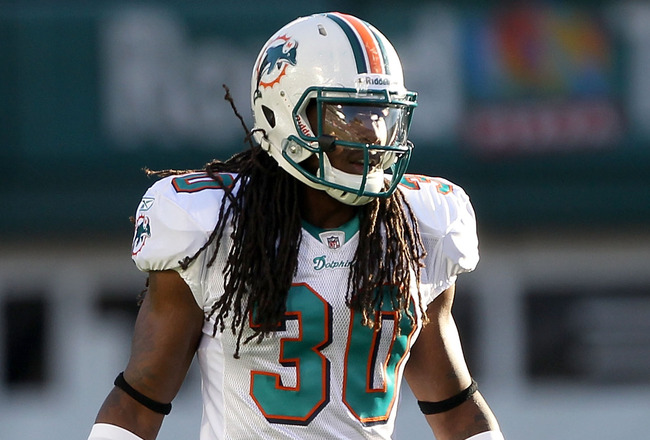 Competition is the name of the game in training camp and the preseason. Not only of the exhibition variety, but in its fiercest sense, teammates battling it out for final roster spots and starting roles.
We've spent a considerable amount of time focusing on the competitions on the back end of the roster for the right to be a member of the 2011 Miami Dolphins. Now, I want to spend some time discussing the battles with first-team implications.
As with the "Who's In, Who's Out?" series, this isn't a final prediction of who I see winning out. This is more of a freeze frame; a report on which Dolphins would start if Week 1 was today. Let's start with none other than free safety, where Chris Clemons and Reshad Jones are going toe-to-toe.
Free safety: Chris Clemons vs. Reshad Jones
Early on in camp, it appeared that Reshad Jones was on the verge of overtaking Chris Clemons at starting free safety. With three preseason games left on the slate, Jones has plenty of remaining opportunities to do just that. But it's becoming clear that Chris Clemons is once again the man to beat.
Clemons isn't the gambling type, usually staying disciplined in his assignments, which hurts his ability to make game-changing plays. But he's safe. Jones, on the other hand, likes to take chances in center field, putting him in better position to make plays on the football. But that also means starting him would be somewhat of a roll of the dice by the Dolphins.
Jones was a non-factor on Friday night in Atlanta, while Clemons flashed by laying the wood on John Parker Wilson, effectively knocking the rookie quarterback out of the game with a concussion.
Jones could easily get back in the driver's seat with a big play or two in the next three weeks, as Sparano has already went on record saying playmaking ability will be a deciding factor in the competition. Without any noteworthy plays from Jones, though, Clemons' safe, consistent play will likely win out in the end.
Edge: Clemons
Fullback/H-back: Lousaka Polite vs. Charles Clay
Even with Tony Sparano defending him to the media Monday afternoon and suggesting that he still has value to the offense, Lousaka Polite's days as a Miami Dolphin could be numbered.
Given his struggles as a lead blocker a year ago, Polite's only real value to the Dolphins is in short-yardage situations, as he's been nearly unstoppable when only a yard or less stands between Miami and a fresh set of downs.
Brian Daboll's new offense doesn't utilize the I-formation nearly as frequently as the traditionalist Dan Henning did. A pure fullback is far from a necessity and wouldn't exactly be a valued luxury.
Charles Clay is already taking most of Polite's reps with the first-team offense in practice. There just doesn't appear to be enough room to keep Polite around as essentially a situational player.
Edge: Clay

Strongside outside linebacker: Koa Misi vs. Jason Taylor
A healthy Koa Misi and this probably shouldn't even be a competition at all. But even before Misi apparently sprained his ankle at some point against the Falcons, Jason Taylor was seeing his share of first-team reps opposite Cameron Wake.
Obviously, JT would be first in line if Koa Misi's injury is serious, but indications are its not, and he's in no danger of missing significant time. Once Misi returns to action, it's hard to envision him not being the early-down option for the Dolphins.
Misi set the edge decently as a rookie and is only going to get better. Taylor, meanwhile, should bolster the Dolphins' nickel and dime packages as a situational pass rusher, but I have a hard time believing he can still maintain a starter's workload at this stage of his career.
Edge: Misi
Nickel corner: Benny Sapp vs. Will Allen
Just when it appeared that Benny Sapp was on the verge of running away with nickel corner duties, Will Allen finally returned to practice on Monday and barring any setbacks, he'll be on the field against the Panthers this weekend.
Allen has plenty to prove upon his return, though, if wants to realistically challenge Sapp. Ever since tearing his ACL in 2009, Allen just hasn't been the same. The Dolphins placed him on injured reserve last season because of lingering soreness in his knee and word is, he's been out of practice in camp this year with discomfort in that same knee.
If he's still being held back by an injury that happened two years ago, something tells me he's never going to be the same again. In the unlikely event that Allen is finally back to 100%, however, he should push Sapp for the job.
Sapp had an impressive showing in Atlanta, making a nice pass breakup and interception in back-to-back plays in the second quarter. He was on the inconsistent side in 2010, though. A healthy Will Allen, in his '09 form, would easily beat him out. Allen is now 33-years-old with a bad knee these days, though.
Edge: Sapp