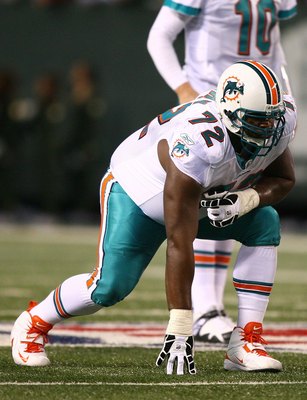 "Welcome back football." That was Adam Schefter's tweet Saturday night following reports that the players are expected to ratify a new CBA today, effectively ending the longest work stoppage in NFL history just in time for training camp and a full preseason slate minus the Hall of Fame Game.
We've been let down time and time again in this process, but now it appears there is finally some validity to our optimism. Once the new CBA is officially in place, reports now have it that free agency will open anywhere from Tuesday to Friday and training camps likely a week from today. That should give teams a little more time than expected to fill out their rosters before opening, but it's still going to be a crazy week to say the least.
One unit where we shouldn't see much activity is the offensive line. Tony Sparano's specialty is the offensive line, but you wouldn't have been able to tell it by watching the Dolphins' offense a year ago.
Jake Long was once again all-world at left tackle and while Vernon Carey seemingly continues to gradually digress, he was adequate on the other side. In between the tackles was nothing short of a nightmare.
Jeff Ireland took a calculated risk to save a little cash by cutting ties with starting center Jake Grove, who may have been overpaid, but contrary to popular belief, played a huge role in enabling the Dolphins' running game to rise to top five status in 2009. Joe Berger was nowhere near capable of picking up where Grove left off and was subsequently, in my mind anyway, the first screw to come loose in the collapse of what should have been a solid offense.
Richie Incognito was average, if not mediocre at left guard and rookie John Jerry struggled on the right side to round out one of the league's worst interior O-lines. The Dolphins are counting on first-round pick Mike Pouncey and possibly the return of Nate Garner to shore up the interior in hopes of returning to ground and pound Tony Sparano football in 2011.
WHAT TO EXPECT IN FREE AGENCY
The consensus around the team is that the Dolphins are content with what they have and probably won't look to free agency to acquire a starting caliber lineman despite huge question marks at both guard spots. Those questions don't come without potential answers, however.
The Dolphins will likely entrust Richie Incognito with the left or right guard spot and hope either John Jerry steps up his game in year two or Nate Garner is ready to cease one of the openings after being penciled in as the starting left guard in training camp last season before being lost for the year with a broken foot.
SAFE
Jake Long: The top lineman in the entire league and the best player on the roster will, needless to say, safely and soundly make the 53-man roster. We already knew he was as dominant of a left tackle as they come, but he also revealed how much of a warrior he is in 2010 by playing through a dislocated shoulder for the second-half of the season. The offense opens up training camp with uncertainty all over the field, but the one thing fans can count on is Jake Long. That's not going to change anytime soon.
Mike Pouncey: The Dolphins are going to have a lot of work on their hands when the league year presumably starts on Wednesday. Most of the attention is going to center around which running back and quarterback they bring in, but what shouldn't be underestimated is the importance of getting their rookies under contract in a timely matter, especially those rookies who will be expected to contribute immediately like Daniel Thomas and Mike Pouncey. A lengthy holdout by either and the state of the Dolphins' running game will be severely threatened.
Negotiating rookie contracts aren't expected to last anywhere near as long as they have in the past, especially with the new rookie wage scale. But getting Pouncey under contract and in the starting lineup quickly should be a priority considering the line needs every rep they can get to ideally gel this season.
You don't typically like to hand rookies anything right off the bat, but I don't imagine that Pouncey will be held off the first team for long. Sparano would be wise to bypass all of the shuffling this season and stick with a group early on in order to give them sufficient time to grow together.
Richie Incognito: When the Dolphins resigned Richie Incognito in March, initial reactions were that he was being brought back to permanently move to center after proving to be a significant upgrade over Joe Berger in limited action. When the Dolphins selected Pouncey in the first round many held to that line of thinking. Jeff Ireland was very adamant that Pouncey was drafted as a center, though, meaning Incognito will have to stay put at guard, where he was fairly pedestrian in 2010, for the time being.
Incognito possesses elite strength and plays with a nasty streak Sparano loves, but he just doesn't have the athleticism to pull effectively. The Dolphins may be relying on Pouncey and his superb pulling ability to help mask Incognito's deficiencies. Regardless, even as a nothing more than an average left or right guard, Incognito is very valuable to the Dolphins' line because he now has the versatility to also fill in at center.
Nate Garner: Speaking of versatility, no one on the team has more of it than Nate Garner. His size indicates that he's a prototypical tackle, but Garner has also lined up at center and was the leading candidate to land the starting right guard spot before breaking his foot and being placed on IR.
In a typical offseason we would have more insight into the Dolphins' plans for Garner this season, but since we have no minicamps or OTA's to go by, we'll have to wait until the first day of camp to uncover whether or not he starts out the year competing for one of the open guard spots.
John Jerry: Jerry was a disappointment to some degree as a rookie, but maybe we're being far too quick to give up on him. He was only a rookie, after all. Not every player is immediately ready to have an impact year one. He'll have his hands full if the Dolphins give Nate Garner the opportunity to beat him out, but if Garner opens camp as a tackle, virtually nothing stands in the way of Jerry reclaiming his job as a starter.
POSSIBLE CUTS
Vernon Carey: I'm mostly just playing devil's advocate, but truth be told, Vernon Carey isn't a sure bet to make the roster anymore. With his play on the field declining and his salary about to make the jump from $950,000 in 2010 to $4.15 million this year, the Dolphins could considerably improve their cap situation by letting him go.
It would be a risky move, though, especially remembering how things fell apart on the interior when Ireland tried to save cash a year ago. Lydon Murtha would likely have first dibs on the opening created by his departure, but Nate Garner would also figure to be a possibility.
Lydon Murtha: He's about five years younger and nearly $4 million cheaper than Carey. A strong training camp and preseason would leave Carey vulnerable to say the least. If Murtha can simply prove that he's close- not better, not equal- just close to Carey, the Dolphins are going to have a difficult decision on their hands.
Murtha certainly left something to be desired in his four relief-duty starts a year ago, but there is potential there. Significant improvement will make things interesting.
Joe Berger: Berger obviously played his way out of the starting job in 2010 after creating minimal to no push for Ronnie and Ricky to work with. He quite possibly could have played his way off the roster as well. Incognito would likely move to center if something happened to Pouncey, so Berger doesn't have much value on the third team.
Ray Feinga: The 337-pound BYU product has undergone a minor car accident, broken finger, and a four-game suspension in his tumultuous stint with the Dolphins. Enters camp with a decent shot at cracking the roster, but could easily be the victim of roster churning once final cuts have been made. Matt Kopa: Signed off of the 49ers' practice squad in November of last year, Kopa is projected to battle it out with Feinga for the final guard spot after serving as a tackle in San Francisco.
LIKELY CUTS
James Marten: Marten is another acquisition via the Dallas Cowboys' pipeline. The 6-8 former third-round pick has been a disappointment so far, but maybe he'll benefit from a change of scenery in Miami.
Allen Barbre: A former fourth-round pick of the Green Bay Packers in 2007, Barbre has spent time at right tackle and right guard. Actually earned the Packers' starting right tackle spot for the first seven games in 2009 before going down with an ankle injury. Could be the beneficiary of a surprise Vernon Carey cut.
PREDICTIONS
Depth Chart
LT: Jake Long, Nate Garner
LG: Nate Garner, Ray Feinga
C: Mike Pouncey, Richie Incognito
RG: Richie Incognito, John Jerry
RT: Vernon Carey, Lydon Murtha
Cuts
Joe Berger
Matt Kopa
James Marten
Allen Barbre
COUNTDOWN TO CAMP: TBA