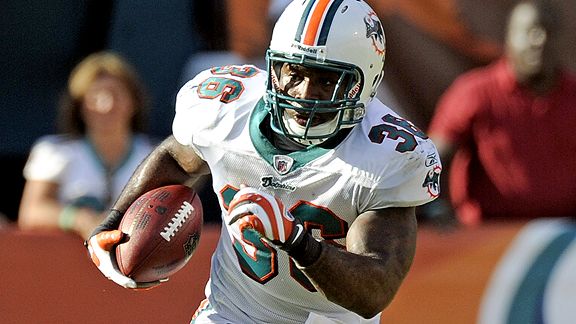 With the AFC East squads kicking off training camp this week, I've decided to do a little preseason all-AFC East first-team, like what you see at the collegiate level on a national scale and in the conferences. The idea of putting together a team of the division's best before the season actually begins is a bit irrelevant, but comparing how the individuals in the division stack up against their rivals is a great way to get the football juices pumping again.
Before we begin, let me make it clear this differs slightly from traditional preseason all-star teams. I'm not exaclty considering past season performances with this group. Instead, this is more of a prediction of how I see the season playing out, and which individuals I expect to standout in what is becoming one of the top divisions in the league.
Of course, that opens things up for my Dolphins bias to cloud some of my predictions, but I will try my hardest to stay neutral. As always, just take everything with a grain of salt. And feel free to post your own preseason all-AFC first-team in the comments section.
Offense
QB: Tom Brady, Patriots
HB: Shonn Green, Jets
FB: Lousaka Polite, Dolphins
WR: Randy Moss, Patriots
WR: Brandon Marshall, Dolphins
TE: Dustin Keller, Jets
LT: Jake Long, Dolphins
OG: Brandon Moore, Jets
C: Nick Mangold, Jets
OG: Stephen Neal, Patriots
RT: Vernon Carey, Dolphins 
HB2: Ronnie Brown, Dolphins
Slot: Wes Welker, Patriots
Defense
DE: Shaun Ellis, Jets
NT: Vince Wilfork, Patriots
DE: Kendall Langford, Dolphins
OLB: Calvin Pace, Jets
ILB: David Harris, Jets
ILB: Karlos Dansby, Dolphins
OLB: Cameron Wake, Dolphins
CB: Darrelle Revis, Jets
FS: Jarius Byrd, Bills
SS: Yeremiah Bell, Dolphins
CB: Sean Smith, Dolphins
Special Teams
K: Dan Carpenter, Dolphins
P: Brian Moorman, Bills
KR: Brad Smith, Jets
PR: Roscoe Parrish, Bills
Okay, so it's hard to hide my bias, but I think you could make an argument for all of these Dolphins making the actual all-division team at the conclusion of the season. Probably not all together, but hey, it doesn't hurt to be a little optimistic this time of year, right?