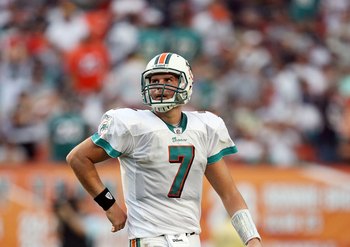 Once the euphoria of beating the Jets wears off, the reality of the playoffs being on the brink of out of reach once again sets in. Sure, Sunday's win in the Meadowlands prolonged the Dolphins' slim hopes, and at least prevented next week from being meaningless, but as long as there is hope, nobody is going to be satisfied with anything short of the postseason.
Those slim hopes may have become a tad more realistic if the Texans would have pulled off a win against the Ravens last night, but as we stand now, the Dolphins best chance of sneaking into the playoffs would be to win out and hope the Jets continue their late season skid.
Let's take a look at the Dolphins' playoff scenarios.
Scenario #1
-Dolphins win out
-Jets lose to Steelers in Week 15 and Bills in Week 17 (Week 16 against Bears would be irrelevant in this scenario)
-Chargers lose one more game (vs. 49ers, at Bengals, at Broncos)
-Colts lose one more game (vs. Jaguars, at Raiders, vs. Titans)
Scenario #2
-Dolphins win out
-Jets lose to Bears in Week 16 and Bills in Week 17 (under this scenario Week 15 against the Steelers would be meaningless)
-IF Chargers win out, Chiefs would then need to lose to either Titans in Week 16 or Raiders in Week 17
-IF Colts win out, Jaguars would then need to lose to either Redskins in Week 16 or Texans in Week 17
Scenario #3
-Dolphins win out
-Ravens lose out (vs. Saints, at Browns, vs. Bengals)
+ Two of the following three
-Chargers lose one more OR Chiefs lose in Week 16 or 17
-Colts lose one more OR Jaguars lose in Week 16 or 17
-Jets lose to Steelers/Bills OR Bears/Bills
Scenerio #4
-Dolphins beat Bills and Patriots but lose to Lions
-Jets lose out
-Colts finish 9-7
-Chargers finish 9-7
*All scenerio's possibly subject to current common opponents winning percentage and strength of victory tie-breakers holding up