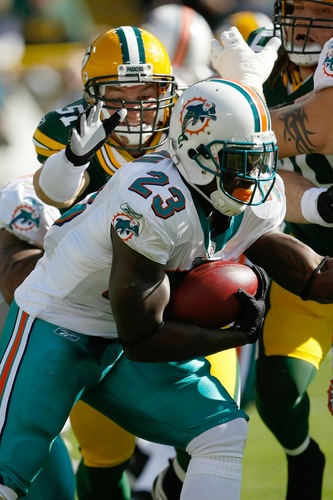 I know I'm showing up a little late to the party here, as Ronnie Brown opened up about his willingness to return to Miami on Sunday to the Miami Herald, but I wanted to give our new blogger Daniel Eliesen center stage yesterday with his first post for Phins Phocus. And by all means, if you haven't read his Top 25 active player rankings yet, be sure to give it a look.
As for the state of the Dolphins' running back position, we've speculated all offseason about guys like DeAngelo Williams and Darren Sproles. But what do the Dolphins do if they can't reel in a high-profile back like DeAngelo Williams in free agency or become unwilling to get into a bidding war for his services? Should this front office entertain the possibility of resigning Ronnie or is it just time for this franchise to move on from its 2nd overall pick in 2005?
Brown has been spectacular in spurts. Despite 2007 being the worst season in Miami Dolphins history, you could have made the case that Ronnie was the best back in football that year before he went down with a torn ACL in Week 7, as he was leading the entire league in yards from scrimmage at the time of the injury. And of course, being the catalyst for the formation that took the league by storm the following year will ensure he will likely always be looked at under a positive light in Miami despite being somewhat of a disappointment in reality considering he was taken 2nd overall.
Yes, you probably have to consider Ronnie's career with the Dolphins, if it is indeed over, a disappointment. It's not what Ronnie has done on the field that falls short of what expectations should be for someone who is drafted that high, it's that he's had four seasons cut short by injury. He was, however, able to play a full 16 game season in 2010, which was the second time he's accomplished that feat in six years.
But forget all of that. Let's not worry about what Ronnie has or hasn't done in the past. Is he a good fit for this football team today?
He will turn the dreaded age of 30 by season's end, but the fan's choice to fill his void, DeAngelo Williams, isn't far behind at 28. When you consider that Ronnie has had so many seasons ended prematurely due to injury and when you throw in the fact he's had Ricky to share the workload with, I don't think he's on the brink of running out of gas.
I still believe Ronnie can compete at a high level, and when he's healthy and has an adequate interior O-line in front of him, he can, at the very least, be a top 15 back in this league. That's not what concerns me. What concerns me is who the Dolphins just drafted in the second round. Daniel Thomas comes to Miami to presumably fill the shoes of the workhorse back.
In a perfect world, you would ideally compliment your bruiser with a speedster who is capable of taking any ol' sweep or screen pass to the house. But an outstanding running back tandem doesn't necessarily have to have polar opposite strengths. Take Ricky and Ronnie for example. Yes, they struggled a year ago, but I think we can all agree that the interior O-line was the primary reason for the drop off. Many fans were the first to proclaim that the R&R Express was the best running back duo in football when times were good.
Ronnie and Ricky weren't the same back by any means, but neither one was a burner. Both fit the workhorse mold if you had to assign them a title. So I certainly believe the Dolphins could have a very productive back-field with Ronnie Brown and Daniel Thomas.
Having said all of that, though, my first choice is still DeAngelo Williams. I just think he's one of the few elite runners in the game, and one of only a handful of backs, if that, that force defensive coordinators to scheme for him. But that's only if the price is right. I could very easily see the Dolphins pass being that he's 28 and his best football could already be in the rear view mirror.
I'll reveal my second choice later in the week, but bringing back Ronnie isn't too far down my list. I don't think the Dolphins should add a scatback just to add a scatback. I would prefer to see Jeff Irleand welcome Ronnie back, for hopefully a discount if it comes to that, than to see the Dolphins add a back with speed that doesn't run between the tackles effectively.
Let me know what Dolphin Nation thinks? Would you mind seeing Ronnie back in aqua and orange next season?