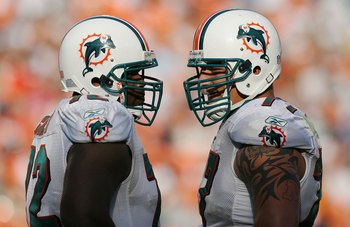 The only two proven positions along the offensive line, a unit still in so much flux despite this being Sparano's fourth season after once being considering one of the top O-line coaches in football, have suddenly been hit with turmoil.
Jake Long, the best tackle in the business, is on the PUP list and is no guarantee to be healthy in time for Week 1. Meanwhile, the solid Vernon Carey wasn't even on the practice field last night, leading the way for Ray Feinga, a 336-pound guard who was nothing more than practice squad caliber in 2010, to man the position with the first team.
I think it's safe to say, if the Dolphins had to take the field right now, Chad Henne wouldn't stand a chance. The Dolphins turned to free agency to answer some of these questions on Monday morning, but inking one of the worst starting tackles in the league statistically speaking from a year ago in Marc Colombo isn't going to magically resolve anything.
Tony Sparano shed some light onto the status of both Big Jake and Carey to the Armando and the Amigo show this morning. In response to whether or not Long will be ready for the opener against the Patriots, Sparano said "I can't say 100 percent right now but that's been the plan and right now the plan is going according to script. If the plan continues we would see him actually on the field a little before that. I don't know how this is going to go but the most important thing is we have him there for New England and that was the goal from Day 1."
Not exactly a guarantee from Sparano, but it sounds like, I emphasize sounds like, there isn't much to worry about barring any setbacks. Moving to the other side, when asked about Vernon Carey's absence at Sun Life Stadium last night, Sparano said "You know better than to ask me that question. At the end of the day, anything I talk about with my players I'm going to keep in house here. But I gave Vernon a personal day last night. That's all I'll say about it. He and I are going to visit again today at some point."
This is certainly nothing more than speculation at this point, but all signs are pointing to this having everything to do with Carey's contract. He's scheduled to cost the Dolphins around $7 million against the cap this season, and he certainly doesn't appear to be worth that kind of cash anymore. He's no longer one of upper echelon tackles in football, bordering more along the lines of middle of the pack these days.
But for a guy that's spent his entire football career, life even, in Miami, it's hard to see him not being willing to accepting a pay cut if he's not disrespected by the Dolphins potentially asking him to do so. He wouldn't make anywhere near what he is making now by hitting the market and signing elsewhere.
All of this is leaving the fans a little uneasy, though, and understandably so. There has been way too much shuffling along the offensive line the past couple years for a head coach who specializes in the unit.