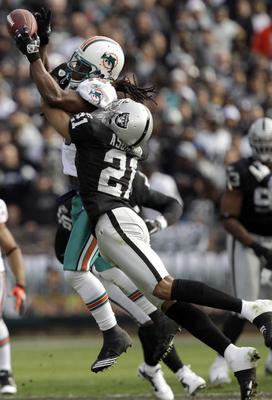 The following argument has nothing to do with soon to be former Raiders' star cornerback Nnamdi Asomugha as a player. As a player, Asomugha is, in my opinion, the best cornerback in the entire league. And yes, that includes Darrelle Revis.
No, Asomugha doesn't have the reputation Revis has, but simply put, that's only because the Raiders have been the laughing stock of the league for years and Revis' Jets are the media's darling. Also, Asomugha may get overlooked at times because of his lack of interceptions. It's hard to get picks, though, when quarterbacks won't even throw the ball his way.
I'm not aware of the number of times Asomugha and Revis were targeted in 2010 because Pro Football Focus is now a website that requires a paid membership, but in 2009, they revealed that Revis was targeted 111 times while opposing quarterbacks only tested Asomugha on 28 occasions. Not to sell Revis short by any means, he's an elite corner that drastically makes the Jets a better defense and football team, but Asomugha has been just as dominate, if not more so. With that said, however, I don't believe that the Dolphins should be in his sweepstakes when he eventually hits free agency, as NFL.com's Micheal Lombardi suggested yesterday afternoon.
Most fans are well aware that the Dolphins have themselves a young corner in Vontae Davis that may be on the verge of rising to elite status himself, meaning a lockdown corner is far from one of this football team's needs in a offseason where several pressing voids must be addressed. Still though, many don't expect owner Stephen Ross to be shy with his money this offseason, and the ideal of having an elite corner on each side of the field would be frightening for opposing quarterbacks. But that's where Sean Smith comes into play.
In my opinion, Sean Smith may be the most underrated of any Dolphin. It's hard to believe so many fans look right past how drastically the Dolphins' secondary improved when Jason Allen was benched in favor of Smith. Some fans see Allen's picks and Smith's lack thereof, and immediately assume the second year corner is expendable. But together as a tandem, Davis and Smith kept most starting receiver duos in check. Quarterbacks typically had more success hooking up with tight ends, running backs, and slot receivers than the two perimeter targets.
Now, Smith still has a lot to work on if he wants to amount to anything more than a solid starter. For instance, he isn't the surest open field tackler and we are all well aware of how many picks he dropped, but if he can just continue to provide consistently sound coverage the Dolphins' secondary has a bright future. While I'm excited that Stephen Ross is willing to dish out big checks to bring winning football back to Miami, I think his cash could be put to better use this offseason. More specifically, on the offensive side of the football.
If Lombardi's reports have any validity to them at all, though, I would expect the Dolphins to either pursue trading Smith or switching his position permanently to safety. Smith lined up as an extra safety in Mike Nolan's nickel package in 2010, and before the draft some scouts even suggested that he would eventually have to be moved to safety because of his size. Because without a move to safety or a trade, Smith just wouldn't be a serviceable fit on this football team. He doesn't have the build or lateral quickness to be a nickel corner, and Will Allen, who recently had his contract reworked, is already projected for that role.
So, even though Asomugha is a great player and would give the Dolphins arguably the best cornerback duo in the entire league, there are just too many needs to be filled on offense and too much cash that should be invested in retaining Paul Soliai on defense for me to believe this report will materialize whenever free agency takes place.