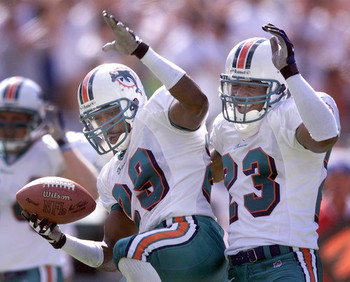 Over the weekend, our part-time contributor Joshua gave Zach Thomas the slight edge over Nick Buoniconti in the intense debate over which Dolphin great is the best middle linebacker in team history. Choosing the best cornerback in Miami Dolphins' history proved to be an equally challenging task.
From 1998-2004, Sam Madison and Patrick Surtain blanketed opposing receivers and established themselves as the league's most dominant cornerback duo and subsequently, a legendary tandem in Miami.
Choosing one over the other is like splitting hairs, but that's what makes lists like this fun. The corners we have ranked 3rd through 5th were also key cogs on some of the stingiest defenses the Dolphins have produced.
And in keep in mind we may be on the verge of witnessing a corner tandem nearly as dominant as Madison and Surtain were with Vontae Davis and Sean Smith projecting to emerge as two of the league's better lockdown corners in the near future. But both still have plenty to prove. The future can wait. Now, it's time to honor the past.
5. Curtis Johnson (1970-1978): Before Madison and Surtain, the best corner tandem in team history was Curtis Johnson and Tim Foley. Just like their successors, Johnson and Foley are nearly impossible to differentiate in rankings. They were the starting cornerback duo on the Dolphins' only two Super Bowl champion teams. Ironically, they were so identical that they both finished their careers with 22 interceptions, which ranks 6th in franchise history. But we are talking about corners here, and Tim Foley had his best statistical seasons at safety, where he was moved in 1977. Curtis Johnson was arguably the more talented corner. Johnson only missed three games in his nine-year career in Miami, where he, along with his 22 picks, racked up 190 yards on returns and recovered 8 fumbles.
4. Terrell Buckley (1995-1999, 2003): As one of the finest ball-hawks in Dolphins' history, Terrell Buckley picked off 21 passes in only four years as a starter in Miami. And he was far from finished once he made the pick. Buckley led the entire league in interception return yardage with 164 in 1996. In his entire 14-year career, Buckley returned his 50 interceptions for 793 yards and took six all the way back to the house. Buckley is the only player in NFL history with at least 50 interceptions and no Pro Bowl appearances. Unfortunately, Buckley also spent time with the rival Patriots and Jets, but his most productive years were in Miami. And that's where he is, at least on our list, one of the top cornerbacks to ever strap on the aqua and orange.
3. Don McNeal (1980-1989): He didn't pick off as many passes as the other corners on our list, but Don McNeal was one of the top cover corners in team history. He has the fewest interceptions (18) on this list despite the longest tenure, but he was so sound in coverage that quarterbacks rarely tested his side of the field. He was probably underappreciated as far as accolades go, but he was named Dolphins' Player of the Year in 1982 and '84 and was voted to the Silver Anniversary team. Unfortunately, McNeal is remembered by many for the play he didn't make. In Super Bowl XVII, McNeal was unable to bring down Redskins' running back John Riggins on his way to the winning 43-yard score.
2. Patrick Surtain (1998-2004): The Dolphins bolstered their pass defense in 1998 by adding Patrick Surtain and Brock Marion, arguably securing the league's top secondary for several years. Marion provided security over the top at safety, while Surtain joined forces with Sam Madison to form a dominant cornerback duo. Madison barely edges out Surtain in my opinion, but some argue that Surtain was actually the better cover corner. To go along with his 29 interceptions, which ranks 2nd amongst corners in team history, Surtain made three Pro Bowl and two All-Pro rosters.
1. Sam Madison (1997-2005): The year before the Dolphins drafted Surtain, they selected his counterpart in the second round of the 1997 draft. As a dominant press corner, Madison quickly established himself as one of the league's best, if not the top cornerback in the entire league. He gets the slight edge over Surtain simply because he one upped his sidekick with four Pro Bowl appearances and three All-Pro selections, compared to only three and two for Surtain. He also picked off two more passes with 31, which is the most by a corner in team history. But make no mistake about it, it's more like 1a and 1b with these two. It's just a shame the Dolphins' offenses of the late 90's and early 2000's couldn't help out Madison and Surtain and the entire Dolphins' defense a little more. At least in Madison's case, he got the ring he deserved with the Giants in 2007.