Now, there's four things you don't see in Washington every day.
1. The Redskins win in a blowout.
2. The Redskins beat a beatable team.
3. The Redskins won at home.
4. A really bad Andy Reid team.
Washington was anywhere from 1½ to four-point favorites going into the Philadelphia game. They won by 25. Nobody but my Magic 8 Ball saw that coming.
The Redskins did it by returning to the formula that gave a measure of success early in the season – big plays and turnovers. Robert Griffin III threw TG passes of 49, 61 and 17 yards to go with his garden-variety six-yard scoring strike to FB Darrel Young. Venerable Santana Moss attacked the ball on his 61-yard catch, while TE Logan Paulson swirled for the score after his second-effort spin move.
The safety who blew the coverage on Aldrick Robinson's 41-yard touchdown was Nate Allen, the 2nd round pick the Eagles made via McNabb trade

— Daniel Shiferaw (@dshif) November 19, 2012
//platform.twitter.com/widgets.js
On the flip side, Alfred Morris rushed for another 76 yards. Morris was acquired via 6th round pick from…McNabb trade. The second one

— Daniel Shiferaw (@dshif) November 19, 2012
//platform.twitter.com/widgets.js
The defense seemingly never got to Eagles rookie Nick Foles, but Foles threw interceptions in Philly's first two possessions. The Redskins converted the first to what turned out to be the winning touchdown early in the first quarter. The second ended a penalty-marred, 82-yard, 6:46 drive that might have led to an Eagles score.
Brandon Meriweather was everywhere on that drive and it was he who snagged the INT. That's a tease of what the Redskins D might have accomplished if Meriweather played. As it was, he was making his appearance for the Redskins and did not last the game. Meriweather tweaked his right knee in the second half and the 'Skins held him out as a precaution to be ready for the Dallas game.
In the time he played, Meriweather scored seven tackles, two passes defended, an interception, and he silenced for the moment calls to fire Jim Haslett.
FedEx Field has been so friendly to the Eagles, that they call it Franklin Financial South. With the win, the Redskins "improved" to 5-15 in home games in the Shanahan Era.
We knew the Eagles were in a downward spiral. They entered the game with the same 3-6 record as their hosts. They came without Michael Vick, the man to whom Robert Griffin III is most compared. Their O-line started a player, Jake Scott, signed a few days before the game. It was a line even the Redskins maligned pass rush could dominate.
The Eagles didn't make it easy, despite what the score implied. Philadelphia dominated time of possession in the first half for 19 of 30 minutes. But, it was clear throughout the game that this was not a bad team. The Eagles are a dreadful team. I feel a small measure of sympathy for their fans.
Worst play of the day for #Redskins' defense? Allowing 20-yd completion on 3rd&17. Can't happen. Johnson got open on dig between 59 and 41.

— Grant Paulsen (@granthpaulsen) November 19, 2012
//platform.twitter.com/widgets.js
One of Hog Heaven's concerns going into the game was that Eagles players would go all out to save Andy Reid's job. Bad things will happen to a number of those players if Reid is fired, which seems more likely every day.
But no, The Eagles played as if they quit on Reid, overwhelmed by the problems before them. It's unsettling to watch.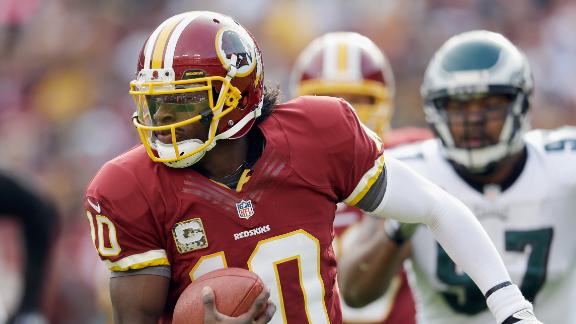 RGIII may qualify for Rookie of the Week even though Sunday's performance won't count.
Griffin III completed 14 of 15 pass attempts for 200 yards and four touchdowns for a near-perfect 158.3 QBR. The NFL will not recognize the record officially points out Rich Tandler. The league requires 20 pass attempts to write it in the books. Rich takes note of one oddity. "If Griffin had thrown the five additional passes required to have his rating 'count' in the record books and all of them had been incomplete he still would have had that perfect 158.3 rating."
Such technicalities won't stop the league from promoting the heck out of Griffin, one of its hottest young guns whose luminous persona can be sold to endorse pretty much anything from shoes to sandwiches.
Therein lays a risk. We are all human. The seeds of our failure are planted in our success. Hubris has failed many top performers who felt they had done enough. (Looking at you, Cam Newton.) Hog Heaven writer Greg Trippiedi want everyone, player, coaches, fans to hold Griffin to a higher standard as we go forward.
"But it's worth pointing out that in a lot of passing metrics (and some rushing metrics), Griffin is performing closer to the level of Russell Wilson, who was picked two and a half rounds later, than he is to Andrew Luck, who went with the top overall pick. Griffin's season has still been exceptional in so many ways, if not 'three first round picks' exceptional."
There will be praise heaped on @rgiii for that touchdown he heaved into double coverage….

— Andrew Brandt (@adbrandt) November 18, 2012
//platform.twitter.com/widgets.js
Greg points out the convergence of pro teams moving to college offenses as the growing complexity of those offenses produce more NFL ready-from-day-one quarterbacks. Griffin could be quite ordinary compared to new talent unless he and Mike Shanahan are very smart about his professional growth.
Images:
Eagles vs. Redskins found here.
Robert Griffin III vs. Eagles found here.
Enjoy this story? Like it on Facebook and Tweet it to your Followers. Click the buttons below. Leave a comment down there, too.