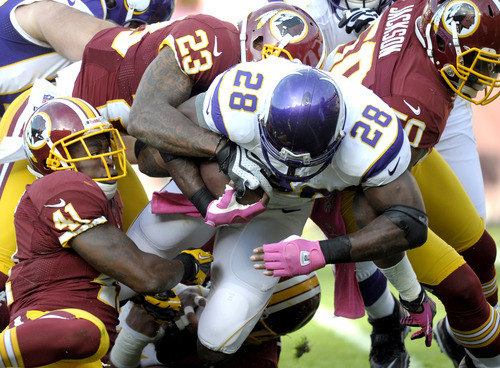 Redskins Hog Heaven enjoys the back and forth with our Bloguin colleague Purple Jesus Diaries who blogs the Minnesota Vikings, often in a profanely funny way. For the fourth time in as many seasons, we ask PJD about the Vikings. We also answered his questions about the Redskins. Click HERE to go and see.
1. How do the Vikings determine their quarterbacks? Names from a hat? Throw darts at pictures? Draw straws? Astrology? It's unfair to put opponents through this guessing game.
A1. Largely, it's whoever passes the concussion test between Christian Ponder and Josh Freeman. With those two competing for the starting position (and when I say competing, I mean "competing" like when two Canadians fight over a metro seat … "No you have it" "No you, aye?" "No, I insist"), and the future of Minnesota Vikings quarterbacking, Matt Cassel is essentially out of the picture. Ponder befuddled everyone by playing poor to mediocre last week against the Cowboys (as opposed to plain "awful" or "cringe-worthy"), and he's been in the offense for his entire career, so he still has a leg up on Freeman. Regardless, he's still gone at the end of the year.
Christian Ponder puts Minnesota home on the market http://t.co/A6UPeEWq15

— Anthony Brown (@SkinsHogHeaven) November 4, 2013
//platform.twitter.com/widgets.js
1a. Why did Bret Favre turn you down. I just know the Vikings called him.
A1a. He was waiting for Rodgers to get injured so he could re-sign with the Packers and lead them to a glory Super Bowl. Then take his earnings and buy a bunch of pain pills.
2. Quarterback confusion is a sure sign of front office in-fighting. Who's winning control of the Vikings future?
A2. Rick Spielman, Vikings GM, which is a bunch of crap. Before coach Leslie Frazier was around, the Vikings were managed by a "Triangle of Authority" which was a dumber version of the Illuminati. It included then-coach Brad Childress, then-player personnel guy Spielman, and some other moron I forget. It failed miserably. Since then, Spielman became full on GM, and has done an on-paper decent job of assembling talent. Draft picks were largely panning out, and there weren't ridiculous free agent signings that were needed. Plus, a youth movement was happening successfully.
But you still need a quarterback, and that's been Spielman's downfall. The Ponder pick-up (and Freeman signing, actually) both fall on him. I think if neither pan out and he has to start from scratch in the draft, he shouldn't get the opportunity. He makes his moves in the shadow (in comparison with Frazier on the sidelines, at least), and is getting more of a pass on the hot seat because of it.
Personally, I'd rather see Frazier stick around and Spielman get fired, but they are likely a pair firing. Until that happens, Spielman will mostly be making the shots of who to bring on the team, Frazier will coach who he's given like a good soldier, and will bite his tongue instead of saying "I told you so" when Freeman plays awful.
3. Minnesota's formula of success was the strength of the pass rush and the legs of Adrian Peterson. What happened?
A3. Jared Allen has been in a decline for the past year and a half, the defensive push up the middle has been lacking for several years, and our offensive line has regressed something fierce.
Peterson finally looked a bit like his old self this past week against the Cowboys, going for 140+ yards and a TD on significant carries, but it's been a long time coming. The offensive line simply isn't playing like it did last year, with center John Sullivan, left tackle Matt Kalil, and right tackle Phil Loadholt ‒ the anchors of the line ‒ all playing sub-par or injured. I don't even want to think about our guard play. They may as well not even be out there. We'd probably run and pass block better then.
4. The Redskins and Vikings will meet for the fourth consecutive year. It's like we are division rivals. Which would you prefer, the Vikings to move to the NFC East, or Redskins move to the NFC North?
A4. I'd have to add the Redskins to the NFC North, even though geographically that makes no sense. But we use to have Tampa Bay in our division, so geography clearly doesn't matter.
As to why, I'm sure you'd have to answer the same. While I certainly have grown to hate many teams in the NFC East (Giants and Cowboys have a long, ugly history with the Vikings too, and I'd love to destroy their face twice a year), but it'd be very hard to give up the division rivalries. No Vikings and Packers twice a year? No Bears games? I mean, imagine if the Redskins didn't butt heads with the Cowboys or Eagles twice a year? It'd be weird, and different, and I'm getting old and don't like changes, so that answers that.
5. OK, lets get serious. Cordarrelle Patterson, great pick or second thoughts?
A5. Great pick. It's not his fault that the coaches hold him back for playing time or that he doesn't have a quarterback who can throw him the ball.
The reality is that the Vikings at one point did have Percy Harvin, but Harvin saw what all the fans saw … a team with a bad quarterback and no real hope in the near future. So with a contract coming up, he got out of Dodge (a city in Minnesota, probably?), and I don't blame him. But the Vikings had to respond to that position absence, somehow. So with the free money they signed Greg Jennings (which is a fine pick up) and drafted Cordarrelle. Not a bad two-for-one swap.

When Patterson has been on the field – and been given the chance – he's been awesome. Quick feet, shifty moves, speed to boot. He leads the league in return yards, and has already housed two kick returns this year. He hasn't shown much in the receiving game yet, but neither have any other receivers because of our quarterback situation. He'll be a good player for us for several years though, and came in a draft where we paired him with 2 other first round picks, so there is some good, young talent coming up the pipe line.
6. Other than AP, which Vikings player should most concern the Redskins?
A6. Hahaha … Um. Blair Walsh, our kicker? Maybe Patterson on a kick off, or Marcus Sherels on a punt? Those would be the only people that wouldn't rely on a quarterback to be successful, so I'd have to name them. Our defense is so banged up right now (awesome safety Harrison Smith is still out) that I wouldn't even worry game planning for that.
RHH Comment: Oh great. Another special teams issue.
7. Your game prediction and score?
A7. Thursday night games are always ugly. You can tell players are just slugging through the game, hoping they don't pass out. Because of this, the offense tends to be brutal, and the scores are low scoring. But it also evens the playing field a bit more, because awesome teams are just as tired from last week as the awful teams are.
Truthfully, neither of our teams are "awesome", so I worry what exactly that means in this Thursday night match up. Maybe that it'll be a "defensive struggle"? Either way, I expect the Vikings to lose, probably in the last minute again, 27-23.
Can't wait! I ask all Redskin fans to pray they win to help keep the Vikings in contention for the number one draft pick next year. Thanks in advance.
What did Hog Heaven tell Purple Jesus about the Redskins? Peek here.
Enjoy this story? Tweet it to your followers and Like it on Facebook. Click the buttons that say "Tweet" and "Like."