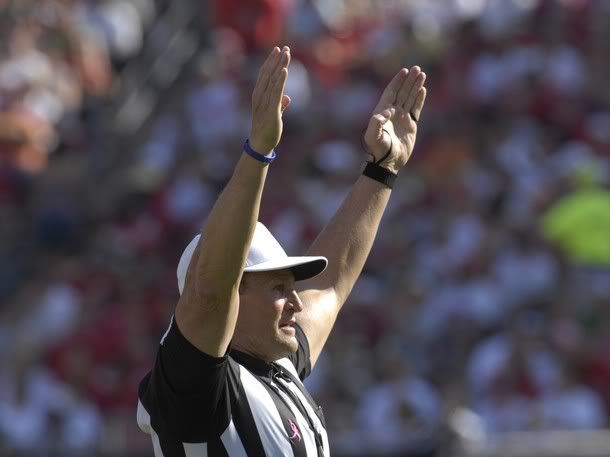 With the Tampa Bay Buccaneers in town Thursday for the last 2011 preseason game, we fire a few questions to Brian Kornfled who covers that team for BucStop.com on the Bloguin Network.
1. Two words: Bruce Allen. Your reaction?
Bruce Allen was in a very tough position as the Bucs GM. On one hand, he was one of the best I have ever seen at getting a team under the salary cap. On the other hand, I compared him to a father taking his son (Jon Gruden) to a toy store. The son would go up and down the aisle saying "I want I want I want gimme gimme gimme" and the father would reluctantly say yes to everything. In the end, the signing of so many free agents was his downfall in Tampa. On the other hand, Bruce Allen could find veterans already in the league, but definitely struggled in the draft.
2. Tampa Bay is following the prescription method for building a playoff team: select a franchise quarterback; build a young team around him; grow together as a playoff contender. What can Redskins fans learn from this approach?
Everything. When you look at perennial contenders, such as the Patriots, Steelers, Colts, Chargers, Ravens, and Packers (the only teams other than the Eagles to make the playoffs at least 3 of the last 4 years), you see teams that follow this mold exactly. The key to building a team that contends year after year is building through the draft and filling in the holes with free agents. The one ideal that I preach to fans, however, is patience.
This is not a practice that takes one year to complete, and the NFL mentality is always "win-now". Would you rather make the playoffs one of the next 2 years, or miss the playoffs for 2 years then get there 5 years straight? I'll take the latter.
3. What happens first, Tiki Barber joins Ronde on the Bucs, or Ronde joins Tiki in retirement, and when?
Ronde joins Tiki in retirement. The Bucs won't sway from their plan, which doesn't involve free agents over 30. Ronde will join Tiki in the broadcast booth after the 2012 season.
4. Pat Yasinkas, ESPN's NFC South blogger, says the Bucs do not have a lot of veteran leadership to help guide young players like Aqib Talib. Is there anything to that, or is it just so much psycho-babble? Who are the Bucs' veteran leaders?
The funny thing about the Yasinkas' comments is that cornerback is the one position where the Bucs do have "veteran leadership". However, I believe veteran leadership is overrated. (Note: That's just what Jeff George said.) Being old doesn't make one a leader, possessing leadership qualities makes a person a leader. Ronde Barber may be the oldest guy on the team, but he will never be the guy in the middle of the huddle pumping the team up.
In fact, some rookies demonstrate better leadership than veterans. One quality the Bucs have drafted has been leadership, which is shown by the number of team captains the Bucs have drafted over the last 3 seasons. All of their top draft picks were team captains in college. These players are already taking over as leaders as quarterback Josh Freeman gathered over 50 players for offseason lockout workouts. In those workouts, 2nd year pro Gerald McCoy ran defensive line drills. Do you think a veteran like Albert Haynesworth would have even showed up?
Note: Now, that's an interesting point. The Redskins drafted rookies who were seniors, multi-year starters and team captains,. Kudos to Allen if he brought that practice here.
Even with leadership present, the other players must take it upon themselves to follow. Aqib Talib is a big boy, and he needs to take personal responsibility upon himself to pick the right group to follow.
5. Last year, the Bucs escaped Washington 17-16 with a lot of help from our own kicking game. Tampa Bay was the last team to see Donovan McNabb in a Redskins uniform and will be the first to see RB Ryan Torain this preseason. Do you feel any guilt for ruining McNabb's career in Washington? How will the Bucs stop Ryan Torain who rushed for 172 yards against them last December?

Any guilt for ruining McNabb's career? None at all. Keep in mind; it was the Bucs who got Eagles fans to start to doubt McNabb's ability to win the big game in January 2003 when he found a wide open Ronde Barber to ice the NFC Championship.
The Bucs run defense is getting much better. They have found within their system a manbeast of a defensive tackle, Frank Okum, who is weighing in at 370. If the front 4 can do their jobs, the linebackers will be stepping up and making tackles at the line before Torain can build up speed and get to the second level. In the Bucs defense, it all starts on the front 4, which is why the Bucs have spent 4 of their last 5 first and second round draft picks on defensive line.
6. What is your best guess at Tampa Bay's final 2011 record?
I see the Bucs clocking in at 10-6 when January rolls around.
BONUS Question: Will Michigan Wolverine head coach Brady Hoke help or hurt QB Denard Robinson and would the Bucks select Robinson with a first day Draft pick if the junior comes out early?
Brady Hoke definitely won't help Denard Robinson, as his offense will be run as more of a pro-style offense. Robinson is very talented as a runner, and can throw, but he will be handcuffed taking snaps from under-center.
However, Hoke will help the team not give up what seems like 65 points a game. With that, Hoke will help Michigan do what matters to us most, and that's return to the Rose Bowl.
If Robinson comes out after this season, I would love to see the Bucs draft him…they need more depth at running back.
Thank you, Brian Kornfled for your answers. We answered Brian's questions about the Redskins on BucStop.com. Go take a look. We'll be here when you get back.