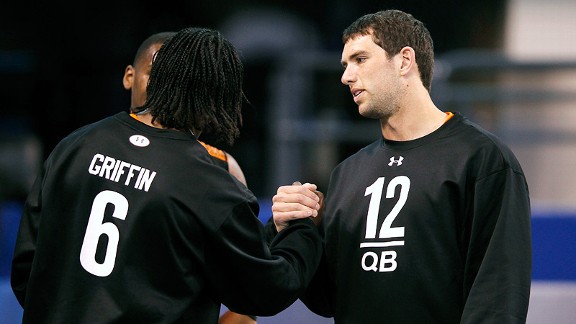 Andrew Luck, the Washington Redskins' Plan B rookie quarterback prospect, will have his Pro Day at 2:00 PM EST today.
Fans can view the even live on ESPN U and ESPN3. Robert Griffin III did not appear in Baylor's Pro Day until the second hour of the affair. Baylor's lineman went through their drills that were as riveting as the NFL Combine. That is to say, it was as riveting as watching paint dry. Who needs linemen in football, anyway? (Just kidding.)
Just be warned that Luck probably will not be the afternoon's leadoff player. It is the Stanford University Pro Day after all. NFL scouts, um, scout all the Cardinal pro prospects. They earned that attention.
All eyes will be on Luck even though only two teams, the Redskins and the Indianapolis Colts, have stake in his performance.
The RG3 experience
Griffin the Third impressed on his Pro Day. He was more impressive during his press conference after. There is so much more to being a franchise player than making throws and winning games.
Franchise players enhance brand value. The business parlance is goodwill and it has a tangible value. Ask the Colts and the City of Indianapolis about the economic impact of Peyton Manning's goodwill.
Franchise player goodwill doesn't just fill stadiums. It builds them. Lucas oil field would not have happened if Peyton Manning were not the Colts' quarterback. It might not have happened if the City and the State knew Manning would be off the team by 2012.
Griffin telegraphed franchise goodwill at his press conference. The Colts need to backfill Manning with a franchise quarterback. They need Andrew Luck to match RG3's Pro Day performance, both on field and interview. Redskins fans need Andrew Luck to match RG3's performance so that the Colts will not be tempted to take Griffin over Luck. Griffin wants to be the No. 1 pick and will do whatever he can to impress the Colts on his pre-Draft visit to Indy.
Washington must do its own due diligence on Luck against the possibility that the Colts snap up Griffin. 'Skins fans have fallen in love with Griffin and, oddly, would see Luck as a consolation prize. He is more than that, but fans would be disappointed to see anyone but Griffin starting at FedEx Field in September.
The story on ESPN.com said Griffin threw 51 passes at his Pro Day. The graphic on the day of of the event had Griffin throwing 78 passes with 74 completions. I saw a fluid throwing motion, footwork suggestive of Manning's and downfield accuracy. All in my fan's eye view, of course.
ESPN's Merril Hoge believes Griffin should be the top pick over Luck for RG3's accuracy while on the move, arm strength and touch. You can see the comment in the second video that accompanies the story Robert Griffin III impresses.
That's why all Redskins fans will cheer for Luck to have a great Pro Day.
Greg Hardy described the Redskins move to trade up for Griffin a "savvy trade." I have never before seen those words applied to this deal, or any Washington transaction. Thought it was worth noting.