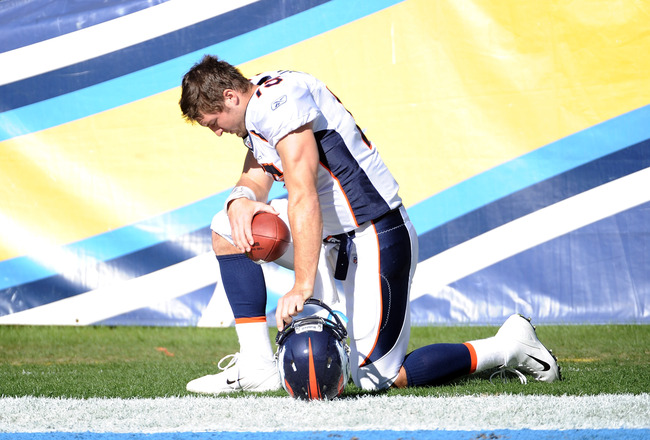 Some stories about other teams are just too good to pass up!
It reads like the start of a bad joke. "A duck goes into a bar and orders a drink."
A priest, a rabbi a duck and Tim Tebow walk in to the New England Patriots and ask for a football. Bill Belichick looks up and says, "What is this. A joke?"
But seriously folks, SI.com reports that the Patriots have already signed free agent quarterback Tim Tebow and expect him to be in mandatory minicamp tomorrow.
The last time Belichick and the Patriots saw Tebow in game action was the Divisional Playoff Round following the 2011 season. The Patriots walloped the Tebow-Broncos 43-10 to end Denver's magical season. The Broncos closed the regular season with a three-game losing streak. The Pats kicked off that streak by beating the Broncos at home 41-23.
Belichick, or OC Mike McCoy, must see something in Tebow. I wish I knew what that is.
The move does not threaten Tom Brady nor, I suspect, back-up QB Ryan Mallett. New England is very concerned about the health of TE Rob Gronkowski. Has Tebow finally agreed to switch to tight end to extend his career?
No one has ever seen Tebow catch a ball in a game, so that idea could be another joke. It's no joke that there is something magic about Tebow that just might be Divine. An earlier story on the This Given Sunday blog reported that the New York Jets could be in trouble at quarterback. The entertainment just keeps rolling from the AFC East.
Bloggers love this. We aren't above trolling for readers. These stories just keep writing themselves. And the best part is that it doesn't involve the Redskins.
@skinshogheaven …and the duck says "STOP COMPARING ME TO TEBOW'S THROWS!!!!"

— Randy Jobst (@Randyljobst) June 10, 2013
//platform.twitter.com/widgets.js
Enjoy this story? Tweet it to your Followers and Like it on Facebook. Click the buttons that say "Tweet" and "Like."