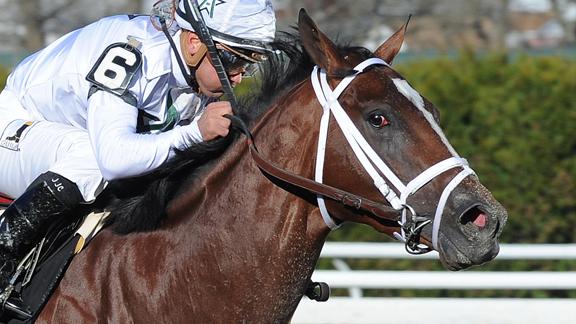 I know who will win the Kentucky Derby. Gemologist is the horse to ride. Um, unless Daddy Nose Best, a very speedy horse with breeding, gets a perfect ride to steal the race.
If you play the jockey and not the horse, go with Calvn Borel on Take Charge Indy.
Thoroughbred racing does not capture popular imagination as it did in mid-Twentieth Century. Back then, racing forms were published in your local papers. Sports fans studied them. Champion racehorses ranked with baseball stars in the hearts of the public.
Handicapping a horse race is as complex as picking a winning stock. Casual fans tend to pick hoses they've heard of, or throw darts at a board of horse names. In high finance, that's called the random walk theory. Lazy investors lose money that way.
The better way to pick stocks is to study the charts for quality of performance, financial strength and the prospect of future gain. That's how you handicap a horse race, too. What a boring way to spend a Saturday afternoon.
Don't worry weekend Derby fans. Hog Heaven applied its analytical engines to two hours of Internet research to derive the same crisp analysis we bring to the NFL.
My lawyer insists I tell you that we know a lot more about football than horse racing and that you would be foolish to bet the mortgage money based on our conclusion. But, this is the best superficial analysis you will find on Derby Day. (We are handicapping the Derby for fun, not suggesting how you should bet.)
Hog Heaven bypassed the random walk. Instead, we based our analysis four filters that may point to the winner.
1. Class will tell
The Kentucky Derby winner will be a horse with a history of big wins. Kentuckyderby.com lists the graded stakes winnings of all of the 2012 Derby entrants. Check there for the complete list, but here are the top 10 earners and their racing record.
| | | | |
| --- | --- | --- | --- |
| HORSE | STAKES EARNINGS | RACING RECORD | Odds (May 4) |
| Hansen | $1,550,000 | 6-4-2-0 | 9/1 |
| Daddy Long Legs | 1,294,030 | 5-3-0-0 | 26/1 |
| Union Rags | 1,170,000 | 6-4-1-1 | 5/1 |
| Dullahan | 855,000 | 8-2-2-2 | 9/1 |
| Creative Cause | 836,000 | 8-4-2-2 | 12/1 |
| Gemologist | 703,855 | 4-4-0-0 | 8/1 |
| Sabercat | 701,429 | 8-0-3-2 | 36/1 |
| Take Charge Indy | 698,400 | 6-2-2-0 | 8/1 |
| Bodemeister | 660,000 | 4-2-2-0 | 8/1 |
| I'll Have Another | 601,000 | 5-3-1-0 | 15/1 |
Racing record is shown as total races run followed by the number of first, second and third place finishes. Hansen's racing record is 6-4-2-0. Four wins in six races is an impressive stat. No wonder he tops the chart in winnings. Yet Hansen is neither the favorite nor our pick. Hansen does not show as well when filtering for speed and breeding. Plus, his ashen white color creeps me out.
We show odds to reflect the wisdom of the crowd. The lower the odds, the more certain bettors are that a horse will win. Union Rags draws a lot of support. Like Hansen, his not a particularly fast colt. Union Rags seems better bred for a longer distance race like the Belmont Stakes.
2. Speed kills
Or, as Damon Runyon put it, "The race is not always to the swift, nor the battle to the strong, but that's the way to bet."
Handicappers look at speed ratings to compare horses. The Beyer Speed Figures is the most prominent. Andrew Beyer, a professional handicapper and columnist for The Washington Post, introduced speed figures in his groundbreaking book, Picking Winners.
Beyer's system assigns a number, a speed figure, to a horse's performance adjusted for distance, surface and track conditions. The speed figure allows a handicapper to compare horses that have run over different surfaces and distances. The higher the figure, the faster the horse. Or, so the theory goes. Check Horsehats.com here for a more complete description of the Beyer Speed Figures.
Beyer picked Bodemeister as the likely derby winner. That's no surprise since Bodemeister sports the highest Beyer Speed Figure. (Well, what else can the man say.)
For the record, here are the Derby entrants with the five highest Beyer Speed Figures.

| | |
| --- | --- |
| HORSE | BEYER SPEED FIGURE |
| Bodemeister | 108 |
| Daddy Nose Best | 100 |
| Alpha | 98 |
| Dullahan | 98 |
| Gemologist | 98 |
A speed figure of 108 is par for the Kentucky Derby. Bodemeister is the only horse sporting that figure and that gives him an edge over Hansen. Yet, Bodemeister does not pass the Hog Heaven test either. Like Hansen, it's a matter of breeding and Bodemeister's inexperience on the track. Bodemeister did not race as a two-year old. That has been a historic hindrance for a Derby contender.
3. Dosage and Breeding
This one gets a little complicated, but the idea is that a horse is not just a horse. Great racehorse sires pass on an aptitude for a style of racing. French sportsman Lt. Col. J. J. Vuillier made an extensive study of the pedigrees of French and English winners and found that a very few stallions appeared in the in the pedigrees of winning horses.
In time, Vuillier classified aptitudinal traits in each pedigree into five categories, Brilliant, Intermediate, Classic, Solid, and Professional, ranging from (left to right) speed to endurance. You should note that the Kentucky Derby at 1-1/4 miles (10 furlongs) is considered a Classic race. More on that in a moment.
Vuillier called this line of research Dosage. He meant it more as a guide for breeding than handicapping races, but thoroughbreds are profiled for their Dosage pedigree. Handicappers look at two indexes derived from the Dosage Profile.
The Dosage Index (DI) is a calculation of traits to show whether a horse's breeding makes it more apt for speed (Brilliance) or endurance (Professional)…and where they are on that scale. An index of 1.00 is a perfect balance.
The Center of Distribution (CD) calculates the racing aptitude of four generations of pedigree in a single animal. A horse with a perfect balance of speed and endurance in its family tree will have a CD of 0.00, with a positive number showing a weight to speed and a negative number a weight to endurance.
Dosage research shows that horses with a Dosage Index of 2.50 and a Center of Distribution of 0.56 tend to perform better than average in races of 1-1/4 mile, the distance of the Kentucky Derby. Recent Derby winners have had a DI approaching 3.00, suggesting that American champions are faster, but less durable than horses of an earlier generation. It is rare that a Derby winner has a DI over 4.00.
For an in-depth understanding of Dosage, visit chef-de-race.com and see their article Dosage: Pedigree & Performance.
Dosage critics point out that sire lines are half the analysis. Dams (momma horse) play their role, too. Matching one sire line to dams from another sire line is what makes a thoroughbred a, um, thoroughbred. TrueNicks is a rating based on records of the Jockey Club that counts winners over starters from sire lines and broodmare sire lines. Products of stallions and dams that produce more winners get a higher TrueNicks rating.
Rolling everything together gets to this table of entrants. Breeding credibility is shown by DI, CD and TrueNicks.
| | | | |
| --- | --- | --- | --- |
| HORSE | DI | CD | TRUENICKS |
| Alpha | 1.67 | 0.44 | A+ |
| Bodemeister | 3.00 | 0.72 | C |
| Creative Cause | 1.43 | 0.29 | A++ |
| Daddy Nose Best | 2.43 | 0.83 | A++ |
| Dullahan | 4.20 | 0.92 | A++ |
| El Padrino | 2.60 | 0.75 | A++ |
| Gemologist | 2.73 | 0.89 | A++ |
| Hansen | 3.50 | 0.89 | A+ |
| Sabercat | 2.73 | 0.79 | A++ |
| Take Charge Indy | 3.00 | 0.66 | A++ |
TrueNicks rating courtesy of Bloodhorse.com, available by subscription.
Daddy Nose Best and Gemologist are best bred for a Classic race. Gemologist has winnings that show proven class.
4. Sires I've heard of
This race could be about the great thoroughbred sire A.P. Indy, 1993 Horse of the Year, winner of the Belmont Stakes and Breeders Cup.
I am old enough to have seen every Triple Crown winner since Secretariat (1973). Big Red, his nickname, was the greatest racehorse I've ever seen. Alas, he was not a great sire of winners, though he was, oddly, a sire of great broodmares.
For a great sire of sires look to 1977 Triple Crown winner Seattle Slew. The Slew was one of only 11 Kentucky Derby winners to sire another Derby winner, Swale (1984) who also won the Belmont Stakes. Hog Heaven gives brownie points to horses with Seattle Slew's bloodline.
Who sired A.P. Indy? You got it. Seattle Slew.
Who sired A.P. Indy's dam, Weekend Surprise? Secretariat, the great sire of broodmares. Talk about racing royalty! A.P. Indy is a prince among horses. Here's the list of Derby entrants with A.P. Indy in their bloodline.
Alpha
El Padrino
Hansen
Take Charge Indy
Neither A.P. Indy, Big Red, nor The Slew are racing in the 2012 Derby, so the family connection is merely a tiebreaker. If I were a betting man (I'm not), Take Charge Indy, son of A.P. Indy, would be my sentimental favorite. It doesn't hurt that Calvin Borel is the jockey for Take Charge Indy. Once a 15:1 longshot, odds for Indy and Borel fell to 8:1 by Friday evening.
Stalking Horses
Union Rags is the betting favorite as of Friday evening. He has a low speed rating (93), however, and his breeding ideal is for a longer race. Hansen is a reliable money winner who will be a factor. He loses points for his speed figure and breeding.
El Padrino has breeding for a Classic distance, but is light on winnings and sports a slow (90) speed figure. Alpha is a speedy horse, but seems better bred for the Belmont Stakes.
Daddy Long Legs, not to be confused with his half-brother Daddy Nose Best, has gaudy stakes winnings to his credit. He won nearly all of it in one race, the UAE Derby; that's United Arab Emirates to you. American bred Long Legs travelled from far away to run in his third race against American competition. He does not have a Beyer Speed Figure and he goes off as a 26/1 longshot.
I once picked my derby winner by the "pretty" factor. The showiest horse "looked" like a winner. In this race, El Padrino and Dullahan have that ooh-aah factor for me. Showy always works in the movies, but never in real races. That failure prompted the Hog Heaven search for a better way.