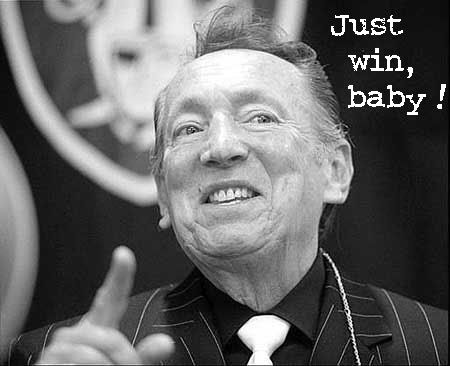 The Oakland Raiders will return to greatness and Jason Campbell will lead them there. So says team owner Al Davis at today's press conference introducing Hue Jackson as the new head coach. Davis spent nearly as much time praising Campbell as he did touting Jackson and he listed Darrius Heywood-Bey as part of the nucleus of talent to lead Oakland back to excellence.
Davis invited reporters to check the scouting report on Campbell when he left Auburn to join the NFL. Campbell was more highly regarded as a pro prospect than Cam Newton will be.
Lets take him up on that.
Auburn was undefeated when Campbell quarterbacked the team in 2004. Newton repeated the feat with Auburn in 2010 and led the school to the BCS championship this month.
Newton declared for the NFL Draft after a single season as a starter at Auburn. NFL Draft Scout projects him as the second-best quarterback prospect after Missouri's Blaine Gabbert. Both project as first round selectees.

Draft Scout** says Newton "generally demonstrates good accuracy, though he is inconsistent in the all important intermediate areas." The report goes on that Newton will be a project adapting to the pros, both because he took most of his college snaps from the shotgun and scouts haven't seen enough of Newton to guess how well he can read defenses.
One report on NFL.com compared Newton to, um, Donovan McNabb.
Football Outsiders loved that Campbell was a multi-year starter with a high completion percentage at Auburn. A fan found and posted Campbell's original scouting report on RaidersFans.net last April. It touted Campbell's strong throwing arm, quick feet and said he was better throwing out of the pocket. It knocked him for being too deliberate reading the field, having a long release and said he needed to learn to look off receivers.
Selling Campbell over Newton is a hard sell today. Newton is top-of-mind for football fans after his performance in the BCS championship game last week. Campbell had a challenging stay on a talent-challenged team before Mike Shanahan traded him to Oakland.
Davis would have been more credible if Campbell Raiders hadn't been benched twice this season and if Davis hadn't drafted JaMarcus Russell, widely seen as a bust.
Don't miss Al Davis' press conference on the NFL Network, or anywhere it's shown. As Beetlejuice said of The Execorcist, "I've seen it 167 times and it keeps getting funnier every time."
**Subscription required for access to NFL Draft Scout's good stuff.