Everything I read this morning points to a start by Robert Griffin III for the Redskins against the Vikings today. Lady Doubt is all nag-nag-nag in the back of my head.
Concussion is a clean word for traumatic brain injury; that's what a concussion is. Drop the word "concussion," and the sentence reads as Robert Griffin III suffered traumatic brain injury when Sean Weatherspoon hit him in the Atlanta game.
See what I mean? Doubt.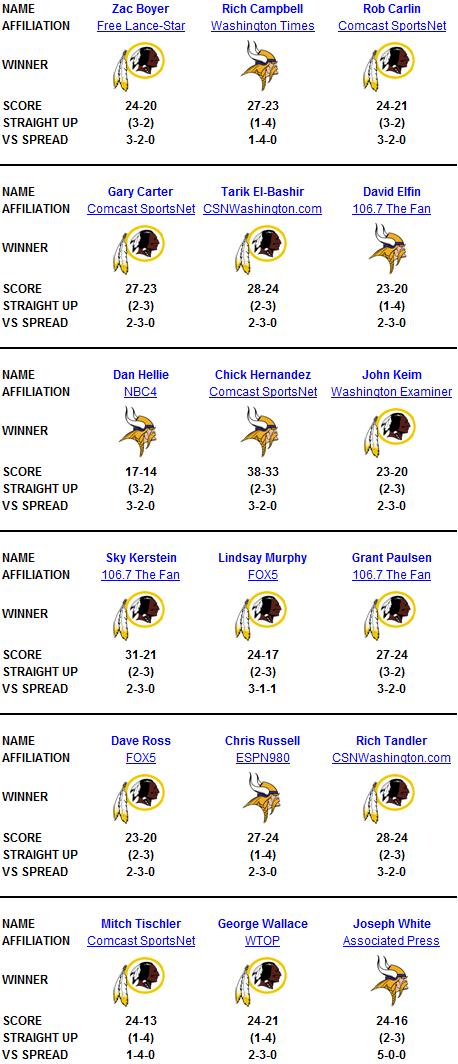 The Redskins list him as Questionable. My years as a fantasy football owner taught me that studs listed as Questionable usually start. I will go with that.
The Redskins have been in every game this year right up to the very end. Late drives led by RGIII moved the ball to scoring position before bad play or stupid decisions moved the ball out of range in three games. Washington was successful pulling out a winner against the Buccaneers.
They should have had 30 points on the scoreboard that game by the time Billy Cundiff kicked his butt-saving "game winner." He owed the team that much after choking three field goals. Kirk Cousins and Santana Moss made the most of blown coverage for a 77-yard touchdown pass against Atlanta. Cousins threw two picks after that, one his fault, the other perhaps not.
The Redskins won't change game plans whether RGIII starts or not. Cousins has the talent as Russell Wilson (I watched both a lot last season.) Griffin is the more dangerous player at quarterback. Defenses hold back an instant when he plays. They play more conventionally when anyone else is in, whether it's Cousins or Rex Grossman.
Redskins fans are discouraged about this game and about Washington's prospects. Rich Campbell at The Washington Times compiles game predictions by Redskins beat writers. Twelve of the 18 local writers give the 'Skins a chance this week. No surprise – five of five Twin Cities sports writers call for the Vikings to win.
Washington's defense sucks, or does it?
Going by the Richie Pettibon rule, we are looking at two stats only when evaluating team defense, turnovers and third down stops. There is good news on that for the Redskins much maligned D. Washington allowed fewer third down conversions and forced more turnovers than the Vikings. They are a scoring defense as well with three TDs in five games.
The Vikings feel their defense improved with S Madieu Williams and CB Cedric Griffin off the team. How am I to feel knowing they are on mine? I hope Williams and Griffin feel an extra incentive to do well today, after passing along all their secrets about the Vikings.
You can always trust Twitter
Two tweets caught my eye this morning. One was that Vikings QB suffered a stomach virus all night. The second was that someone laid $120,000 with the MGM Sportsbook on the Redskins to win. Draw your own conclusions.
#Ponder Vikings QB (Stomach Virus all night needed IV) will play but that will effect him.. Take REDSKINS -PK!!! #IBN shhh secret info pick

— Incarcerated Bob (@incarceratedbob) October 14, 2012
//platform.twitter.com/widgets.js
Steam Alert – Redskins -PK (MGM Sportsbook just took 120K bet on Skins) somebody may know something??

— Handicapper Monitor (@Pregame_Frauds) October 14, 2012
//platform.twitter.com/widgets.js
Washington knocked both Ponder and Adrian Peterson out of the game last year right and lost. The Vikes won two games when they visited FedEx Field. They have lost only two more games since leaving FedEx with that win. Perhaps the Redskins do best against division leaders like the Giants and Packers. That is reason enough to call for a four-point Washington win this afternoon.
Ponder is the perfect example of the year-to-year growth I wish to see from RGIII and from Kirk Cousins. Griffin and Cousins were always more about next year than this year, if they make that second-year growth.
Percy Harvin ranks 1st in the NFL with a 38.3 KOR average and Vikings CB Marcus Sherels ranks 4th with a 14.9 PR average #Vikings

— Minnesota Vikings (@VikingsFootball) October 10, 2012
//platform.twitter.com/widgets.js
_________________________
I will broadcast my fan reaction and comments during the game by PC again, thanks to the technomagic of LetMeHearYa.com. Kickoff is 4:25 PM ET. Join me at 4:20 PM. Don't be alarmed if you do not hear me at points. I'm watching the game like you are and I am not doing an audio rebroadcast or any of the stuff the NFL says not to do in that legal stuff on TV. A man is entitled to his opinion. I'm sharing mine.
Point your PC or other device to my LetMeHearYa Profile and click a few buttons and we are golden.
_________________________
Infographic: Vikings at Redskins game predictions, The Washington Times.
Enjoy this story? Like it on Facebook and Tweet it to your Followers. Click the buttons below.