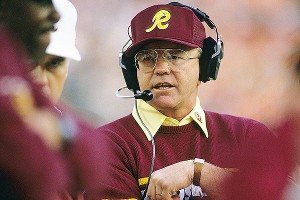 Former Redskins and Broncos lineman Mark Schlereth wrote a remarkable piece on Incognitogate for ESPN.com. It was predictably critical of Richie Incorrigible and the Dolphins for their over the top abuse of players who did not quite fit in.
And then, buried in the middle of the story, Schlereth paid this huge compliment to Joe Gibbs for infusing him and the Washington Redskins with the true code of champions during Schlereth's rookie NFL season (1989):
"Welcome to the 1989 season, men," he said. "Today I'd like to give you some priorities for your life …
1. Your relationship with God.
2. Your relationship with your family and teammates.
3. Being the best football player you can be.
"I guarantee you, if the first two priorities are not in line, you can't be your best on the field," Gibbs said. "Let's make it a great year. Break out with your position coaches."
That was it, and the tone was set.
The Redskins finished 10-6 that year and were two season's away from Gibbs' third and final Super Bowl win.
Gibbs was always openly devout without being prostelyzting. He set his career by the principles he presented to Schlereth and the Redskins as he set forth in his book Game Plan for Life.
Gibbs game plan in his return to the Redskins needed better talent on the field than Gibbs himself was delivering to it through the front office. Still, St. Joe led the 'Skins to three playoff games after the 2005 and 2007 seasons.
Most of Schlereth's story blasts the Dolphins for their lack of genuine leadership and dearth of the championship culture that fed Redskins and Broncos Super Bowl teams. Incognito, Mike Pouncey and John Jerry weren't the only ones who didn't get it. The Dolphins organization did not grasp how a toxic locker room poisoned its effort to become a winning organization.
Schlereth empathized with Jonathan Martin's courageous decision to leave the team. It brought attention to abuse that the team was blind to yet screamed for correction. Faced with a similar situation in seventh grade, Schlereth, who suffers from Dyslexia, was the target of similar ridicule by his teacher and resulting derision by classmates.
He followed the football code and sucked it up, took it like a man, kept it in house.
"What is the 'correct' response in those situations? I had nowhere to turn and no fellow students or other teachers to support me or help me. I couldn't even turn to my parents because I felt like I had failed them. I was alone.
"In a different setting, but one with many similarities, Jonathan Martin walked out. Looking back, I wish I'd had the courage to do the same. Maybe that would have brought the attention that my situation needed for things to be set straight."
It's the most remarkable piece on Incognito you will read today. I insist you go read it. Follow the link below. We'll be here when you get back. (Hat tip to blogging colleague Andy Furman, @UltimateNYG, for pointing me to this story.)
ESPN.com: Schlereth –Don't lose crucial parts of "the code"