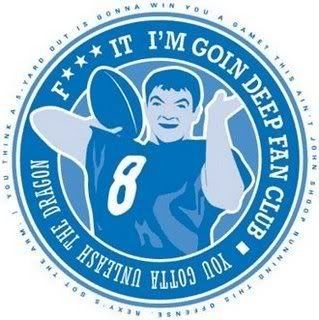 Everyone else does.
Rex Grossman won the competition for starting quarterback, but you won't hear that from Shanahan who wants to keep the New York Giants coaching staff guessing for as long as possible. Yes, Virginia, the Giants game has already begun.
Jason LaCanfora, Rich Tandler and Mike Jones are reporting the development.
Allow me to break the code for you. Starting Grossman is the "win now" approach. Starting John Beck would have been a build-for-the-future approach, notwithstanding his pedestrian performance against Tampa Bay.
Can a 30 year old with less than a half-season experience be a QB of the future? Yes, if you go by the philosophy of Indiana Jones. "It's not the years. It's the mileage." Beck is near-new with no dings or dents and rarely driven, even on Sunday. Even at his age, he should be good for three or four seasons after (if) he gets a starting job.
Shanahan, unlike last year, avoids using the term "win now" as rigidly as he avoids the word "rebuild." Redskins fans have no faith in win now after that whole Donovan McNabb fiasco. But, fans will tune-out a rebuilding team. That's an owner's biggest fear. Rebuilding projects affect the team's cash flow. A thing like that can get a coach fired.
So while Shanahan may stake his reputation that both Grossman and Beck can perform for him, he knows that Beck could get him fired sooner.
Just a historic fact here. Other than Joe Gibbs, no coach has survived more than two years with Dan Snyder.
Practice Squad filling out
Washington has not made any official announcement about the Practice Squad, but various media sources say the team signed RB Evan Royster, CB Reggie Jones, OL Maurice Hurt, DL Doug Worthington, WR Aldrick Robinson, QB Jonathan Crompton, NT Chris Baker, and OG Eric Olson to the unit.
The addition of Royster was expected. Aldrick Robinson is a mild surprise. He struggled in the passing game during preseason. Crompton is a refuge from the Chargers, Patriots and Buccaneers practice squad after being drafted in the fifth-round of the 2010 NFL Draft. I see him as just another guy to round out the scout team (sorry). Crompton has no career NFL stats, however, he made 22 pass attempts in Thursday's preseason game against Washington, completing 12 of them for one touchdown, one INT and he took three sacks.
Makes me wonder if Shanny and Bucs coach Raheem Morris had an agreement to showcase Cromption to set up this move. No accusation here. I do not believe that to be an illegal action.
John Beck has but 107 more pass attempts than Crompton does. So if (Heaven forbid) anything bad happened to Grossman this season, the front office would probably call Mark Bulger or Brody Croyle before calling up Crompton.
Points after: We are on record as projecting about 220 passing yards per game for the Redskins with either Grossman or Beck under center, with perhaps five more TDs than INTs thrown for the season. There are only style differences between the two.
Donovan McNabb might have averaged 50 to 60 more passing yards per game over the season. That would have translated to four more touchdowns, with two or three more INTs, over the season. I doubt that would have made more than a one game difference to the final record.
Mike Shanahan said in his press conference today that rookie Draft pick NT Chris Neild outplayed NT Anthony Bryant to earn a spot on the active roster. Shanahan said that Mike Sellers' good soldier attitude of "not being disappointing and by being willing to play 3rd and 4th team tight end" led to his spot on the team, according to a tweet by Grant Paulson.
S LaRon Landry and TE Chris Cooley practiced with the team today on a limited basis.
Dear Mr. Grossman, Best wishes on the upcoming season. We fans are behind you all the way. But please don't remind us why Bears fans called you "Wrecks" Grossman.
Shanahan's elevation of Grossman to starting quarterback automatically makes Beck the most popular man in town! With Shanahan, the only decision is who gets to start first.
Former Redskins lineman Artis Hicks has signed a contract with the Cleveland Browns. The Redskins were rumored to be angling for a trade deal involvng Hicks just before cut down day. The team was not named, however some suspected that it was Cleveland.