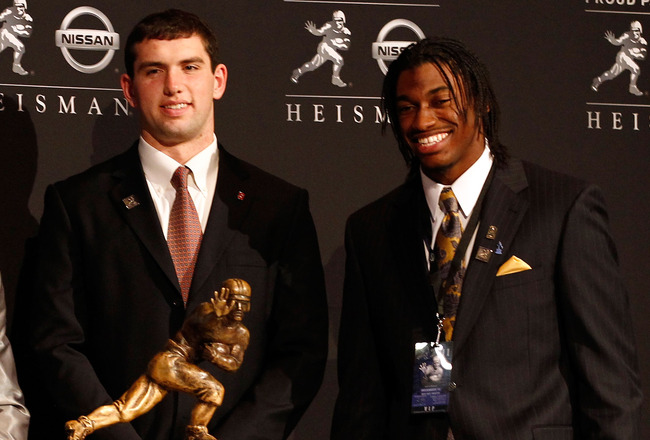 No matter who drafts whom, Andrew Luck and Robert Griffin III will face off in the preseason Week Three game this August. The gods of the NFL have decreed it. They never miss a marketing trick, do they?
The Indianapolis Colts visit the Washington Redskins during the preseason in a contest that has "national broadcast" written all over it. The Colts are expected to draft Luck. The Redskins swapped Draft spots with the Rams for the second overall pick to grab Griffin. If the Colts select Griffin, the Redskins will take Luck, which leads to an entirely hypothetical question.
Would Redskins fans boo Griffin in a preseason game? That is unlikely, but they would boo the Colts for stealing him. I can't imagine how that would make Luck feel.
That prospect seems less likely by the hour. RG3 is destined for the Redskins.
Talk of the NFL becoming a quarterback-driven league bypassed the Redskins. Washington devolved to a NFL backwater with quarterbacks like Danny Wuerffel, Jeff George, Tony Banks, Heath Shuler, Rex Grossman, John Beck and an over-the-hill Mark Brunell (still revered in Jacksonville where he performed brilliantly). The 'Skins have been an afterthought in the Beast since 1993.
Now, we (soon will) have a quarterback that puts the Redskins in the conversation. Washington and the NFL can promote 2012 contests between Griffin and Michael Vick, Tony Romo, Eli Manning, Drew Brees (presumably), Andy Dalton, Ben Roethlisberger, Sam Bradford and Cam Newton.
Football is still a contest between teams. The supporting cast does matter. Quarterbacks only attempt passes. Receivers complete them. But, "quarterback-driven" is how the game is promoted. Redskins fans don't have to be ashamed anymore.
Mike Shanahan says that rookies have to play into a starting role. That's fine. That's coaching. But, Redskins fans are not shelling out for tickets to see Rex Grossman start.
Washington Redskins Preseason Schedule
| | |
| --- | --- |
| Weekend | Opponent |
| Aug. 9-11 | at Buffalo Bills |
| Aug. 17-18 | at Chicago Bears |
| Aug 24-25 | Indianapolis Colts |
| Aug 30-31 | Tampa Bay Buccaneers |
Gary Fitzgerald published the schedule on the Inside the Redskins column on Redskins.com. The NFL has not released the specific day and time for preseason games. You may be sure that they are working all the angles for drawing a big audience.