Mike Shanahan is a stone cold, high stakes riverboat gambler, boy. Shanahan doesn't just take risks. He places his biggest football bets at quarterback, the highest risk-reward wager on the team. Most of the time, he loses.
Look at all of Shanahan's quarterback moves since his arrival in Washington.
Dumps Jason Campbell – BET LOST
We'll cover the bet on McNabb in a moment. This is about Campbell. There were football reasons to believe that Campbell would be a poor fit for the Shanahan's West Coast Offense.
Joe Gibbs picked Campbell to run his conservative flavor of the Downfield Offense. Campbell met Gibbs' requirement, which was to be a better game manager than Mark Brunell as the team rode the legs of Clinton Portis to the playoffs.
Shanahan has higher requirements for QBs for his offense. Campbell, despite his best effort in 2009, never profiled as a playmaking quarterback. But by casting Campbell aside, Shanahan dismissed his greatest asset – his adaptability.
Campbell suffered through instability at position coaches and offensive coordinators in his time with the Redskins. While that hindered his development, he was skilled at working new offensive schemes. He was versatile, adaptable, moldable and willing to try.
Campbell was a better quarterback for Washington than the three men who followed him.
Trades for Donovan McNabb – BET LOST
Donovan McNabb was a quarterback legend everywhere but Philadelphia, or so it seemed. His 2009 stat line is gaudy (10-4 record, 2:1 TD to INT ratio, 92.9 passer rating) and he was practiced in Andy Reid's version of the West Coast Offense. McNabb did not pass the eyeball test, however. His skills were in decline. Hog Heaven writers wrote that McNabb and Campbell were as two ships passing in the night, with the SS McNabb slowly sinking while slow boat Campbell continued to make steady, if modest, growth.
Benches McNabb in the Lions game – BET LOST

Eight weeks into the 2010 season, benched McNabb in a winnable game against the rising Detroit Lions with about two minutes to go. Shanahan post-game explanation of Rex Grossman's two-minute drill skills was the blah-blah-blah we've come to expect when he doesn't want to give us an explanation.
Grossman took a sack and lost the fumble on his first play that was recovered by the Lions and returned for the score that nailed the coffin shut. Washington lost 37-25.
The Redskins held the lead in third quarter as the offense coped with the injury loss of Clinton Portis and Ryan Torain. Scores by Keiland Williams and Brandon Banks twice gave the 'Skins the lead in a back and forth fourth quarter.
McNabb struggled against the Lions, but benching him late shocked the system. The team did not recover in time to win the game. In hindsight, that move would have been better done at half time, giving everyone time to get used to the idea.
Did Shanahan draw the wrong conclusion from this experience when he processed the RGIII decision in the Seahawks game? The question is rhetorical. We don't need more blah-blah from the coach.
Bypasses Blain Gabbert in the 2011 NFL Draft, selects Ryan Kerrigan instead – BET WON
With the tenth selection in the 2011 Draft and in deep need of a franchise quarterback, Missouri's Blaine Gabbert fell naturally to Washington. Shanahan took one look and promptly swapped positions with the Jaguars. The 'Skins selected Kerrigan with the 16th pick. Gabbert got his coach and GM fired.
Whew!
Side note: Both Andy Dalton and Colin Kaepernick were available when the Redskins went for Kerrigan. History might have changed if the Shanahan's jumped on one of those quarterbacks instead of Kerrigan.
In 2011, Mel Kiper and others projected Robert Griffin III as a second or third day 2012 Draft pick – if he was drafted at quarterback at all. With his world-class hurdler speed, some scouts projected RGIII as a pro wide receiver prospect. the buzz for Griffin built over the course of the 2011 season, before most Redskins fans knew Baylor had a football team.
Some things just work out no matter what you do.
Doubled down on Rex Grossman and John Beck for the 2011 season – BET LOST
"I believe in 'em. And I've been doing this for a long time. And I put my reputation on these guys that they can play." ~ Mike Shanahan, July 2011.
When Coach Shanahan said things like that, he was just kidding. We all knew it at the time. When the whistle blew at the season's first kick off, fans clinched every orifice and hoped for the best.
The Redskins won five games in 2011. For comparison, Jason Campbell went 4-2 in six for the Raiders. Just sayin'.

Tripled down on Robert Griffin III in the 2012 NFL Draft – JACKPOT!
This story is too well known to go into detail here. Just search "Robert Griffin III" on this site, or any other NFL site to read how well this selection worked out.
Selected Kirk Cousins in the fourth round of the 2012 NFL Draft – BET WON
Cousins saved a win against the Ravens after Griffin went down and performed admirably in the win against the Browns. That alone is the payoff on this Draft pick. If only Coach Shanny made more use of him.
Full disclosure: Redskins Hog Heaven is a Spartans alumnus who followed Cousins' career at Michigan State for four seasons. I have high confidence in the kid. I also have an academic connection to Wisconsin and admired Russell Wilson's exploits for the 2011 Badgers.
The knock on Wilson was that he was too short to play quarterback for the NFL. The knock on Cousins was that he was too "cerebral" to play quarterback in the NFL. If Wilson was taller and Cousins was more athletic, perhaps six or eight GMs and coaches who needed quarterbacks would not have lost their jobs this month.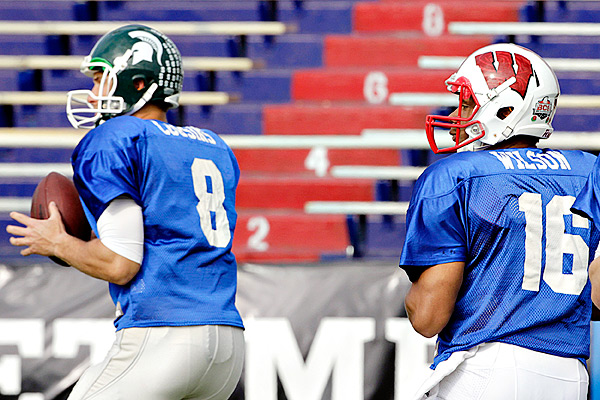 The real knock is on the Big Ten Conference that has not produced spectacular quarterback prospects since Drew "too short" Brees and Tom "too cerebral" Brady.
Both Wilson and Cousins say they have played short and cerebral all their lives. They both say that they landed in the right spot for them while praising the Lord for directing them there. Cousins is not the athletic match of Wilson who was drafted by a MLB team. Hog Heaven considers them equivalent quarterback talents, however.
Playing Robert Griffin III after the Ravens game – Outcome to be determined

Vince Lombardi is the only coach I can think of who would have benched Griffin in the second half of the Seahawks game and made it stick. Lombardi was such a giant that everyone conformed their opinion to whatever Lombardi did. If Lombardi did it, it had to be right.
If Lombardi managed the risk to Griffin III exactly as Mike Shanahan did, the mob would not be critical Shanahan now. Lombardi is dead. Shanahan is not, so he takes heat for playing Griffin after his knee injury. Lets draw a distinction now.
We admire the healthy player who suffers a crippling injury during a game and then plays through the pain. We admire players who play with their injury in a high stakes game. Admiration for Terrell Owens was at its peak when he overcame his fractured fibula to catch nine passes for 122 yards in the 2005 Super Bowl (refuse to use Roman Numerals).
We admire Griffin for wanting to play on with an impaired knee, but this process should have been better managed.
Starting Cousins in the Eagles game would have given Griffin an extra week to heal. Pulling Griffin at any point after the first quarter against Seattle would have put the better quarterback on the field. As the game went on, Griffin's impaired play was less than Wilsons and less than what Cousins might have done.
Cousins would have helped his case more by completing five or six of his 10 pass attempts instead of three, but the Shanahans made several serious blunders this game.
Alfred Morris rushing attempts was short by about 10 carries. Morris gained 35 yards on his first three rushing attempt, and net 49 yards on eight carries in the first quarter. He finished the game with 16 attempts for 80 yards in the entire game.
Games flow to their own pace. As Griffin's performance dropped, reliance on Morris and Evan Royster should have gone up. That's true whether Griffin or Cousins was at quarterback.
If the Redskins won, it is unlikely that Griffin could start against the Falcons this Sunday.
Shanahan bet the 2013 first round Draft pick on Griffin. If Cousins and Rex Grossman are Washington's active quarterbacks next September, then Shanahan is the big time loser.
Stay tuned, and cross your fingers, on that.
And yes, Hog Heaven has been in a football snit all week.
Enjoy this story? Like it on Facebook and Tweet it to your followers. Click the buttons below. Leave a comment down there, too.