Received from Redskins Park today: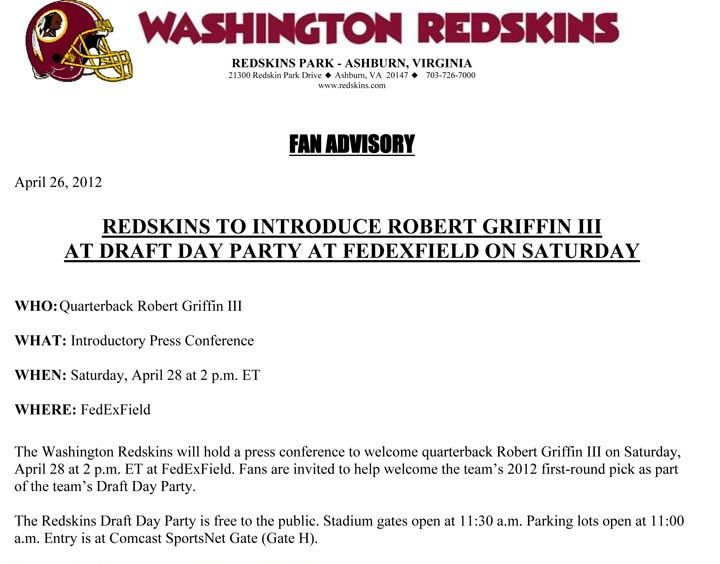 You must have a pass for admission. Don't worry. It's free. Get it on www.redskins.com/draftday.
Comcast SportsNet, the official broadcast partner of the Washington Redskins, will air a 30-minute special, RG3 in DC, highlighting Redskins first-round draft choice Robert Griffin III on Saturday, April 28, at 9:30 p.m. and 10:30 p.m. The special half-hour show, hosted by Chris Miller and Trevor Matich, will feature the quarterback's introduction to fans and media at FedEx Field on Saturday and will include interviews, analysis and commentary. The network will provide encores of Geico SportsNet Central: RGIII in D.C. on May 1 at 5 p.m., May 3 at 9:30 p.m., May 4 at 4:30 p.m. and May 5 at 9:30 p.m. (subject to change.)
Shilling for the Redskins compromises our analytical independence, but, it's OK. Griffin the Third is the biggest thing to hit town since the return of Joe Gibbs.
Success is not assured. Mike Shanahan has made only one correct quarterback decision since he arrived in Washington. He passed on Blaine Gabbert in the 2011 NFL Draft. Shanahan has to show more tolerance for rookie imperfection than he showed John Beck and more flexibility than he allowed Donovan McNabb. In short, he has to show that he has learned from the expience of the last two years.
We will save all that for training camp and the regular season. Today, Hog Heaven celebrates the arrival of Mr. Griffin.
HAIL!