From nickname drama to the RGIII health watch, Redskins fans have a lot to keep an eye on during training camp. Here are five storylines to monitor:
1. What's In a Name?
The Washington Redskins could have much worse problems to deal with, but one of the more distracting issues they face right now is the team's name. Critics say it is offensive to Native Americans, while advocates say the name is a prideful part of the franchise's rich history.
The matter is not just a casual topic of discussion anymore. It truly is a federal case now that members of Congress and the Washington, D.C. City Council formally asked the team to change the name. Some newspapers and sports columnists even refuse to include the team name in their stories. Where does the league stand? Well, NFL Commissioner Roger Goodell insists the name symbolizes "strength, courage, pride and respect."
So far the team is not receptive to making a change. From a logistical standpoint alone, it would require a ton of work and money to transform the team's merchandise and marketing to reflect a substitute moniker. Even so, the Redskins set up online surveys polling their fans about the issue as a measuring stick to see if a change is really what they want.
Another recent Associated Press poll found that 79 percent of Americans approve of the name. Thus, despite the recent controversy, it is likely to remain unchanged.
2. Robert Griffin III
Redskins fans pray for RGIII's full recovery.
The Washington Redskins will need a healthy Robert Griffin III taking snaps throughout the coming season to return to the playoffs. He is reportedly progressing very well in the rehab of his surgically repaired knee. He expects to be at full strength for the start of training camp, and he is already running without his brace.
Griffin is one of the main reasons the team was able to recover from a 3-6 start last season to win the division. The team came to rely on his ability to be a game changer, but that meant he had to take some serious risks. Griffin was tackled on 55.2 percent of his runs last season, and he took 10 out of bounds hits.
There's no doubt he'll be working on sliding more and running out of bounds before contact. Griffin will be scouted better this year by opposing teams, too. This means he'll need to work on passing more and running less.
Wide Receivers Donte Stallworth and Devery Henderson recently joined the team to add some new targets for the young quarterback. Second-year Running Back Alfred Morris would also be helpful to minimizing Griffin's injury risk by handling more of the rushing responsibility this season.
3. Cooley Retires
Tight End Chris Cooley moves from the playing field to the broadcast booth this season. He will serve as a radio analyst chiming in periodically during games.
Though he only managed one catch in his return to the team last year, he was an epic contributor in years past. He finishes his career with 429 catches for 4,711 yards and 33 touchdowns. The team will be just fine at Cooley's position, but it will be interesting to see if anyone develops there into a superstar of Cooley's caliber.
A healthy Fred Davis remains at the top of the depth chart at tight end. Rookie Jordan Reed, out of Florida, could also make a huge impact. Logan Paulsen and Niles Paul round out the tight end corps and will provide key support in both blocking and catching.
4. Defensive Indifference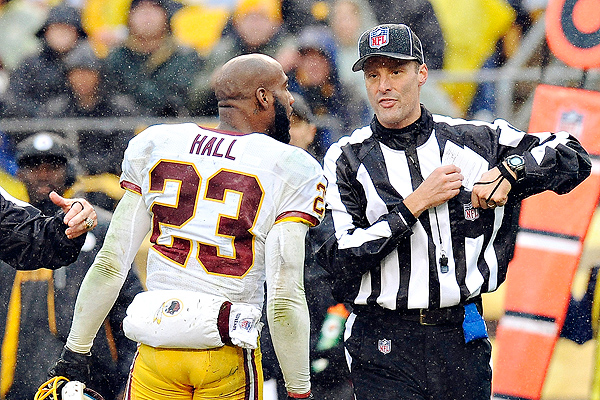 Can DeAngelo Hall and the Redskins secondary get it done this year?
The 2012 Redskins allowed an astronomical 4,720 gross passing yards – the sixth-highest total in NFL history.
More importantly, the Redskins are developing a track record for coughing up winnable games. The team has given up the most game-winning drives in the fourth quarter or overtime since 2007. It's happened a whopping 26 times, including five late-game collapses last year.
As much as the team's success this season relies on Griffin's health, he can only do so much without a top-notch defense keeping him on the field long enough to make an impact. Something has to be done to shore up this defense and keep it focused from start to finish.
5. Can Alfred Morris Continue to Dominate the Running Game?
Alfred Morris had a record breaking rookie season at the running back position, and it will be hard for him to match or eclipse his amazing stats from 2012. Still, he definitely feels obligated to elevate himself to elite status and become a future Hall of Famer.
"I don't have the sense that I made it, even though I did make it. Last year is in the past, that doesn't mean anything anymore," Morris said, according to CBSSports.com. "Now it's, what are you going to do this next year? How are you going to improve off last year? Are you going to have a slump? Are you going to get that complacency and lose it? No, I hold myself to a high standard, and I know I'd be disappointed in myself if something like that happens."
It sounds like Morris is more than ready to keep breaking records, and the Redskins are sure to benefit from his positive attitude and willingness to work hard on his craft.
Editor's note: The Washington Redskins open training camp this Wednesday, July 24 at the Bon Secours Washington Redskins Training Center in Richmond, Virginia. Richmond is a 90-minute drive ‒ on a good day ‒ south of Washington. On a bad day, the drive can seem like 90 hours.
We remain amazed that Mr. Snyder can convince anyone to buy naming rights for a training facility that will be used three weeks out of the year. That's the power of the NFL for ya'.
Enjoy this story? Tweet it to your followers and Like it on Facebook. Click the buttons that say "Tweet" and "Like."