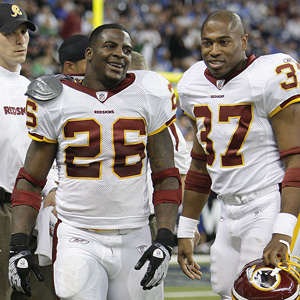 Perhaps the one instance where the historical evidence actually backs a "faith in Mike Shanahan" perspective is at the running back position on the roster.  Mike Shanahan is both more active in moving around the components of the RB position on his roster, and more successful at finding contributors at the position than other like-minded coaches.  Many want to know how he does it?
Being a professional talent evaluator obviously helps, but if there's a method to his madness, Shanahan's secret is simply that he doesn't get financially or emotionally invested in one player at the running back position.  Because it's the easiest position in Shanny's scheme to learn, there is actual value to be created in not tying up dollars or draft picks at the position.  No player since Clinton Portis in 2002 and 2003 has led Shanahan's team in rushing in consecutive years, and often times, the decision on the starting running back isn't even made until mid-way through training camp.  Unlike a lot of what Shanahan does, he's achieved success simply by…trusting his eyes.
The principle of Occam's razor is Shanahan's secret.  If he knows that backs vary wildly in rushing efficiency from year to year (if not receiving efficiency, a more complicated skill), then he can maximize the return in his backfield simply by bringing in a lot of players and just…picking out the most explosive back to run the ball that season.  Shanahan's approach hasn't worked well at other positions, but it continues to produce runners.  If evaluating football players were that easy, every pro coach would be able to run his team like a college program.  It's often not that simple, but Mike Shanahan has built a career off of being right a lot on running backs.
So maybe I should be more trusting of Mike Shanahan on his decision to cut bait on 8+ million of Clinton Portis' salary and go forth with an open field in 2011.  After all, this is just Shanahan doing what he does.  You see, he knows he has zero control over the decline of Clinton Portis.  Last year, he created a situation where he could have made any of the following his feature back for 2010: Portis, Larry Johnson, or Willie Parker.  Shanahan trusted his eyes that Portis wasn't done, and was the best of the bunch, and in the five games that he appeared in, no offensive player was better than Clinton Ports.
That's right.  Clinton Portis was pound-for-point, the best offensive player on the Redskins in 2010.  He was, in more ways than one, the Albert Haynesworth of the Redskins offense.  The best production on a declining number of snaps.
It wasn't wrong of Shanahan to come to the decision that Portis couldn't be worth his salary and that he needed to go in a different direction.  But it just means that the Redskins already have a standard of high productivity from the RB position to replace.  A lot of fans have suggested that the injury-prone Ryan Torain can be expected to shoulder more of the load in 2011.  This reasoning seems sound, because Torain absolutely passed the eye test last season.  He ran over, around, and when he had to, stopped short of defenders on his way to amassing 742 yards, leading the Redskins in rushing next year.
We know from Mike Shanahan's past that despite averaging better than 5 YPC last year, Torain is more likely to be off the roster next year than to be the starting RB.  He'll be in the mix, but remember that Torain played no special teams last year and most of his big plays came off of play design, be it creative run blocking or any number of different screens or swings to get him in the open field.  Clinton Portis offered better production without the benefit of wholesale gimmick blocking schemes.  For certain, we already know that if the Redskins are trying to replace or improve on Portis' production, they cannot do it with Ryan Torain alone. 
It's more likely that Keiland Williams will get the first crack at replacing Portis, but we also know that his grace period from being on the Redskins roster last year will last all the way through week two of the preseason (assuming a preseason), until he's on equal footing with Redskins draft picks and undrafted free agents alike.  Williams may get Torain's roster spot because of his ability to play special teams, but would have to really impress not just Mike, but Kyle Shanahan to be the lead back in the 2011 attack.
Still, when you're talking about a bottom third offense trying to replace both it's quarterback and it's best offensive player in the same offseason, an offseason which we've now spent in a lockout for one third of a calendar year, these thoughts don't lead themselves to optimism.  The bar for replacing Donovan McNabb is actually a lot lower than the bar for replacing Portis.  Obviously, potential solutions are far, far easier to identify at the running back position than the quarterback solution, which is why the Redskins QB quandry will be front page stuff from the last day of the lockout through the last day of the 2011 season (which, hopefully, are not the same day).
But the more meaningful story will be what the Redskins are actually doing with the running back position.  Because as the Redskins found out under Vinny Cerrato, cutting productive players for salary cap reasons does not necessarily do anything to bring closer the future.  It creates an opportunity for a younger player, but the progression of talent does not automatically begin.  Right now, the Redskins are nowhere at the RB position, and this is notable because they ended last season with a net positive at this position.
All that remains is open opportunity.  And, of course, the Shanahan track record which suggests while the wins may not exactly cascade down over the next two years, that the Redskins will find productive runners, and will give them the football.