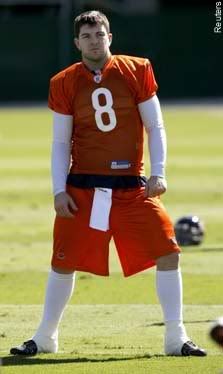 An Atlanta-based Washington Redskins fan who goes by the handle Forehead started this incredible thread on Extremeskins:
Meh. Maybe it's tongue-in-cheek. I doubt that legitimate Redskins historians like Michael Richman or Rich Tandler agree with that statement. After a five-game run, we can see some trends emerging about Grossman, but the sample is too small to call the results valid.
One observation about young people–Forehead is 31 years old according to his profile–is that they believe the world began the day they were born. Even factoring that bias, Forehead had to overlook Joe Theisman, Doug Williams. Mark Rypien, Trent Green or even Brad Johnson to reach his conclusion about Grossman, which is preposterous.
Lets allow that Grossman has had the best five-game run, dating back to 2010, that Forehead has seen in his adulthood. The comparatives are the weak QB lot between Jeff George and Danny Weurffel.
Mark Brunell was the first player Joe Gibbs signed upon his return to football. Brunell, like Gibbs, had seen better days by the time he arrived in Washington. Both were better than the men they replaced.
Then there is Jason Campbell, who has completed 61 percent of his passes and averaged 204 yards per game for a career QB passer rating of 83.1. Grossman over his career has completed 54.5 percent of his passes and averaged 178.5 yards per game for a career QB passer rating of 72.2. (Stats from Pro-football-reference.com)
In the first two games of 2011, Grossman completed 59.7 percent of his passes for a 90.6 passer rating. Campbell has completed 65.5 percent of his passes for a 99.7 passer rating.
Here's an oddity: Campbell has completed more passes (1232 in 67 game appearances) than Grossman has attempted (1181 in 43 appearances). Grossman has been in the league three years longer than Campbell.
Redskins Hog Heaven projected that Grossman would average 220 yards per game, complete 59 percent of his passes and throw a half-dozen more touchdowns than turnovers. He is trending for the best year of his career. We may have to up (happily) his yards per game if he continues at this pace. To achieve the other benchmarks over the 16-game season, Grossman must mimic Campbell's consistent improvement. In his Washington years (2006-2009), Campbell's season completion percentages were 53.1, 60.0, 62.3 and 64.5. His passer rating those years rose consistently from 76.5 to 86.4.
Grossman's best completion percentage in six seasons with Chicago was 56.0 percent. His best passer rating was 74.8 in three games in 2003, his first year.
Rex Grossman is the perfect example of a system quarterback. He executes the scheme the way the coach envisions it. System players are talent levelers. Above-average to good players can excel in a system that is fit for them. That's why coaches rarely flex the system to accommodate even exceptional players. This worked for Rich Gannon, the journeyman quarterback who travelled through three teams before striking gold with the Oakland Raiders ib Jon Gruden's system.
Grossman recognized what he could do in the Shanahan system before Mike Shanahan did. If Mike recognized that sooner, or listened to his offensive coordinator with more confidence, Grossman would have started from the beginning of 2010…to the relief of everyone, including Donovan McNabb.
Campbell is in a better place with Oakland. The Raiders struggled for much the same reasons as the Redskins have. But Campbell has a coach who wants him and is in his second go with Al Saunder's Downfield Offense system.
The takeaway from this discussion is this–if one are going to do comparisons of Grossman greatness, one must look beyond the player. Rex Grossman is not working in a vacuum. He is performing better because other parts of the offense are performing better. Fred Davis is tied for 13th on the receiver rankings (yards). The Redskins rank 10th in rushing offense. Credit Grossman, but credit them, too.
The offensive line passes the eyeball test, however, their stat line is worrisome. They have allowed one more sack and eight more QB hits this year than the first two games last season. Give Grossman a nod for working through that.