The Washington Redskins face a challenging offseason for reasons well known to Hog Heaven readers – the salary cap anchor and no first round pick after the trade that led to Robert Griffin III.
We look for Mike Shanahan and Bruce Allen to duplicate the magic of the past two seasons by building a division winner out of free agents and draftees we barely know. News that controversial LSU DB Tyrann Mathieu could drop the the third or fourth round of the 2013 NFL Draft puts the Honey Badger within reach of bargain-hunting teams.
If you read Redskins Hog Heaven, you are smart enough not to scout players by name recognition. Does the player fit what we are trying to do here?
Hog Heaven went to some of the bloggosphere's smartest talent evaluators for thoughts about the idea of Mathieu to the Redskins. First to respond is DC Pro Sports Report's Tom Threkeld, the godfather of NFL Mock Drafts. Here's what Tom has to say.

"Firstly, I see him more as a cornerback than a safety, I don't think he has the size to play safety, though he probably has the instincts and physical attitude for it.
"Secondly, I see Mathieu as a big-time playmaker who has rare ball skills, excellent instincts, a penchant for creating turnovers and has the capacity to play in either a man-coverage or zone-coverage defensive scheme. He's got good hands, has played a ton of football against quality opponents and is very physical. He plays bigger than his size would suggest. He's got real swagger and will not be intimidated by the opposition or get down on himself after a bad play.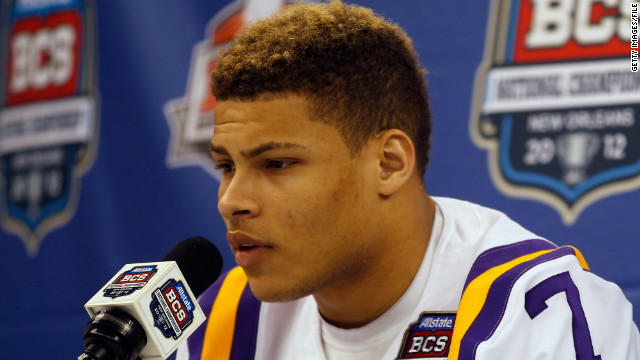 "He's also a big performer in special teams, with real potential at the pro level as a punt returner and on coverage teams. There are very few weaknesses in his game.
"On the down side, he's small and though he's been durable so far, that might not continue in the NFL. He will muscle up to receivers, but will he be successful at it? He lacks elite speed, though his instincts allow him to compensate for this.
"The major downside to Mathieu, however, is his atrocious track record off the field. The positive drug tests, the arrests, the difficulty handling his temper or controlling himself in stressful situations — these are all major red flags. How will becoming rich affect the destructive side of his personality? My view, in general, is that giving a lot of money to a person like Mathieu carries a heavy risk of him indulging his worst instincts to an even greater degree. He was unable to handle himself in the high structured world of college football. How will he do as a pro, when he's on his own and responsible for managing more of his own time and making more decisions? The omens are very, very poor.
"I like Mathieu as a first round talent, but he's carrying more baggage than a 747, which is why he will drop. I would risk a lower-round pick on Mathieu, but I certainly would not take him with Washington's first pick, which is in the second round."
Thanks, Tom. For the best insight on the Washington sports scene, visit
DC Pro Sports Report
early and often.
LSU's Pro Day is today. Scouts from all 32 teams will look at 27 LSU players, including Mathieu. Pro Days are campus visits where teams check whether what they see on video tape shows up in drills. it's another chance to talk to a candidate to guage if he is a locker room fit.
Character fit is Mathieu's biggest hurdle. Check his associations to get a line on that. Hanging with his homies led to an arrest after LSU tossed him. Mathieu says that lesson has sunk in. Really? Not if he's hanging with the homies.
Enjoy this story? Like it on Facebook and Tweet it to your followers. Click the buttons below. Leave a comment down there, too.