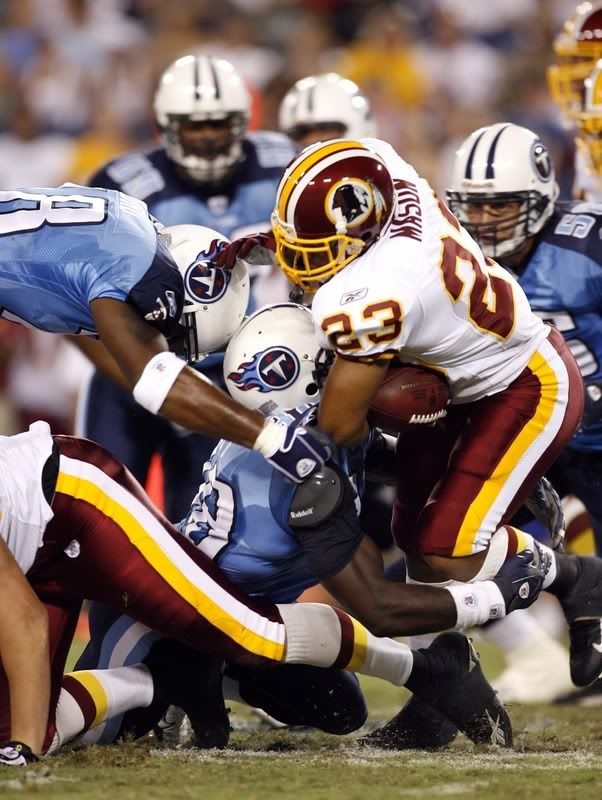 Micheal Lombardi wrote an eye-catching piece on NFL.com today titled Why Redskins, Titans will win divisions…. I appreciate the Lombardi love as relief from the drumbeat of pundits who say the Washington Redskins will, um, stink this year. I'll take support from anyone, including Lombardi who's shown little support for the Redskins in the past. Lombardi once said that Clinton Portis was not a premier backfield pass blocker.
Just for fun, I sent a link to Andrew Strickert, a colleague from the old MVN days who covers the Tennessee Titans on the Bloguin Network.
"Yo, Andrew, Are you reading this? http://www.nfl.com/news/story/09000d5d82213ff1/article/why-redskins-titans-will-win-divisions-15-thoughts-on-week-1 Redskins and Titans Super bowl, baby!
"
As usual, Andrew's succinct response was worth a blog post.
"Wow, LMAO at Lombardi, he obviously hasn't seen much of the Titans. I hope for your sake Lombardi is more knowledgeable about the Redskins than he is the Titans. He's completely wrong about several things he wrote about the Titans. Did you notice that one of the reasons he's picking the Redskins is because they play the entire NFC West? I don't see how that helps them win the division, since the Jints, Iggles and Cowgirls all play the NFC West too. Bodog has the over/under for the Redskins at 6½ wins this year, lowest in the division. The Titans were also at 6½ the other day, also lowest in the division, but I now see Bodog has taken the entire AFC South off the board.
"Football Outsiders Almanac 2011 predicted 5.0 wins for the Titans, tied with Oakland for fewest wins in the league. BTW, the Tony Brown who used to play for the Titans was released this summer. Bad knees. Too bad, because he was one of the Titans' best players for a couple of years, their best defensive player in 2009. Hope you are doing well. Good luck to the Redskins this year."
Thoughtful analysis….
Point after: I have no relationship with former Titans player Tony Brown, who helped make Albert Haynesworth a star with the Titans. Before Google, I had no idea how many Anthony/Tony Browns there are. I should friend them all on FB.
The backstory on Tony Brown from Andrew: "Former Titans DT Tony Brown's given name is Tony Anthony Brown. He was a street free agent, who had previously been cut by the 49ers and Panthers, when his phone rang one day. Albert Haynesworth had just stomped on Andre Gurode's face and was about to be suspended for five games, and the Titans needed someone to fill out the depth in the DT rotation. Brown stuck with the team after Albert's return, worked his way into the starting lineup and stayed with the Titans for five years. He made some good money and will be eligible for an NFL pension, so other than having bad knees, he did all right for himself."