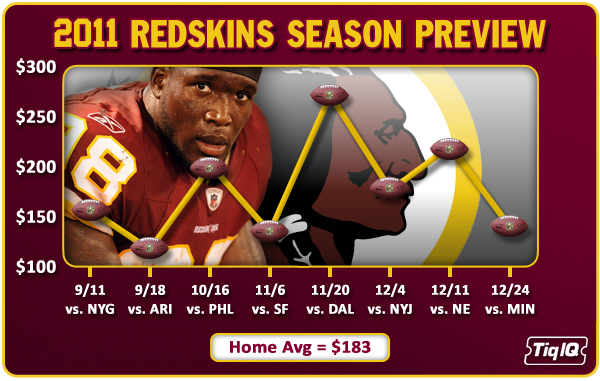 Not us — TiqIQ, our game ticket sponsor who says good seats are still available for the New York Giants at Washington Redskins game this Sunday afternoon. 4:15 PM kick-off.
TiqIQ shows both seats availability and the price. Their market scan includes their own sources and others like ebay and Ticket Network. At the time I wrote this (5:30 PM, Friday)), lower bowl end zone seats were available for as low as $79.00. Upper deck end zone seats could be had for as low as $55.00. Both of those prices are a shade under face value. Prices do not include parking.
Reach the site by clicking the Redskins Hog Heaven Tickets tab at the top of this page, or go directly to the TiqIQ site here. It's all about supply & demand, people. Prices and availability will vary based on when you visit the site…and on the Redskins' record.
Real football begins on Sunday. Hail!
If you are going to the game, the Redskins suggest that you arrive early. Not only is it opening day against a division rival, Washington's oldest, but extra security measures will be in place. It's the 10th Anniversary of 911 and the government thinks the bad guys may be up to something. The parking lot at FedEx Field will open at 12:15 PM Eastern.