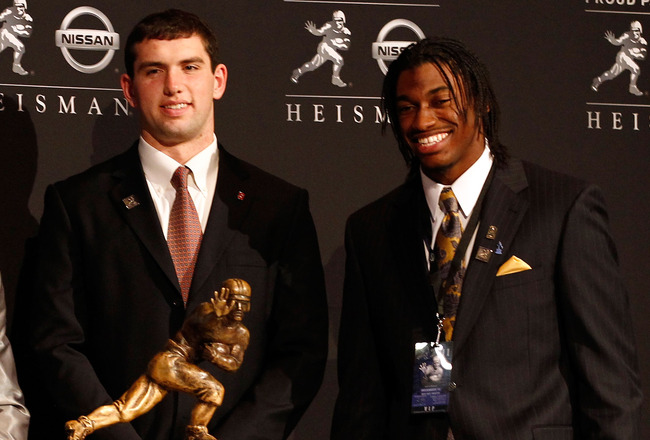 Why did they have to say that Robert Griffin III was a no-show for the first day of rookie camp yesterday as if he were the only first round rookie to miss the first day of rookie camp?
No-show? In sports, the term "no-show" is akin to "hold-out," the refusal of a player under contract to show up for an obligation to his team. That's not what this is.
Robert is unsigned, so he is not obligated to show. It is neither selfish nor disloyal that he stays away from rookie camp, the NFL version of new employee orientation. Under the rules, he cannot report while unsigned.The Redskins own the exclusive rights to negotiate for his services. They do not own those services yet.
Exhale and let this play out.
The matter is beyond Robert. As of July 10, nine of the top 11 Draft picks were unsigned for the same reason. Players for the agents and the league have a difference of opinion on offset language of the CBA. Ian Rapoport has the best explanation of the offset language on NFL.com (follow the link here).
You have to be a contract lawyer or football geek to find joy in the CBA. Fans just wonder what's holding up the football. So, here's what you need to know.
1. Teams want offset language. Players' agents do not.
2. QB Cam Newton and DE Robert Quinn's contracts do not contain offset language. Now, every first-round player hopes to avoid offsets.
3. The contract for the No. 1 pick typically sets the bar on rookie contracts. Money is not the issue under the new CBA. The rookie payscale settled that. This is about the fine print. Andrew Luck and the Colts will be the first to resolve it. The others will fall in line then.
Contracts are not about the certainties of life and football. If so, all deals would be by verbal agreement backed with a handshake. Contracts are about what might happen. The Redskins will never need offsets because they will never cut RG3. They could do the deal on a handshake. But some first-round pick will be traded or released. That player cannot wait until then to negotiate by himself offset language. The best leverage is for the first-rounders to band together before they sign. There would be no point taking this to arbitration afterward. Arbitration is Roger Goodell's playground.
Will Wilson, Andrew Luck's agent, and Tom Condon, RG3's agent, are surely comparing notes to put up a united front. Teams are not supposed to collude on this stuff, but as Redskins fans know, the league can offer verbal advisories that clever teams follow in individual negotiations. Or else.
Condon had bigger fish to fry than Griffin's contract. He is fresh off Drew Brees' $60 million guaranteed contract. Now, he is free to work deals for his first-round rookie clients, RG3, Trent Richardson, Matt Kalil and Mark Barron.
Fans will stress because that's what fans do. Football geeks like me wonder how double dipping allowed by no offset language squares with the rookie pay scale of the CBA. This time, teams may have cause for a grievance.
Get Arbitrator Stephen Burbank on the phone.
Redskins.com, who is just as antse as everyone else, was reduced to showing a video of Kirk Cousins first day at camp instead of RG3.