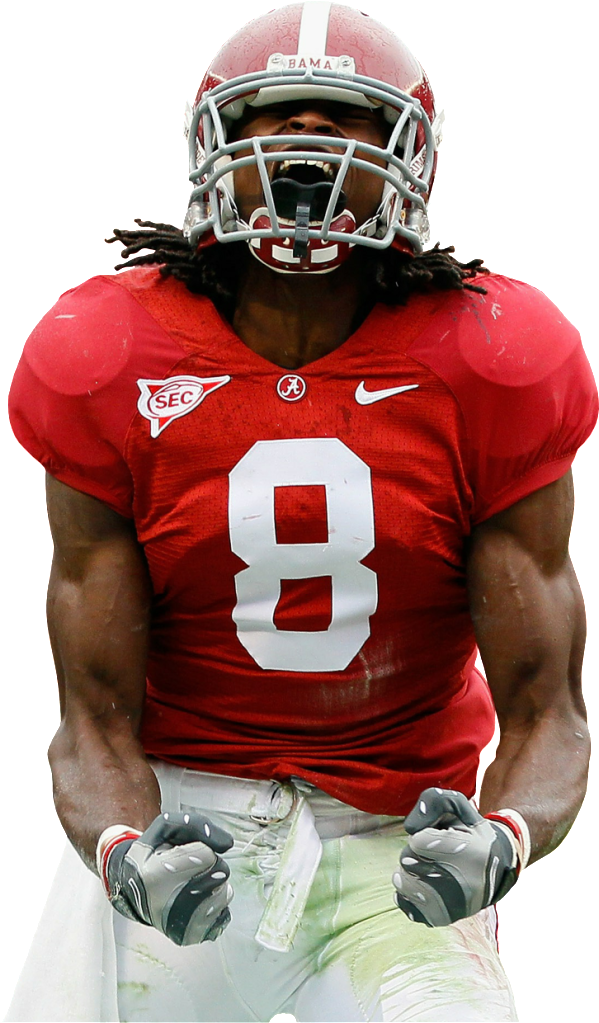 The great thing about mock drafts is that they simulate the draft flow to force decisions by the next team up. Will the prospect at the top of our team's draft board be there? What do we do if he is not?
The top targets on my guesstimate of the Washington Redskins wish list were selected early in the Bloguin Network's 2011 NFL Mock Draft. That forced Hog Heaven's hand to select Alabama wide receiver Julio Jones with the tenth pick in this mock. You can follow the Bloguin Mock Draft by clicking here.
The Redskins have so many glaring needs that any well-chosen first round talent will hit the mark. Targeted players at quarterback, Cam Newton and Blaine Gabbert, and pass rushers, Von Miller and Robert Quinn, are off the board. That drives the 'Skins to the best player available strategy. Three players look good in that scenario: WR Julio Jones, DE DaQuan Bowers and CB Prince Amukamara.
A head feint towards Jones might trigger a best-case scenario where Detroit or St. Louis offers their first and third round pick for Washington's tenth overall selection. The Lions and the Rams have the 13th and 14th picks in this year's draft.
Either of those spots preserves the Redskins' shot at Bowers or Amukamara while backfilling the third round pick traded to New Orleans for OL Jammal Brown. Mock drafts do not allow for draft order swaps. So, the Redskins select Julio Jones, hoping that this upgrade at wide receiver will make Donovan McNabb palatable for one more season.
In the Bloguin Mock, Houston, the next team up, selected Amukamara, removing the defensive help Jim Haslett might have hoped to see. That is a risk with the trade down scenario. Your target might not be there when your turn comes up again. But that proves the beauty of targeting Jones.
There are other viable defensive prospects to choose in the first round. There are no other wide-outs with first round-caliber talent in this class. (A.J. Green was off the board in the Bloguin Mock.) More teams will be tempted to text Bruce Allen about a position swap to grab Jones. Even if the 'Skins are "stuck" with Jones, he will make a bigger immediate impact on the offense than any selection for the defense…if Shanallenhan is a better judge of talent that Snyderrato.
Amukamara can contribute in the secondary, but signing him signals that Washington will be less likely to re-sign CB Carlos Rogers. Amukamara will be a wash for the secondary if Rogers does not return.
Jones, on the other hand, boosts the 2011 scoring potential on offense–more than the selection of any quarterback. Close your eyes and imagine a rookie quarterback throwing to a receiving corps led by Anthony Armstrong and Roydell Williams. Armstrong is old (28) for a first year player and he is more potential than performance at this point. Williams did not show much last year.
That vision, along with the likely six-win season to follow, say Washington needs Jones.
Trading down the 13th to 15th pick brings quarterbacks to the fore. Jake Locker (Was), Christian Ponder (FSU) or Ryan Mallet (Ark) are less of a reach from the 15th or lower pick than from the 10th.
Maybe Washington will not have a first round pick and will not need a quarterback. Raise your hand if you think it was Washington who offered their first round pick to the Eagles for Kevin Kolb. Why else would Iggles coach Andy Reid say, he had no problem trading Kolb within the division if not to inoculate his fans? What Beast team other than Washington is so unsettled at quarterback that they would offer a first round draft pick?
A trade for Kolb would be galling for McNabb, not to mention Redskins fans who will figure that Kolb cost three draft picks–the first round pick for Kolb and the two picks wasted on McNabb.
Related stories
Redskins Hog Heaven – Tonight, Mike Shanahan And I Are One
Bloguin.com – 2011 NFL Mock Draft
DC Pro Sports Report – NFL Mock Draft Tracker