Mike Shanahan never won a Super Bowl without John Elway.
But, John Elway has never won a Super Bowl without Mike Shanahan.
Mike Shanahan never won a Super Bowl with Champ Bailey, the shutdown corner he said he needed when he traded Clinton Portis to Washington for Bailey. And then Shanny swindled Joe Gibbs out of two extra Draft picks because he knew Gibbs and Daniel Snyder would give them up to sweeten the deal. I still have hard feelings.
Bailey went to eight Pro Bowls and was a three-time first team All Pro as a Broncos player for Shanahan.
"What if" the Redskins secondary included Bailey, Sean Taylor, LaRon Landry and Carlos Rogers. (And if Taylor lived, of course.) If wishes were dishes….
Shanahan, Bailey and Elway never won a Super Bowl without Terrell Davis. In fact, they won Super Bowls because of Terrell Davis.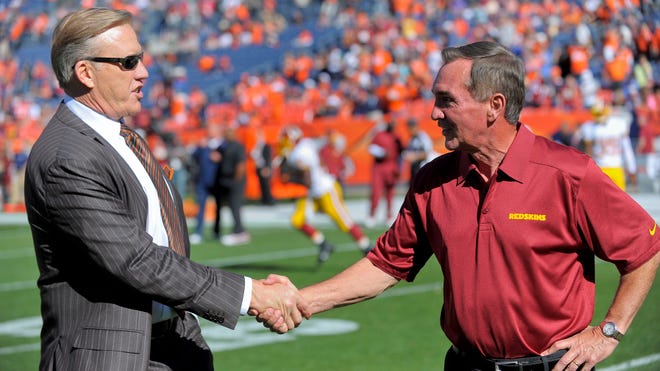 Mike Shanahan is a terrific coach. He is. But 13, as in 13 losses in 2013, is an unlucky number for him.
Everything spiraled downhill on the slippery grass at FedEx Field on January 6, 2013 in the playoff game against the Seahawks.
Coach finally acknowledged that he should have pulled Robert Griffin III from that game. "I could have kicked myself." I wished he acknowledged that in March.
He could have kicked Dr. James Andrews, too. You don't hear that name much anymore. Is he still on the Redskins sideline?
The very notion of benching stars goes against the grain of NFL culture. Coaches do not pull playmakers in playoff games. Players do not take themselves out of playoff games. (Terrell Owens played a Super Bowl with broken bones in his foot.)
The sometimes bratty Griffin did not want to be pulled. In the moment he may well have openly defied the coach. Yes, Virginia, the savior of Redskins football owns a piece of Mike Shanahan's failure.
But, the team needed Mike Shanahan to shut Griffin down in that game and perhaps even the Week 17 game when Washington clinched the division with the emotionally satisfying 28-18 beat down of the Cowboys. Alfred Morris ran for three scores and 200 yards in that game. Gimpy RG had a 66.9 passer rating. When I say he looked gimpy, I mean "no business being on the field" gimpy.
No one expected the Redskins to make the Super Bowl in 2012, so playing Cousins in those two games would not have cost the team anything really. That's hindsight. Hindsight is a bitch.
It turns out that Shanny's worst decision was the one he did not make in January. Now it's December on the calendar and on Shanahan's Redskins tenure.
By the way, Hog Heaven has not heard players or coaches blame the FedEx grass for the loss against Seattle, or the recent one against Kansas City. Fans who say that are just making excuses.
Now it can be told
Now at the end, the real story emerges about the Shanahans and the Redskins http://t.co/VqBpxORAa9 via @washingtonpost

— Anthony Brown (@SkinsHogHeaven) December 29, 2013
//platform.twitter.com/widgets.js
With the end of the Shanahan era in sight, real insiders are opening up about what happened. Kent Babb's and Mark Maske's post mortem of the Shanahan years reveals the dynamics of the clans Shanahan and Griffins and the offending intrusions of the owner.
We didn't find it so offensive. Guess you had to be there.
That story is reminiscent of the stories that followed the 2006 disaster, a.k.a. "It's our year," when Adam Archuleta opened up about the goings on of the team.
The story still keeps sources hidden (meh), but it cites a "former coach" for key nuggets.
"Former coach" could be one the departed wide receiver coaches, but I suspect it's almost certainly Danny Smith. Just sayin'.
It's a worthy read. Go take a look. We'll be here when you get back.
The last word
After Joe Gibbs and Mike Shanahan, anyone Dan Snyders hires to coach the Redskins will be a step down.
Countdown to GAMEDAY starts now. Let's finish the season strong. #HTTR pic.twitter.com/xHrwPc6kNj

— Washington Redskins (@Redskins) December 29, 2013
//platform.twitter.com/widgets.js
Enjoy this story? Tweet it to your Followers and Like it on Facebook. Click the buttons that say "Tweet" and "like."