No matter what happens in Super Bowl XLVIII,  it will, most likely, go down in the record books as one of the top 10 championship games in NFL history.
QB Peyton Manning shattered many of the league's passing records this season—throwing for 5,547 yards and producing 55 touchdowns. And the Seahawks continue to impose their will, control the clock and beat teams up with physical play on both sides of the ball. The Legion of Boom has cemented itself as arguably the best secondary in NFL history—shutting down the league's best passing attacks week after week.
The two No. 1 seeds in their respective conferences came out strong out of the gate and have dominated their competition all season. A stark contrast to previous seasons, being that the last three Super Bowls have featured Wild Card teams that backed into the playoffs and got hot at the right time.
But on Sunday night, we'll get to see the two best teams in football go toe to toe. And it'll be the first time a No. 1-ranked offense and No. 1-ranked defense are pitted against each other since the New York Giants and Buffalo Bills met in Super Bowl XXV.
The  uptempo Broncos offense does a good job of staying balanced as Manning mixes in both the run and the pass at the right times.  And their receiving corps can turn a short gain into a big play in the blink of an eye. On the other side of the ball, the Seahawks aggressive, hard-hitting, quick-to-the-ball defenders make their opposition fight for every yard. They've given up more than 24 points only once this season (a 34-28 loss in Indianapolis), and the Broncos have scored less than that same number on just one occasion (a 27-20 loss to the Chargers).
Analysts and fans alike can't help but focus on Manning's mediocre 11-11 postseason record (0-4 in sub-40 degree temperatures) and the pick-six he threw to Tracy Porter in Super Bowl XLIV. But let's not forget he had factors working against him—S Rahim Moore blew a coverage in a 2-deep zone, and he was unfortunate to play alongside a lackluster Colts defense that gave up yards like it was their job in the mid-2000s.
The last three Super Bowls have been decided by a total of 13 points, and we're in for one hell of a show when these two powerhouses battle it out on Sunday. So let's break the final game of the 2013 NFL season down.
Matchups to watch:
Legion of Boom vs Broncos receiving corps
The Broncos explosive passing offense amassed 337 yards per game on average this year. And for them, it's all about Manning reading the coverages before the snap and getting the ball out of his hands quickly. But this timing-based offense is predicated on the receivers getting separation and breaking away for yards after the catch, and it won't be easy against one of the best secondaries of all time.
The Seahawks' secondary is tough to attack, and they'll play a lot of Cover 3 to allow their aggressive and physical style of play to disrupt the timing of opposing receivers. They'll also mix in some Cover 1 robber as well, allowing the rangy S Earl Thomas to trust his instincts and lock down the middle of the field.
And the Legion of Boom can tackle, too—important because Wes Welker and Julius Thomas are No. 1 and No. 3 in the league in yards after catch, with 6.1 and 6.0, respectively.
Richard Sherman vs Demaryius Thomas is a matchup to watch on every snap. After shutting down Michael Crabtree last week, Sherman will be faced with arguably his toughest opponent this season. Sherman loves to put his hands on receivers and gets away with being "grabby", but the 6'3", 229-pound "Optimus Prime" welcomes the contact and excels at getting off jams at the line. He's a quiet guy and lets his play on the field do the talking, while the "mouthy" CB attempts to get in his opponents' heads and is always looking to prove opposing general managers wrong, being that 23 cornerbacks were drafted before he was (as Doug Farrar pointed out)
Thomas can beat defensive backs over the top for the home run, but can also take a simple bubble screen 80+ yards to the house with his long, powerful strides. The big target finds a way to beat his man and get separation often; and is an excellent blitz-beater due to his ability to quickly explode into the second and third levels of a defense. And unfortunately, the Baltimore Ravens found out the hard way in Week 1, as he made them pay for playing Cover 0 by breaking into the secondary and taking Manning's record-setting seventh touchdown of the game to the house (see below).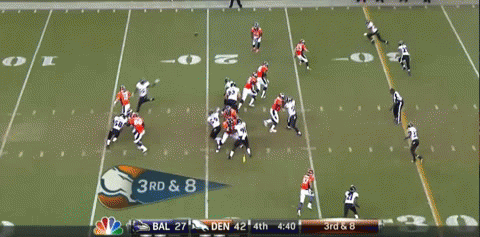 Teams are scared to challenge Seattle's defensive backs as they're athletic but also have great size. The Seahawks defense  saw 568 passes attempted against them this year, the sixth-fewest in the league, according to Football Perspective's Chase Stuart.Their model is re-shaping how NFL teams draft and develop players at the position.
But don't expect Manning to back down with two weeks to prepare for the big game. Look for him to attack the defense by reading the coverage and audibling at the line to find a favorable matchup. And they'll likely elect to go with four verticals from time to time, forcing the instinctive Thomas into making a decision very quickly to possibly create a miscommunication in the secondary for a big play.
Oh, and as expected, "Laser Rocket Arm" is downright surgical with an extra week to watch tape and figure out how he's going to pick his opposition apart.
Since I've been asked a few times, Peyton Manning has thrown 54 TD, 17 INT in 23 games after a bye week (14-9 record).

— Scott Kacsmar (@FO_ScottKacsmar) published an excellent article on this particular matchup, so I'm not going to beat this topic to death. But Thomas will be key for Manning on third downs and when under duress.

Marshawn Lynch vs Broncos defensive front

The Seahawks offense is predicated on involving the powerful, downhill-running Lynch, and teams can count on him getting around 20 touches per game week in, week out. The run-heavy Seahawks rank No.2 in rush attempts (31.8/gm) and No. 4 in rushing yards (137.6/gm). They utilize the powerful running back's 4.2 ypc to set up third-and-short scenarios to make Russell Wilson's job easier—where the run and/or short-passing game are still both in play.

Lynch and Patriots RB LeGarrette Blount are similar in their running styles. Teams must hit them early and wrap up before they get their legs churning and begin truck-sticking any defenders in their way. The Broncos defense did an excellent job last week against Blount, rendering him invisible and holding him to just six yards on five carries.

John Fox vs Pete Carroll

What do these two coaches have in common? Well, they both started from the bottom as assistants at Iowa State (small world!). And both would go on to land gigs in the NFL as defensive backs coaches and (later) defensive coordinators.

Which former Iowa State assistant coach wins the Super Bowl? pic.twitter.com/SH9YSWx3QD

— Cyclone Football (@CycloneFB) A tale of two quarterbacks:

Manning

"Omaha!"  Manning threw 55 passing touchdowns this season, and no other NFL team scored more than 54 in total.

Watching the 37-year-old quarterback utilize his high football IQ to read and diagnose coverages—and go through his progressions in the smoothest manner possible—is a thing of beauty.

He's been knocked down only once during in his two playoff games this season. When blitzed, he'll calmly hit his hot read rather than taking a hit. But if defenders sit back in coverage, he'll audible to a run or call a quick out or screen to take what's there underneath.

And the extra week of rest heading into the big game will do Manning some good. Many doubted his arm strength heading into the postseason, but he was able to get plenty of velocity behind his throws against the Chargers and Patriots. The veteran QB may have thrown a few "ducks" over the last two years, but a 72-percent completion rate and 4:1 TD:INT ratio in his two playoff games this season proves he's able to get more "zip" on the ball.

Wilson

The cerebral, dual-threat QB may not be as flashy as Manning, but he's manufactured eight fourth-quarter comebacks and has led the Seahawks to back-to-back playoff appearances in each of his first two seasons in the league.

He's efficient in his decision-making and his elusiveness allows him to avoid the pressure and keep plays alive with his legs. The methodical quarterback is the the perfect candidate to run OC Darrell Bevell's offense. And while he probably isn't going to throw for over 300 yards in a game, and he definitely won't attempt 40 passes, he gets the job done. In fact, he's accumulated under 220 passing yards in each of his last six games, but his team has won four of its last five.

Don't expect Wilson to force throws or attempt to drive the ball into tight windows as Manning does, but he can buy time in the pocket and does have the arm strength to throw downfield and make defenses pay if he finds a one-on-one matchup he wants to exploit (see below).

But what about Manning's cold weather struggles in the postseason?

At 37 years of age, the veteran quarterback is going to throw a "duck" here and there—it happens. But I think the cold weather criticism of Manning is a bit overstated. We wouldn't be having this discussion if Moore didn't make one of the most boneheaded plays in NFL history—letting Jacoby Jones get behind him while playing deep safety in a 2-deep zone. Or maybe things would be different if the 2010 Colts could've stopped Mark Sanchez from driving down the field with only 53 seconds remaining to set up a game-winning field goal. You get the point.

This isn't the NBA. There are 53 players on an active football roster. And Manning consistently puts his team in position to win games. It's only a matter of time before the streak ends.

The Seahawks will look to get pressure with their front-four so they can take Manning off his spot and disrupt his timing. He's been sacked only 17 times this season, which puts him atop the NFL. Seattle will likely drop six or seven defenders into coverage, forcing the veteran QB into making tough decisions so they can anticipate and make plays.

Oh, the weather at MetLife Stadium in February is (usually) frightful…but the New Jersey swamps are so delightful:

You may be surprised to hear MetLife has the 5th best weather of any outdoor stadium http://t.co/7inVyZNDG2 5 worst: BUF, CLE, PIT, GB, KC.

— Albert Breer (@AlbertBreer) urrent weather report projects no precipitation and a 44-degree temperature at kick-off—with only 8-mph winds. Advantage: Manning.

Both teams play well on grass. The Broncos are 11-1 this season, while the Seahawks are 3-1—although they are at their best when playing on artificial surfaces.

The Seahawks played in MetLife stadium just six weeks ago, demolishing the Giants, 23-0. The team said they went into the game in hopes of returning in February, so they have the benefit of having played there in the elements, and probably jotted down some notes during the game, too.

Manning has an advantage in that his brother, Eli, has reportedly given him the full scouting report and blueprint to his second home. It always helps to know where the nooks and crannies are in any stadium, and especially how the swirling NJ winds can affect certain quadrants of MLS more than others.  

Did you know? Manning almost spent his NFL career playing in The Meadowlands. In the 1997 Draft, the New York Jets had the No. 1 pick. But Manning, after taking his sweet time, decided to stay at Tennessee for one more year.

The bottom line:

The Seahawks are efficient on offense and field a defense that makes its opposition earn every yard. They're a physical unit and are comparable to the '85 Chicago Bears. But they haven't seen a quarterback like Manning this season or an offense with this many weapons at its disposal.

Denver is loaded with talent and features a great mix of veterans and young stars on both sides of the ball. And Manning can beat teams by attacking the seam in the middle of the field, or he can fire quick outs to the flat and work the sidelines. And the running game is productive—which helps to keep the veteran quarterback upright.

This Seattle team was built by following an excellent model and will be a force to be reckoned with for years to come. They've not only acquired quality talent from all rounds of their last three drafts, but have also developed players that other teams sheepishly passed on. A mind-blowing 21 of 53 players on the team's current active roster came into the NFL as UDFAs (via ESPN's SportsCenter), and that speaks volumes about their coaching staff. But I worry about them playing conservatively and settling for field goals, while Manning will go about his business and pick up seven points on scoring drives.

And hey, how can one pick against Madden NFL 25's projection?

Madden NFL 25 has spoken. The Denver Broncos defeated the Seattle Seahawks 31-28 in the official EA SPORTS prediction of Super Bowl XLVIII.

— Adam Schefter (@AdamSchefter) Team Rankings and Covers unless otherwise noted.