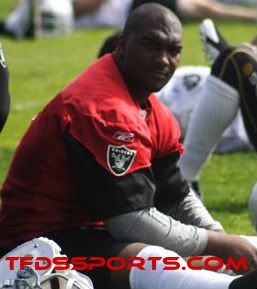 (TFDS File Photo-Patrick A. Patterson)
It was the best of times, it was the worst of times. The Raiders offense has shown flashes of both throughout the 2009 season. Through the first half of the season, they looked like they were going to surpass the standard of ineptitude set by the Art Shell/ Tom Walsh disaster. However, for the second half of the season they rebounded.
With the week 9 benching of JaMarcus Russell, the Raiders offense has improved dramatically in both yards and scoring, with Bruce Gradkowski having the best passing performance by a Raider since 2007. With the improvement in the offense, the wins have come and the team that had looked moribund has shown signs of life.
JaMarcus Russell started the first nine games, leading the Raiders to 1998 total yards and 72 points, which works out to 222 yards and eight points per game. During that stretch the Raiders scored two touchdowns in a game only once, and only seven total touchdowns, with two coming by way of the air.
In the five games that Russell has not started, the Raiders offense has shown signs of life. In five games, under the combination of Bruce Gradkowski and Charlie Frye the Raiders gained 1546 yards of offense and 87 points. This translates to a 309.2 yards and 17.4 points per game average. This is a radical change from first nine games.
An improvement of eighty yards per game over a sustained period and against superior competition is not a coincidence, especially when the fact that the points per game average has more than doubled in that same time period. It hasn't jut been an improvement in the passing game, but it has been an improvement of the offense as a whole.
Much of that can be credited to the leadership and work ethic that both Bruce Gradkowski and Charlie Frye have shown over the past five weeks. That is something that Russell had not shown during his time as a starting quarterback. With the position up in the air for Sunday;s game in Cleveland, it is a stark differential in past performance between the options.