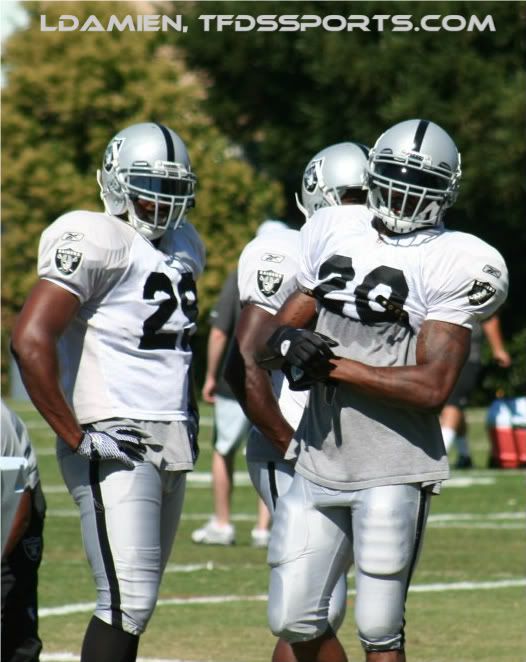 Football season begins officially on Thursday though most teams won't play until Sunday. The Raiders' season will start last, when they play the Broncos on Monday night. So, with the 2011 season about to kick off, it is time to do a position by position analysis of the the 2011 Oakland Raiders.
Quarterback
Starter: Jason Campbell
Depth: Kyle Boller, Terrelle Pryor
Jason Campbell will be entering his second season with Hue Jackson calling the plays. That will make a big difference for Campbell who has never had such continuity. If Campbell goes down, the outlook is not good. Boller has not looked good in limited action. Pryor is suspended through week five of the season and will not be allowed to practice with the team during that time. He arrived at Raider camp on the very last day and had just a week of practice at headquarters. He has a long way to go.
Grade: B
Running Back
Starters: RB Darren McFadden, FB Marcel Reece
Depth: Michael Bush, Taiwan Jones, Rock Cartwright
This is a very strong group headlined by Darren McFadden. Reece adds that dynamic, speedy Hback who presents a mismatch for linebackers and defensive ends. The Raiders had a top rushing attack last season and it looks to continue this season. McFadden has come into his own and if he can remain healthy should repeat his performance last season. When he goes out, Bush offers the bruising change of pace back that wears defenses down. If McFadden does go down with injury, rookie Taiwan Jones can bring the same speedy style of play to complement Michael Bush that would allow the Raiders to avoid altering their gameplan. Rock Cartwright is the jack of all trades who excels on special teams while also being a capable running back or fullback.
Grade: A
Wide Receiver
Starters: Chaz Schilens, Louis Murphy
Depth: Jacoby Ford, Darrius Heyward-Bey, Denarius Moore, Derek Hagan, Nick Miller
It is uncertain who will be the Raiders' starters this season. But overall they are well stocked with quality talent. Schilens and Murphy looked like far and away the best receivers on this team in camp. Murphy will be out at least the opening game and either Darrius Heyward-Bey or Jacoby Ford will be starting instead. It is also likely that Heyward-Bey will be handed the starting job though he has never earned it in his two seasons with the team. Ford has played well enough to start and was listed as a starter in the early unofficial depth chart the Raiders put out a few weeks ago, even though he was out most of camp with a broken hand. Schilens has been the Raiders' projected starter every season he has been with the team but he is rarely healthy. When healthy, he shows skills of an elite receiver. Denarius Moore was the star of camp and his ball skills are probably the best of this group. He will offer a spark but as a rookie, the team will not start him unless there are injuries to several other receivers. Derek Hagan is the newest acquisition and he earned his way onto this team. He is the most accomplished receiver among them and it shows in his play. Nick Miller won't see much time as a receiver. He is a punt return specialist.
Grade: B+
Tight End
Starter: Kevin Boss
Depth: David Ausberry, Brandon Myers, Richard Gordon
Kevin Boss came in during camp to replace the departed Zach Miller. Jason Campbell likes his tight ends and Boss will be a solid target for him. Ausberry surprised as the Raiders' final pick in the 2011 draft. He is a converted wide receiver and shows the hands and speed of one while having good size. Brandon Myers was the primary backup to Zach Miller last season. He rarely saw the ball and that will probably remain the case. He is more of a special teams player. Gordon is on board due to the injury to Kevin Boss.
Grade: B
Offensive Line
Starters: LT Jared Veldheer, LG Stefen Wisniewski, C Samson Satele, RG Cooper Carlisle, RT Khalif Barnes
Depth: OT Stephon Heyer, OT Joseph Barksdale, OG Bruce Campbell
The two new starters are Wisniewski at left guard and Khalif Barnes at right tackle. Wisniewski takes over for the departed Robert Gallery. He has played pretty well so far at guard and will also serve as the backup center. Barnes has not played well at right tackle. The team is hoping rookie Joseph Barksdale can progress quickly enough to take over the right tackle spot. The other starters return from a unit that excelled in run blocking but struggled in pass protection. This is Veldheer's second season as the team's starting left tackle. He started as a rookie last season and it showed. He will benefit from having a year under his belt at the position. Satele and Carlisle both played surprisingly well after the team switched back to the power blocking scheme last season. Both players were holdovers from the zone blocking scheme days but were retained for their solid play and line continuity. Bruce Campbell is the one guard. He has played much better this camp than he did last season and is a strong backup. The team cut ties with Daniel Loper who lost his job to Wisniewski in camp. I suspect Loper or another guard will be added to the mix soon. The main concern is the right tackle spot. If Barnes can improve his play or Heyer or Barksdale can step up, this group looks pretty good.
Grade: B-
Linebacker
Starters: MLB Rolando McClain, SLB Kamerion Wimbley, WLB Quentin Groves
Depth: MLB Ricky Brown, WLB Darryl Blackstock, LB Bruce Davis Jr
Linebacker has been a sore spot for the Raiders for a number of years. Last season the team actively sought to fix those issues. They traded away former starting middle linebacker Kirk Morrison and drafted Rolando McClain with their top pick. They traded for Kamerion Wimbley to solidify the strong side and traded for Quentin Groves to replace former starter Thomas Howard. The trio still had some difficulties getting on the same page and stopping the run was a huge concern. But coming into their second year together, they hope to build upon their performances last season. The key is McClain of course, who will gain from his full season as the starter. The weak link last season was Groves who was caught out of position far too many times. The Raiders had Travis Goethel pegged as the primary backup in the middle as well as a possible starter on the weak side, but he went down with a season ending injury. The team then brought back Ricky Brown who has been the Raiders' backup middle linebacker for five seasons. Brown has his deficiencies but on short notice, he was the best option. Darryl Blackstock came in as a free agent out of the UFL and has looked good in a reserve role. Bruce Davis Jr will back up the strong side for lack of other/better options at the moment. Overall, this is a suspect group. There is no indication they have improved, simply the logic that a year together should help. I expect they will still suffer from lack of focused attention by the Raiders to bring in talent.
Grade: C-
Cornerback
Starters: Chris Johnson, Stanford Routt
Depth: Demarcus Van Dyke, Chimdi Chekwa, Joe Porter
The two starters in Johnson and Routt make for one of the better cornerback duos in the NFL. But after that, it is extremely scary. Two rookies in Van Dyke and Chekwa followed by Porter who is not really seen as a viable option. You can expect a lot of three receiver sets by opposing offenses and the Raiders had better pray the starters don't get injured. This could get messy.
Grade: C-
Safety
Starters: SS Tyvon Branch, FS Michael Huff
Depth: Mike Mitchell, Jerome Boyd, Matt Giordano
Safety is one of the deepest positions on this team. So deep in fact that they were able to cut Stevie Brown. Branch and Huff have both played well at times. It is hard to say what kind of season we can expect from them but it is expected that new secondary coach Rod Woodson can get the best out of them. Branch has played very well at times and has kept Mike Mitchell as a backup. Mitchell is utilized as a short yardage and redzone specialist. Jerome Boyd has come into his own as a safety. He was in camp last season but didn't make the squad. He becomes Huff's backup this year at free safety and enters the game when Huff is placed as the nickel corner. Giordano won't see the field for the defense much, he is mostly a special teams player.
Grade: B
Defensive Line
Starters: DE Matt Shaughnessy, DE Lamarr Houston, DT Richard Seymour, DT Tommy Kelly
Depth: DE Trevor Scott, DE Jarvis Moss, DT Desmond Bryant, DT John Henderson
This is one of the strongest and deepest positions on the team. The same unit is intact from last year that had a share of five sacks apiece. Shaughnessy and Houston were first year starters and both got better as the season went on. Desmond Bryant and John Henderson provide quality depth behind them. Trevor Scott was injured midseason last year. Having him back will bolster the edge rush. Jarvis Moss returns in a reserve, situational pass rusher role. He seems to have found his niche there and the Raiders hope he can show some of the potential that got him drafted in the first round.
Grade: A-
Special Teams
Starters: K Sebastian Janikowski, P Shane Lechler, LS Jon Condo, KR Jacoby Ford, PR Nick Miller
Depth: Denarius Moore, Taiwan Jones, Rock Cartwright
The Raiders have All World legs in Janikowski and Lechler. Lechler is a perennial All Pro and Janikowski has several NFL records along with being the Raiders' all-time leading scorer. Jon Condo joined Lechler in the Pro Bowl two years ago. He provides a steady, reliable hand for the long snapping duties. He also covers and blocks on kickoffs and punts quite well. Jacoby Ford returned three kicks for scores last season. He will have more of a challenge with the new line for kickoffs. Knowing how much of a threat he is will have teams kicking touchbacks all day as well. But his odds of breaking off a big return is higher than most so if anyone can do it, it's him. Nick Miller keeps his job as the team's punt returner from last season. He is not a big threat to break it but can usually make something out of nothing. Denarius Moore took punts in camp but the team seems to value him as a receiver enough that they are not saddling him with return duties as well. Taiwan Jones will step in if need be and Rock Cartwright will as well. Cartwright's value comes in blocking and coverage units but he will field a kick or punt when necessary.
Grade: A
Follow me on Twitter @LeviDamien or befriend me on Facebook.