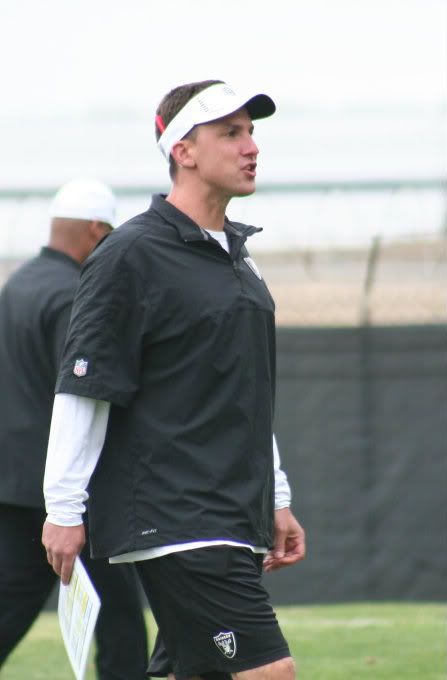 The Raiders 2012 offseason took another step forward today with the first day of a 3 day minicamp running through Thursday.  As always, TFDS will attempt to sift through all of the information that comes from the camp and use it to predict what it means for 2012 and beyond.
First, much may be made about the fact that the Raiders had 100% participation.  I in no way wish to take away from that but it's not such an amazing feat given that it was a mandatory camp and there are no big contract disputes that would cause any players to stay away from camp.  In fact, in minicamps around the league this week, participation will be close to 100% except for the odd player – like Maurice Jones-Drew with the Jaguars – who is attempting to put pressure on the team by staying away.
The biggest news of the day occured fairly early on in camp.  Denarius Moore made a cut on a route and fell to the ground in pain.  A trainer came and helped him off the field and he eventually went back into the clubhouse.  It looked like it was likely a tweaked hamstring of some unknown severity.
Coach Allen didn't think that it would be too much of an issue – "He's going to be fine," Allen said. "We'll evaluate it. Usually those things take a couple of weeks or so, so we'll see where he's at." – however, an injury to Moore isn't good.  Plus, it was a hamstring injury that kept him sidelined for part of last season.
The good news?  Moore can be shut down now, heal, and be ready to go in 6 weeks for the Raiders minicamp at the end of July.
In the meantime, all is not doom and gloom for the wide receiver corps.  Rookies Juron Criner and Rod Streater continue to stand out from the crowd at the position.
Criner, especially, seems to be able to come down with tough receptions – a skill that makes a world of difference to a quarterback.  In today's practice, Palmer threw a dart to Criner that arrived just as he was turning and would start looking for a pass to come.  He wasn't anticipating the ball to be there yet but it smacked him in the chest and he was still able to come down with it.  It's that ability to make a reception even if things don't go perfectly that sets him apart from the other receivers.
More good news for the Raiders: DE Matt Shaughnessy is back from a shoulder injury that sidelined him last season and looked good for camp, today.  He said that if the Raiders were playing a game today, he would be playing.  There was at least one play in which he would have sacked the QB in scrimmage but, of course, pulled up as is expected in this setting.
Also, DT Richard Seymour showed up approximately 10 pounds lighter – he lost the weight by boxing among other workouts – and hopes that his lighter frame will allow him to take his production to a new level.  Raider fans can also hope that the lost weight will help him stay more consistent on the field this season as he dissapeared for long stretches of time last year.
In the backfield, the Raiders do not appear to have any real ball-hawks with the possible exception of Matt Giordano.  Interceptions are few and far between.  Turnovers are one of the keys for the Raiders defense to be able to improve this season and if the scheme cannot help the Raiders get in a better position to get interceptions, the Raiders will have to rely on fumbles and attempt to be a bend but not break defense.  The secondary is still the biggest question mark on the team.
Finally, the Raiders certainly have the arms to get the ball down the field.  Palmer has looked consistently good in both OTAs and now in mini-camps.  He can fire a ball to receivers on crossing routes but still get good loft under his ball on deep plays so that it drops down into a receivers hands over a defensive back.  He shows good zip on his throws as well.
Leinart has had his ups and downs – he still makes bad decisions and throws interceptions unneccessarily at times – but he has shown good enough arm strength to make plays all over the field and he throws a nice, tight spiral on his passes.
Pryor has been very up and down throughout OTAs and into minicamp but that is to be expected.  Remember, at this time last year there were still questions as to whether there would be a supplemental draft and, if so, if he would be allowed to be drafted due to the NFLs assertion that nothing had changed in his status to warrent him being drafted.
Pryor has a good arm and rare athleticism but he is very much a project.  He has issues with his footwork at times and it drastically effects his accuracy.  He has a tendency to underthrow his receivers, accordingly, which can be very detrimental on long passes because it increases the odds of an interception.
Pryor has shown enough promise, though, that it's likely that he'll be given a good chance to be a quarterback in the NFL.  There were many who felt that he didn't have the necessary skills to do this but he has shown enough in team activities this offseason to indicate that he may have what it takes to be an NFL quarterback eventually.
His struggles highlight, however, why the Raiders felt it necessary to bring in Leinart – Pryor clearly isn't ready to be one injury away from having to start in the NFL.  At least not yet.
We will see what tomorrow brings for the Raiders.  But, after the first whole-team minicamp of his head coaching career, Dennis Allen has to feel happy and confident with the state of his team.
For more Raiders news and analysis throughout the day, follow me on Twitter @AsherMathews
(Photo by Levi Damien)