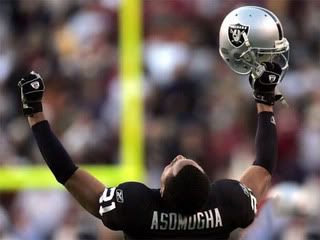 No news is good news – at least that is the old cliché. Still it would be nice if there was some news on Nnamdi Asomugha. There's not, and there may not be for a while. But I'm beginning to wonder who Al Davis would have signed from the free agency wire if there were one. Pretty sure Nnamdi will be the first one on that fateful day when midnight strikes.
Why I think Nnamdi will re-sign:
Nnamdi Asomugha is an elite NFL cornerback. He is the epitome of a Raiders cornerback. He is committed to excellence. He is a humanitarian who spends a majority of his time giving to those less fortunate. He is a future Hall of Famer. He is a Pro Bowler with a style all his own. His length and press coverage skills are unmatched. He deserves to be one of the highest paid players in the NFL.
Nnamdi is also a fantastic team player. And Rod Woodson has been brought into the organization to entice him to return — that is the number one reason Woodson was hired. Al Davis is smart and Nnamdi is grateful to Davis for the opportunity to become the player that he is. Asomugha is practically a California native who played high school football at Nathaniel Narbonne in Los Angeles and graduated from Cal. His family is in California. His teammates – his brothers – are in California. And bonus: the Raiders are actually on the right track for a change.
I remember a time not so long ago when somebody – can't remember who (sorry) – told Nnamdi that he should test the waters of free agency, but should ultimately go back to the Raiders. I remember seeing the look on Nnamdi Asomugha's face that said, "That is a really good idea."
He'll be back in 2011.
Best headline of the day:
"McFadden loses to Rivers on Madden Cover."
The Madden curse might have been broken by Drew Brees in 2011, but let's not count out one of the most historic curses of all-time by discrediting it based on one instance. It still lingers, and I for one am not ready to watch injury-prone Darren McFadden suffer through injuries this year — even if Michael Bush IS his replacement.
The Chargers can go ahead and have that distinction. I'd much rather see Rivers on the cover of Madden in every store in America and have the Raiders sweep the Chargers again. Meanwhile McFadden and Bush steamroll them for 300-plus yards on the ground twice while Rivers sits out with injuries. I don't want to see any Raiders player get on the cover of Madden… EVER. And yes, that includes Sam Williams.
Philip Rivers can go ahead and get hurt. It would be fitting that Drew Brees should be the man passing him the Madden torch like he passed him the quarterback position torch back before New Orleans. Give Rivers some credit though, he is the main reason why the fire was lit under Brees' @$$. But alas — can Rivers beat out Adrian Peterson in round two of the Madden cover tournatment?
Glorified QB's Coach?
I wonder if the Raiders giving the Offensive Coordinator distinction to Al Saunders was just a fancy way of saying, "This is the guy who's coaching our QB's." After all, Jason Campbell is returning and it looks more and more like they'll re-sign Bruce Gradkowski and make the trio Campbell, Gradkowski, and Kyle Boller again. Why would they introduce an entirely new offense? They won't – they will expand on the current one and keep getting better. I hardly think that requires a person with the title of offensive coordinator. Really, it's just a respectful title to one the NFL's great coaches. He's more like the QB's coach and assistant offensive coordinator, right?
I expect him to be Hue Jackson's right hand man. I think Jackson has the utmost respect for this man and they will make one heck of a one-two punch for opponents. I think the fact that Jason Campbell has experience under both guys is going to help turn his sophomore Oakland season into something that a Raiders QB hasn't had for a long time – a winning one.
Shout out to Nick Miller. The Raiders wide receiver and punt returner turned 24 today. Happy Birthday Nick; chug one for Raider Nation. Perhaps he will have his chance to compete for playing time this year and develop a report with Campbell. He's quite a talented athlete.
Follow me on Twitter: Raidersblogger
Look for us on Facebook: Thoughts from the Dark Side
Put it in my box: Bret@TFDSsports.com