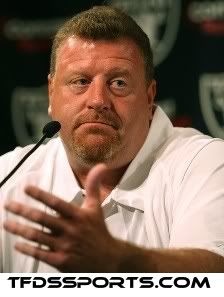 TFDS file photo
Tom Cable addressed the local media after practice today. Apparently, there are some issues that are arising in the deal to bring Richard Seymour to Oakland. However, the issues are with him and the Patriots, and Cable expects it to be a done deal soon.
He also outlined the injury situation and filled out the list of projected starters.
Day 2 of installation and preparation for San Diego, very good practice, good tempo, good focus by our team today. Guys who did not practice. Schilens (foot), Barnes (ankle) continued to do a little bit more in individual, Fargas with a hamstring still questionable but we're making
progress, Ekejiuba with the shoulder limited but worked, Morrison (elbow) limited and Asomugha (wrist) limited.
OK? All right, real quickly about the Richard Seymour issue. We have attempted to make a deal. There are some issues still between him and the Patriots that are being worked out. Hoping that that will get resolved as quickly as possible. We know that the player wants to be
here but we have really no control over those issues. So that's really all I'm going to talk about it for now.
Q: But have you spoken with Seymour?
A: I have talked to him.
Q: And he said he wants to be here?
A: Yes.
Q: Is there a drop-dead day for him to be here to play in the opener?
A: Just as soon as possible. That's really the only way to answer that right now.
Q: Kirk Morrison in the opener?
A: Yes.
Q: Seemed confident?
A: Yeah and I am too. He's doing more and more within the practice so I think we're pretty close actually for full-time.
Q: A brace on his arm?
A: Umm, I think he'll wear something protective. Whether it'll be all that, I don't know.
Q: Will he start in the middle?
A: Yes.
Q: And the strongside?
A: Ricky
Q: Is Mike Mitchell ready to play on the defense, or will he be just a special teams guy?
A: I think we'll see as the week, we're fortunate to have this long period of time before the first one. He's catching it pretty quick but his primary role has to be special teams in the first game.
Q: Why hold night practice Thursday, simulate the opener?
A: It is, just get in the lights and that sort of thing
Q: Is Fargas out of running to start Monday?
A: Not necessarily. We're closer, we're just not ready to cut him loose yet.
Q: How did Ricky win SLB job?
A: I think consistency. He was playing the Mike some, the Sam some but wherever he was at he was pretty consistent.
Q: What kind of challenges do San Diego present?
A: Well obviously you have a tremendous running game, a terrific tight end and receivers who are really skilled. Defensively you have two outside linebackers who are playmakers and very disruptive and a great nose guard, probably one of the best who has ever played. They are just
a really talented football team.
Q: Could everybody be back next week?
A: I'm getting excited because we are approaching it. I was thinking about that this morning. Each day we get a little more and a little more. Come next week, we should be pretty darned close.
Q: Is Seymour on the roster like it says on Raiders.com?
A: Ummm. Again there's details being worked out.
Q: Talk about starting on Monday night?
A: It's exciting. It's exciting for us. It's a divisional game which makes it that much more special. We just want to get going. We have some things that we want to accomplish, some goals we want to accomplish for the season and it starts Monday.
Q: Does the extra day before your opener help you?
A: I don't think it hurts you. On the other end, you got to turn around in a short week to Kansas City.
Q: Does it help opening with three straight division games?
A: Certainly, there's an opportunity there for us to do something in our own division right away. You want to address it that way. Everything will start Monday night.
Q: Do you have to sell to the players that it's a great opportunity?
A: We've kind of already done that, really. We've talked about how you prepare and what all that means. Really, then push that aside because now it comes down to just playing that game, regardless of what time it is or that it's Monday night and all that stuff. So, we tried to address
that prior to and now just focus on the football side of it.
Q: What did you see in Chris Morris when you arrived in 2007?
A: Tremendously intelligent guy. Whatever limitations he has, he overcomes them with his brain and knowing where to put his body, and knowing how to get there. He just kind of plugs along and just keeps grinding and trying to perfect what he does. He's smart enough to understand where his limitations are and how to fix them and work on them.
Q: Did you look at Schuening before the 2008 NFL draft?
A: I did because we had him in the Senior Bowl, so I'm very familiar with Roy. OK?
Q: Did you add anybody else to the practice squad?
A: We did not.