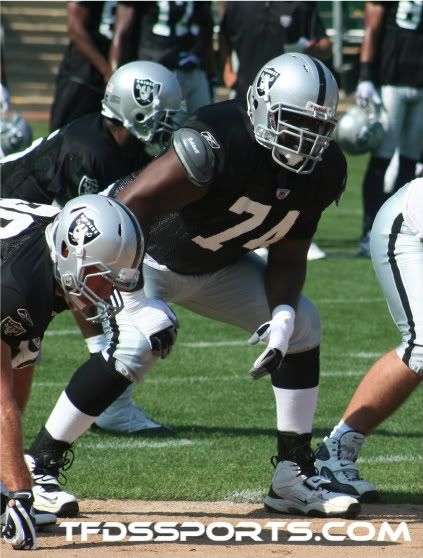 Cornell Green and the offensive line have focus issues.
(Photo by Patrick A. Patterson)
Tom Cable looked at the tapes and even though the Oakland Raiders were thoroughly embarrassed on Saturday afternoon, he was still able to find a silver lining from the game. For Raider Nation's sake, hopefully that little bit of silver will be enough to avoid another similar performance on opening night…hopefully.
If you were able to stomach more than two quarters of the game, then you already know that the Raiders' defense was a major reason as to why Dree Brees looked like the best quarterback ever.  One of the more subtle problems continues to be the offensive line.  Though you wouldn't know it by looking in the box scores for your information, miscues in critical situations have prevented Russell from looking better during games.
Russell has improved.  Like backup Bruce Gradkowski, Russell often plays better when the lights are on than when he's on the hot practice fields in Napa.  Even so, it's difficult for any quarterback to look good in the NFL when he can't trust his protection, or when they are constantly putting him in a hole with senseless penalties.
Tom Cable spoke with the media Sunday afternoon about Saturday's debacle, and shared with the media some of the bright spots from the tape.  Cable began by pointing out his two rookie receivers, "I saw good effort by two young receivers, although you gotta' talk about ball security when you talk about those two, primarily with Murphy."  Murphy, who fumbled once and dropped two other passes will need to be more careful if he wants to remain in the rotation.
Other things that Cable liked from Saturday were more general.  "I saw good effort by the tight end position, I thought the running back did some good things.  The only real negative I felt like there was the false start that Lawton had.  Desmond Bryant showed up.  Chris Johnson, individually, had a pretty good effort, but again he'd be the first to tell you, he's gotta' get aligned right on some of those things.  And I thought our special teams were solid."
One guy who hasn't gotten his name called recently, and should be worried, is Terdell Sands.  Cable was asked if he thought this was the end of the line for Sands, but he wasn't giving out any information.  "No, I don't know that yet. It's too early for all that. It's just where we were at in terms of rotation. Didn't expect to play the first group as long as we did in the second half. But had to, and based on the rotation and the way it all worked out, just ran out of time."
Let's see…not part of the first group…not part of the second group…hmm.
Getting back to the offensive line and their propensity for commiting penalties when the offense finally seems to be moving the chains, Cable is concerned with the penalties they are being called for.  Asked about the illegal formations and the false starts, Cable acknowledged, "Well the ones that I'm most concerned about are the last two you hit there.  The illegal formations, we have had that issue and all through the games where the tackle has not been far enough up on the line of scrimmage and it's been addressed and it will continue to being addressed.  And then false starts, you know that's just a lack of focus, regardless of who that is.  Whether it's a lineman or back or whoever."
It's not just the penalties either.  He wasn't too happy with their performance when the play was on the up and up.  "Well, you know, for me I'm disappointed because we missed, I think, three pretty basic, pretty easy to see types of blitzes that created problems for us.  And then one of the sacks of the three, I think, we missed a hot read at quarterback."
At camp today, the media only gets to go out and watch the first 20-minutes.  During that time, here's what I was able to gather:
The consensus is that the Raiders have already gotten down to 75 players.  Nothing official yet, but (G/C) Jonathan Compas, (WR) Will Franklin, (WR) Shawn Bayes, (DT) Joe Cohen, and (T/G) Marcus Johnson are the possible victims–they weren't seen on the field today.
In case you didn't know, (TE/LB) Chris O'Neill is back on the team.  Napoleon Harris' return to the silver and black was short lived.
John Wade (stinger), Matt Shaughnessy (foot), Michael Huff (quad), and Kirk Morrison (dislocated elbow) were all suited up for practice.
Justin Miller (turf toe), Nnamdi Asomugha (hand), Khalif Barnes (ankle), and Rashad Baker (stinger) were all on the sidelines watching practice.
After practice, I'll have more updates and possibly official news on the roster moves.  Check back later for more.