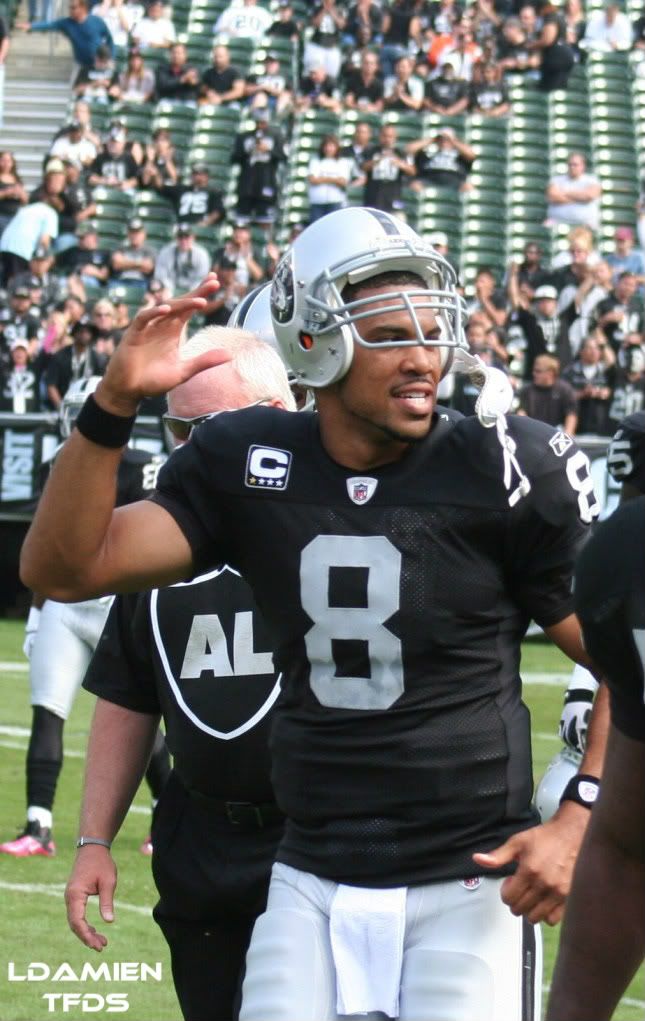 Jason Campbell broke his collarbone in Sunday's game versus the Browns. The team was immediately left scrambling to find a replacement as the injury was initially expected to keep him out all season. He is set to have surgery Monday and could be back sooner than expected.
"I'm having surgery today," said Campbell. "It was a tough break. I'm going to stay positive. If everything goes well I'll be back in six weeks."
The team can't afford to be quite as optimistic. They must prepare as if Campbell will be out for the season. After Sunday's game, reports surfaced that the team had inquired about free agent quarterback David Garrard as well as trading for Carson Palmer.
It may turn out that neither of these quarterbacks are attainable. Carson Palmer retired from the Bengals along with trade demands, but Bengals owner Mike Brown has refused to give in to Palmer's trade demands and there is no reason to think he will change his mind now. Especially since the Raiders have little to offer the Bengals for Palmer. The Raiders have no round two, three, or four draft picks in the 2012 draft to offer them and they are not about to offer up their first round pick for him. And even so, it still comes back to Mike Brown's unwillingness to "reward" Palmer with a trade.
Garrard is far more likely though he will no doubt want at least a two year commitment from the Raiders as well as a commitment to give him every opportunity to be the Raiders' starter should he play well. He turned down the Dolphins because they wanted to sign him as a stopgap on a one year deal. If the Raiders can't offer him a better deal, he will turn them down as well.
Update: Per Jay Glazer, Garrard is set to have immediate surgery on a herniated disk. He is now off the list of candidates.
After that, it falls to Trent Edwards to come in as a backup to Boller for the rest of the season. Or six weeks by Campbell's estimation.

Follow me on Twitter @LeviDamien or befriend me on Facebook.