Raiders running back Darren McFadden is currently sitting at 993 yards rushing on the season which means he needs just 7 yards to break the 1000 yard mark. He would be one of just a handful of Raiders all-time to reach the 1000 yard mark and the first since Justin Fargas had 1009 yards in 2007.
With the Broncos coming to town, that 7 yards could easily be picked up on one carry. The Broncos season is lost and mostly due to their terrible defense. McFadden carved up that defense in week 7 this season to the tune of 165 yards and 3 touchdowns. In that game he averaged over 10 yards a carry.
Despite missing two games this season with an injury McFadden jumped out to 757 yards by week 7, thanks in large part to four 100+ yard games. He looked like a sure-fire bet to reach 1000 yards by week 12. But after two weeks against the Steelers and Dolphins in which he had a total of 16 yards rushing, it seemed like those hopes would be stopped in their tracks. Then McFadden rebounded in the following two games, putting up 89 yards against the Chargers in week 13 and 123 yards against the Jaguars last week. Those games have put him back on track.
At this moment Darren McFadden is on pace for 1263 yards on the season which would be the most yards in a season by a Raider running back since Napoleon Kaufman had 1294 in 1997. If he surpasses the 1200 yard mark it would place him in the top five all-time single season marks among Raider running backs. Even Marcus Allen only surpassed 1200 yards once in his career.
This would mean that McFadden is set to stand atop the Raiders' all-time list along with greats Mark Van Eeghan (1273, 1080, 1012), Allen (1759, 1168, 1014), and Kaufman (1294). That is no small feat for a storied franchise such as the Raiders.
It is also quite a surprise considering McFadden had yet to even break 500 yards rushing in his two previous seasons in the league.
Other Raiders to eclipse the 1000 yard rushing mark in a single season: Harvey Williams (1114), Marv Hubbard (1100), Clem Daniels (1099), Tyrone Wheatley (1046), and LaMont Jordan (1025).
McFadden also currently has ten touchdowns on the season which puts him on pace for twelve by season's end. That would place him in the top ten all-time for total touchdowns in a season and the most since James Jett had twelve in 1997. Before that you have to go back to 1990 when Marcus Allen scored 13 touchdowns. Every other Raider to have twelve or more touchdowns in a season was named to the Pro Bowl that year.
He also currently has 437 yards receiving and is on pace for 556 yards on the season. The combo of 1000 yards rushing and 500 yards receiving in a single season has only been accomplished by two other Raiders. Marcus Allen did it three times and Clem Daniels did it once. Therefore McFadden would accomplish the 1000/500 mark for the fifth time in Raider history and the first time in 25 years.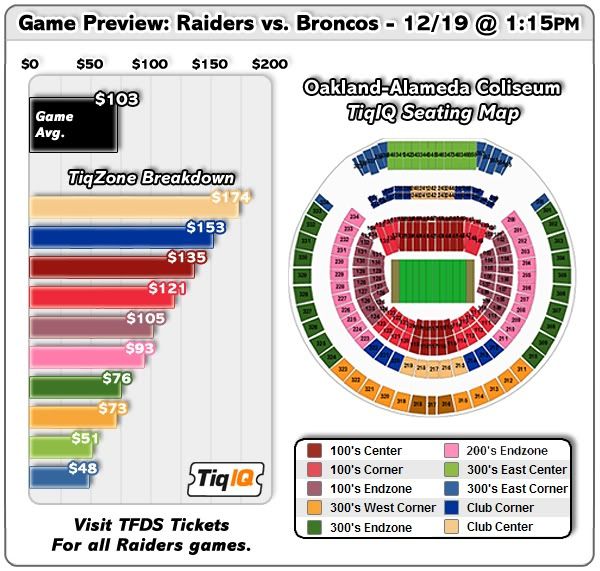 The game is blacked out locally so if you are in the Bay Area, you will want to be there to see McFadden break the 1000 yard barrier in Oakland on Sunday. Ticket prices form Dark Side Tickets are down 26% and many are well below face value. There are still plenty of E-tickets available for less than $60. To see ticket prices and availability Click Here.
Follow Levi on Twitter @LeviDamien or befriend him on Facebook