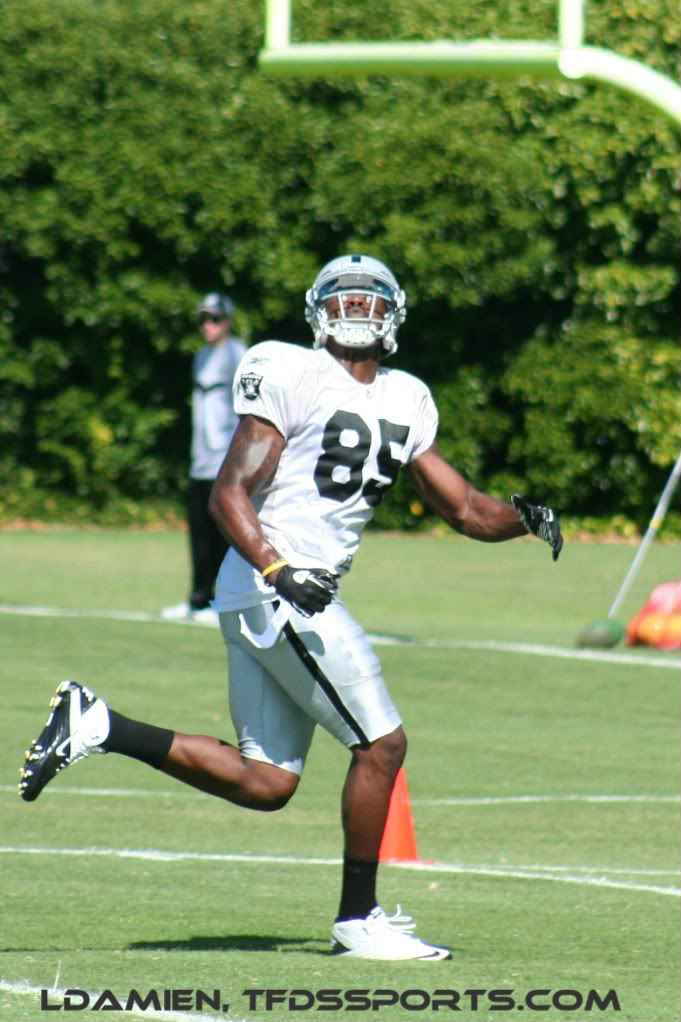 To say that Raiders' third year receiver Darrius Heyward-Bey is having a career year doesn't come near covering his breakout season thus far, and would suggest he is simply outdoing his production from previous seasons. He has done much more than that.
Heyward-Bey was widely panned when he was drafted and it is hard to say the criticism wasn't justified. The sound of Cris Carter loudly repeating "Honorable Mention!" still rings in many ears. What Cris Carter was speaking of was the fact that the Maryland product was taken seventh overall despite his greatest accolades being All ACC Honorable Mention. Not a high honor for any player, let alone a top ten draft pick.
Heyward-Bey has long been referred to by his initials, though unlike other players who have earned their shortened monikers, DHB was simply easier to say. In his rookie season, his penchant for dropping passes led to much less flattering names that came from those initials, such as "Drops Hella Balls."
He was taken ahead of far more accomplished receivers such as Michael Crabtree and Jeremy Maclin. In his rookie season he did anything but prove he deserved to be chosen over them.
DHB didn't even break into double figures in catches in his first season. By any standard, his 9 catches for 124 yards were that of one good game by any respectable NFL receiver. His play on the field and his numbers had his doubters feeling pretty secure in their belief that he was exactly the receiver they thought he was—perhaps worse.
It seemed even his doubters thought he was worthy of being chosen somewhere in the first or second round, and putting up one good game's worth of catches in an entire season was not even on that level.
After that season he set out to show how hard he could work to be the NFL receiver the Raiders had hoped he would be. The result was DHB missing much of training camp with what Tom Cable called "fatigue."
With no other evidence to go on, the "fatigue" being used as some kind of injury got a lot of traction and became a bit of a punch line. So even after all the hard work he had put in, Darrius was still considered a joke. He would not be recognized for his work ethic on his mission to prove himself as an NFL talent. He would have to prove it on the field.
That season he did do much better than he had in his previous season. He caught 26 passes for 366 yards. It was not a great season by any stretch. It was not even all that good. He was the number one receiver on this team and yet he was third in receiving among just the wide receivers—fourth if you count tight end Zach Miller.
That season was a start, though. And he set out to build upon it again in the offseason.
After the Raiders' week six home win over the Browns, DHB was sitting just 4 catches and 21 yards away from eclipsing his total from last season. By the time the week seven game against the Chiefs was complete, he had more than surpassed his total catches and receiving yards for all of the 2010 season.
He currently sits at 27 catches for 434 yards. That puts him on pace for 992 yards on the season. After just 5 catches for 49 yards in the first three games, he has averaged over 96 yards a game in the last four. If he were to keep up that pace, he would finish with 1300 yards on the season.
This also means he would surpass his entire receiving total for his first two seasons by week eight–halfway through the season. Unlike the previous season, he leads the team in receiving. And that is not just among wide receivers, that's everyone.
He has doubled his yards per game average in each of his three seasons in the NFL. He averaged less than one catch and 11 yards per game in 2009, two catches for 33 yards per game in 2010, and four catches for 62 yards per game in 2011.
Not coincidentally his drop rate has also gone down each season as well. He has caught 55% of the passes thrown to him this season. Last season he still couldn't come down with half the passes thrown his way (40%) and his rookie season he caught just 22.5%.
I am not ready to say that DHB is elite or even that he ever will be. He has not yet shown that he has the hands to be a great receiver. But he has improved in every other area of his game and every single day at practice he is seen working one-on-one catching passes in close range to work on his hand eye coordination.
The main difference this year, aside from his improved route running and fewer dropped passes, is the way he is being used. He is no longer being sent for long passes every other ball that comes his way. He has shown where he excels is in short yardage. He is a possession receiver with the speed to break it for long distance on any given play.
His glaring deficiency still shows as he is uncomfortable catching the ball with his hands regularly. He still cradles the ball between his forearms and chest most of the time. He has simply gotten better at not dropping those balls that are put in his chest. If he can ever consistently use his hands and not allow the ball to reach his chest, he could become the receiver that Al Davis envisioned he could be when he spent the number seven pick on him.
He certainly has the work ethic to reach those lofty expectations. Along with spending every practice working on hands catching, he will be spending the bye week at Raiders' facility working with new quarterback Carson Palmer to ensure the two of them develop the chemistry needed for him to have continued success.
The mere fact that he is on pace for a 1000 yard season is already a career away from where he started.
Follow me on Twitter @LeviDamien or befriend me on Facebook.