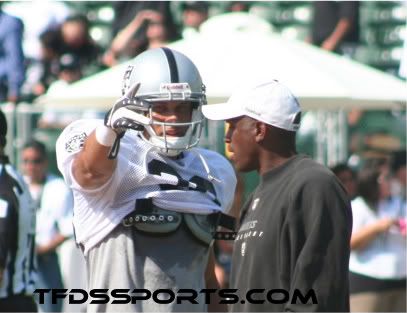 Alright, well, the roster is almost complete. I did the offense yesterday, and now we look at the defense. The defense is much more shaky and in most cases, there are players making the team simply because there are no better options. The offense had a lot of tough cuts to be made while the defense had a few pleasant surprises. Tough decisions are not fun for coaches but I am sure they would rather take the best of the best than the lesser of the evils.
That said, someone has to ride the bench waiting to give the starters a breather or let their pent up energy out on special teams. And while, the defense is still a work in progress, it appears that almost every position has seen an upgrade.
Corner
Nnamdi Asomugha: Best corner in all of football.
Chris Johnson: Great corner despite having inconsistent camp and preseason.
John Bowie: Finally healthy? We'll wait until after Thursday's game to be sure.
Stanford Routt: Terrible preseason but has the job until it is taken from him.
Justin Miller: Was kept out of third preseason game which usually means he doesn't need to prove his coverage skills. He will stick around as kick returner.
Out:
Michael Hawkins: Bounced around camps. Had a nice hit in the Saints game but that won't be enough. But if he impresses enough, he could be high on the list to bring in if/when Bowie gets injured.
Darrick Brown: Will be sent home again and prepare for his annual Raider training camp invite next year.
Defensive End
Greg Ellis: Proving to be a valuable asset and a great offseason acquisition.
Trevor Scott: May not keep job as starter but will at least be pass rusher.
Matt Shaughnessy: Has been injured much of preseason but looked good prior.
Jay Richardson: Shows flashes of good things. Simply no one to beat him out.
Out:
Greyson Gunheim: Like Jay Richardson, he shows flashes of potential but he has a lot of trouble shedding blocks and getting in the backfield depite usually working against the scout team.
Defensive Tackle
Tommy Kelly: Best interior Dlineman. Which is saying a lot…a lot of bad news.
Gerard Warren: Decent nose tackle. Has looked good this preseason.
Desmond Bryant: UDFA rookie who quickly beat out other DT on the team.
William Joseph: Has had good camp which is the only reason he is still here.
Ryan Boschetti: Has showed just enough to hang around to add depth.
Out
Terdell Sands: Finally, the Raiders found someone to come in a beat Sands out for a roster spot. He has played horribly for a couple years now but the Raiders would never bring in an apt replacement. Bryant and Boschetti are better. The Terd is flushed.
Linebacker
Thomas Howard: The only linebacker whose role has not changed in camp.
Kirk Morrison: Starting job threatened by Ricky Brown but wins out in the end.
Isaiah Ekejiuba: Always lights out on special teams and great spot duty LB
Jon Alston: Picks up where he left off last season as starting SAM LB
Ricky Brown: Will be primary backup at both MIKE and SAM LB spots.
Slade Norris: Showed some good skills but will mostly ride the pine as rookie.
Out:
Sam Williams: Unfortunately, I wouldn't be surprised if he is kept around anyway and the team cuts someone at another position. This could be wishful thinking or just be too logical.
David Nixon: One of the tougher cuts because he had some good moments. But he is still very raw so he will be waived in the hopes he will clear waivers and make the practice squad.
Chris O'Neill: Was brought back after being waived earlier in preseason because the team would like to continue to develop him into a linebacker (he played TE at Boise State). He will be invited to the practice squad.
Morlon Greenwood: Never did much of anything. I would have liked to see the the team give Derrick Brooks a shot instead. He would have brought some confidence, swagger, and football IQ along with him.
Safety
Tyvon Branch: Has become a damn fine strong safety right under our noses.
Michael Huff: Seems to be acclimating back to free safety quite nicely.
Mike Mitchell: Prior to his injury, he was a project. He will not play a lot.
Hiram Eugene: Great for fill-in duties and special teams.
Jerome Boyd: Made a seamless transition from linebacker to Safety. He becomes one of two UDFA on the defense
(Desmond Bryant is the other) to make this team which is great considering the Raiders didn't keep a single one last year.
Out:
Rashad Baker: He was handed the starting free safety spot in Oakland last season because Huff was not playing well. Now overall the safety position looks solid and Huff looks much better. So Baker's services will not be needed.
Special Teams
Sebastian Janikowski: Blah, blah, blah
Shane Lechler: Yackety Schmackety
Jon Condo: Give your kids career advice: Tell them to learn how to long snap.
Out:
Ricky Schmitt: Raiders rent a leg, he auditions for other NFL teams. Win, win.
Click here to see the Offense